Create an enchanting, fun space for your little one with a pretty princess-themed bedroom. This theme is perfect for little girls who're obsessed by fairytales, tiaras, ball gowns and all things that sparkle.
Here at FADS, we have plenty of ideas to help you make your little princess's dreams come true: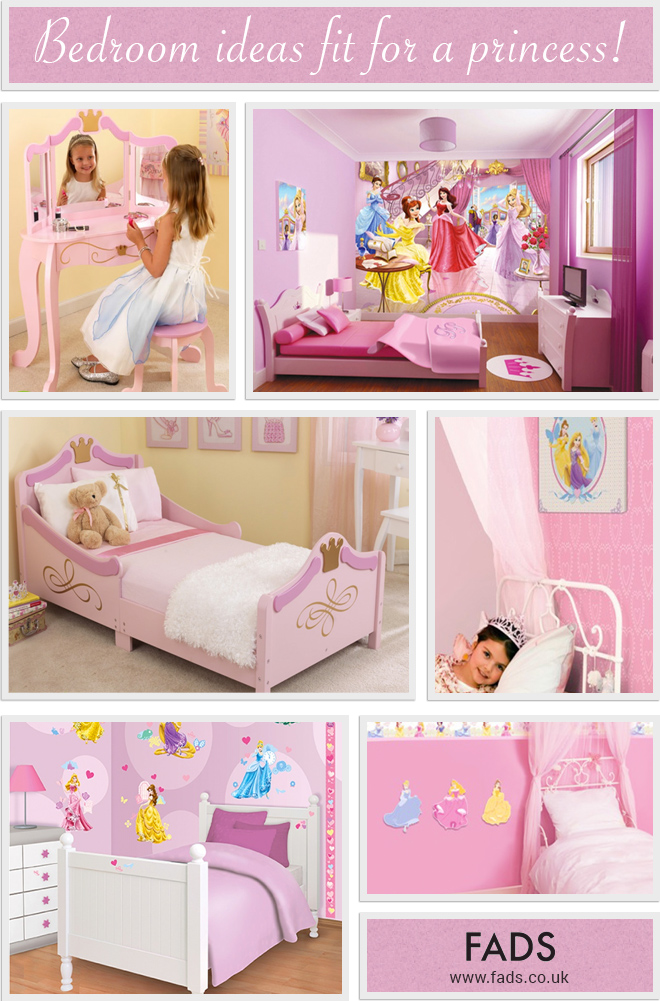 For your room redesign, you could go down one of two routes.  Either choose a Disney Princess theme featuring all of her favourite characters, or choose something a little more classic and refined.  Let's take a closer look at both options:
The Disney Princess Room Theme:
Perfect for fans of Ariel, Belle, Aurora and Cinderella, this room should be beautiful, bright, bold and fun.  This bedroom wouldn't look out of place in a Disney World hotel!  Think wall murals depicting famous Disney film scenes, castle-shaped beds and bright candy pink walls.
Get the look from FADS.co.uk –

1) This Disney Princess wall mural features all your little girl's favourites:  Cinderella, Belle, Arial, Aurora, Snow White and Rapunzel.  This full size wall mural will help stimulate your little girl's imagination, transporting her into a beautiful garden where she can spend hours playing with her princess friends.
2) Here at FADs, we have plenty of Disney Princess themed accessories in stock, including this cute heart shaped mirror and these foam wall decals.  As your child grows older, her tastes will change.  If Disney Princesses suddenly go out of favour, the accessories can be passed on to a friend or family member or be switched for something else that reflects the theme du jour.
3) Our Thuka Bed is certainly fit for a princess!  It will provide your child with plenty of places to hide and play thanks to the under bed tent, fun tunnel and unique slide feature.
The Classic "Fit For A Princess" Room Theme
If your little girl isn't a big Disney fan, but she does like all the glitz and glamour of the princess fairytale world, shy away from the bold colours and aim for a slightly more paired down look.  This type of room is fit for a princess, it's a refined style featuring soft cupcake pastel colours, dreamy chiffon drapes and pretty floral accessories.  It'd be fit for any member of the royal family!
Our picks from FADS.co.uk –

4) This light pink vanity desk and stool from KidKraft is ideal for storing brushes, hair clips and other little treasures.  Your little girl could also use this vanity table as a desk for drawing and homework too.
5) While elaborate in design, this soft pink Princess Carriage bed oozes fairytale elegance and is certain to make bedtimes a dream!  The lilac carriage design is topped with a regal silver-coloured crown.
6)  This soft pink Princess bed coordinates with the KidKraft vanity desk and features the same gold crown and scroll motifs.  This pretty bed is certain to make any little girl smile.