I challenge you to find a child that wouldn't want their bedroom turning into a jungled themed paradise full of squawking monkeys, exotic looking birds and bright green foliage. Both boys and girls will go bananas for this wild bedroom theme, and it's suitable for all ages too!
Getting started can be a little daunting, so to help you we've put together this step-by-step guide: how to creating a jungle themed bedroom for your child!
1) Choose a colour scheme
You really have two options when it comes to painting the walls. Either choose a rich leafy green colour to invoke the colour of the jungle's dense vegetation, or opt for something a little lighter and brighter by picking those earthy bamboo browns and beiges that are often associated with savannahs and safaris. Your child might prefer the bold, bright green but you might find beige walls easier to repaint or repurpose in the future, as the child gets older.
Choose flooring or carpets in wooden tones, as this will work with both colour schemes. A rug in a complimentary colour and a few scattered beanbags will provide children with a comfy place to sit and play on the floor.
2) Jungle theme wall mural
A decorative wall mural is an easy way to convey the jungle theme, plus they're bright and fun – perfect for a child's bedroom.
Either choose a local artist to come and decorate the wall by painting an animal scene, or go for the easier (and often much cheaper) option of installing a feature wall wallpaper mural, like the one we sell here at FADS.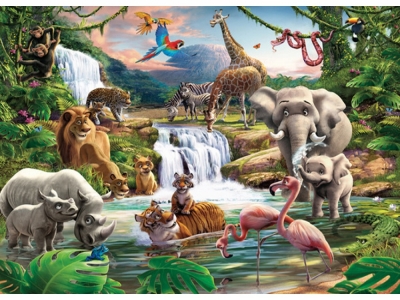 3) Accessories
It's often said that the devil is in the detail, so use plenty of accessories to convey the theme throughout the room.
Jungle animal-theme stickers, like the ones we stock here at FADS, are perfect for decorating otherwise plain sideboard and wardrobes, while framed pictures or posters of jungle scenes are perfect for occupying blank wall spaces. In addition, you'll need jungle-themed stuffed toys, cushions and bedding covers too.
Here are some of our favourite picks: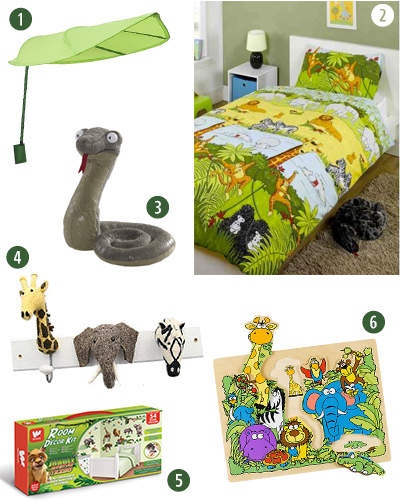 Leaf Canopy, IKEA
Jungle Print Bedding, LinenStore.co.uk
Jungle Animals Coat Hooks, Potwells
Jungle Animal Stickers, FADS.co.uk
Wooden Jungle Puzzle, John Lewis
TIP: Redecorating can be expensive, so why wait until your child's birthday and hint to grandparents, friends, aunts and uncles that they should buy your child jungle themed gifts this year?
4) No jungle is complete without vines!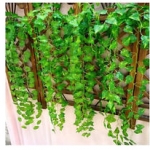 If you're the crafty type, you may want to finish off the theme with some artificial vines, greenery and foliage to give the room that authentic jungle feel. Intertwine vines with clear fairy lights to give the impression of twinkling stars visible above the jungle canopy – perfect for bed time! You can find artificial vines and garlands on eBay for around £1 for 6ft.
If you're not handy with a glue gun, simply place the artificial vines around the room as a finishing touch: wrap them around bedposts, have them poking out from behind book shelves or draped over doorways.