At FADS, we are proud to announce that we have received an order from the interior designers of reality television show Big Brother. The iconic house has long been furnished with stylish, eye-catching furniture and this year looks set to be no different.
The Big Brother house is redesigned for every installation of the show, offering a unique twist every year. Early images demonstrate that this year's house contains a futuristic style. Interactive LED walls, touchpads and identity scanners will complement a minimalistic, contemporary design.
The interior designers of the Channel 5 show ordered seven of our Scarlett White Gloss 1 Drawer Bedside Tables, furnishings that fit into the house's famed contemporary style. With the show traditionally having between 10 and 14 contestants, it remains to be seen whether the seven bedside tables will be awarded to only the public's favourite housemates.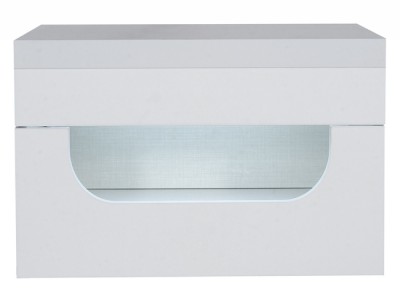 This theming is a big leap from the house style of last year when an organic theme was installed.
The new series is due to commence this week on June 5 on Channel 5 at 9pm. The contestants are yet to be revealed but it has been reported that Big Brother has made them all take IQ tests before entry.
The theme for this year's series is control and power, coinciding perfectly with the technologically advanced design. The housemates are due to be given a series of tests that will test their IQ and their spirit throughout the series. Housemates will be awarded power throughout the competition and will be able to exert that power upon other contestants.
The trailer for the new series shows presenters Emma Willis and Rylan Clark exerting their power over servants in a dystopian high rise building.
If you want to recreate the styles found in the Big Brother house this year, we stock a great selection of modern, contemporary high gloss furnishings for every room in your home.