When it comes to creating mood boards and choosing colour schemes for redecorating, most people overlook gold, and it's easy to see why: the colour was highly unfashionable until recently. Ask somebody to think about gold interiors and they'll conjure up images of fancy palaces, grand churches and ceremonial halls all decked out with bling. However, thanks to a resurgence of metallics on the runway, the colour has grown in popularity once again – only this time there's a twist. Out are the large gold statement pieces that once signified wealth, power and luxury. Out are the rich burgundies and royal blues we expect to be paired with the metallic tone. This season gold has been modernised. It's being used as an accent colour to add a touch of warmth to monochrome palettes. You'll also find being used to add luxe sophistication alongside palettes of pure pastels.
Inspiration: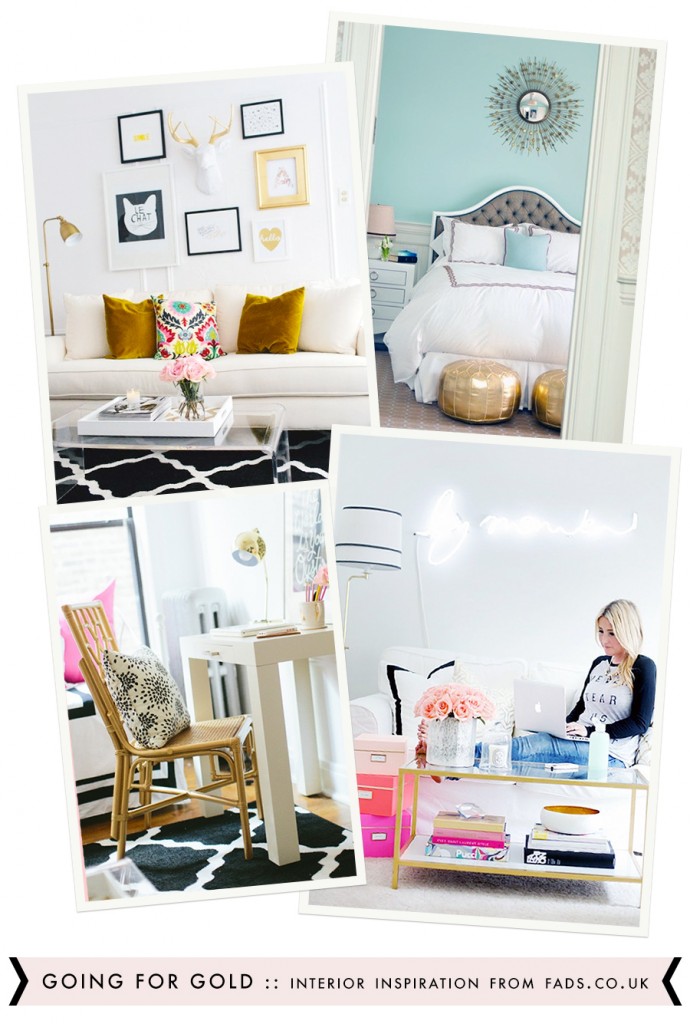 Image credits: Style Me Pretty | The Every Girl | Fun Bedroom Ideas
Our top tips for using gold in your home:
Keep things simple by pairing gold accessories like lamps and cushions with your monochrome furniture and furnishings (see photo above, top left). For a fantastically modern dining room, try painting the walls white and choose a bold black and white print rug for the floor. Add our Frances White High Gloss Table, and select gold for key pieces on the table (e.g. stemware, centrepieces, crockery, placemats etc.) Finally, create a wall feature using your favourite pieces of artwork displayed in gold frames.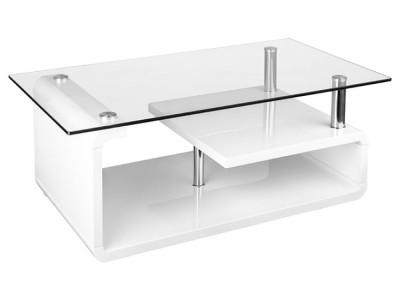 Create a similar effect in your living room by opting for a white sofa, bold monochrome print rug and gold print cushions (see below.) Finish the room by making our amazing Bean White High Gloss and Clear Glass Coffee Table. Adorn with bold, bright books, a vase of flowers and printed storage boxes for a decorative finish.
Finishing touches:
Seek out elements that add texture to your room, such as pastel coloured glazed tumblers, deep-pile rugs, trendy graphic geometric print fabrics and soft plump cushions. Remember: if you're working with bold abstract prints, stick to clean lines and unfussy details to ensure the end result isn't chaotic.
You could try using contrasting acid brights to add a pop of colour to sweet pastels, keeping gold only for accent details (see photo above, bottom right).
Finally, you cannot find the right piece of furniture in gold, don't be afraid to DIY. Gold spray paint and gold leaf will be your new best friends! There are plenty of tutorials, like these, online.
Shop the trend:
Luckily interiors shops up and down the nation are teaming with gold goodies – and we're no exception here at FADS.co.uk! Here are my four favourite picks: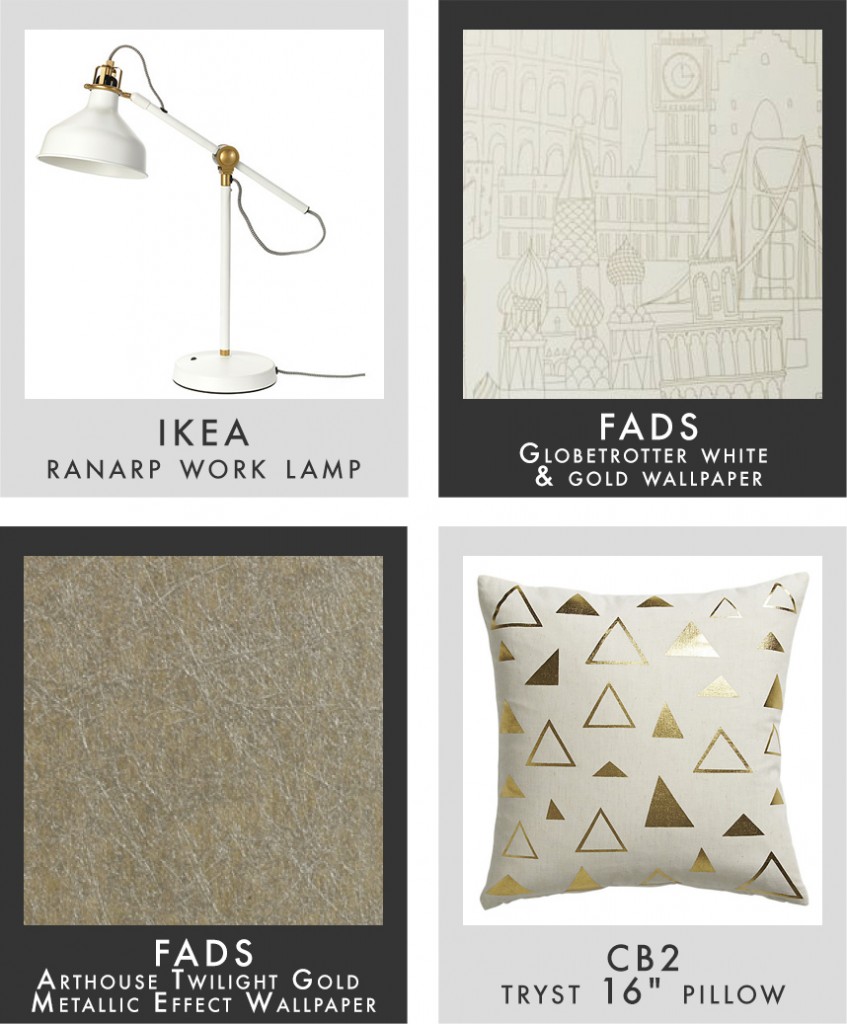 From top, clockwise:
TOP LEFT :: Gold and Off-White RANARP Work Lamp from IKEA
An easily adjustable lamp that provides direct light, with pretty gold coloured accent details. Ikea do other items in the RANARP series, including clamp spotlights and floor lamps.
TOP RIGHT :: Globetrotter Natural White Wallpaper from FADS.co.uk
A stunning, fun and quirky wallpaper that brings a touch of glamour and culture to your home. The Globetrotter wallpaper, which forms part of the Clarke & Clarke Showstoppers collection, features elegantly hand-drawn landmarks. The landmarks are depicted in a subtle gold on top of the natural white paper.
BOTTOM LEFT :: Arthouse Twilight Gold Plain Metallic Effect Wallpaper from FADS.co.uk
This stunning metallic effect wallpaper from Arthouse Twilight is ideal for feature walls, or perfect for papering an entire room! The subdued gold tone is both stylish and sophisticated without appearing brash or overbearing.
BOTTOM RIGHT :: Tryst 16" Pillow from CB2.com
This gorgeous pillow features gold screen-printed triangles on natural linen fabric, giving a pop of metallic colour. CB2 allow buyers to choose from either plush feather or a lofty down alternative for no extra cost!