Go one step further than hanging a Johnny Depp poster in the bedroom of your pirate-obsessed child to create a bedroom they will love and cherish. Here at FADS, we've collected seven amazing décor ideas to help you create a brilliant pirate-themed children's bedroom.

Pirate's Booty Chest
Great for storing all their booty (or games, sweet wrappers and stuffed toys), an authentic-looking pirate's chest is an ideal replacement for a standard storage unit in a pirate themed room. This guide from Wikihow can help crafty parents of young seadogs make their own booty chest – adjusting the size depending on how much booty the pirate has plundered.
Skull n Crossbones Welcome Sign
Replace the old welcome sign on your child's bedroom door with a skull n crossbones 'pirates only!' sign so even landlubbers knows what to expect when entering the pirate's den. This simple-to-make sign from The Happier Homemaker can be adapted to display any message your young matey wants to project, from 'No Girls On Board' to 'Captain Tom's Ship'.
Alternatively, it's an opportunity to name the ship – if you're struggling for a name, try the pirate ship name generator.
Shipwreck Bed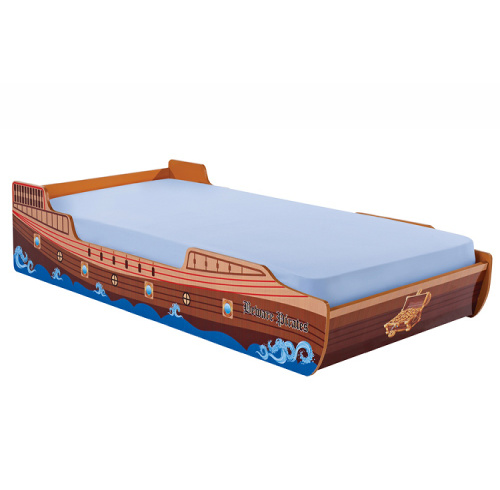 A captain is nothing without a good ship – and FADS have got your little captain covered. The Pirate Themed Single Kids Bed from FADS is a fun and functional single bed to help captains get their heads down after a long day plundering. The colourful, single bed benefits from sprung wooden slats – helping create a comfortable night's sleep.
Walltastic Friends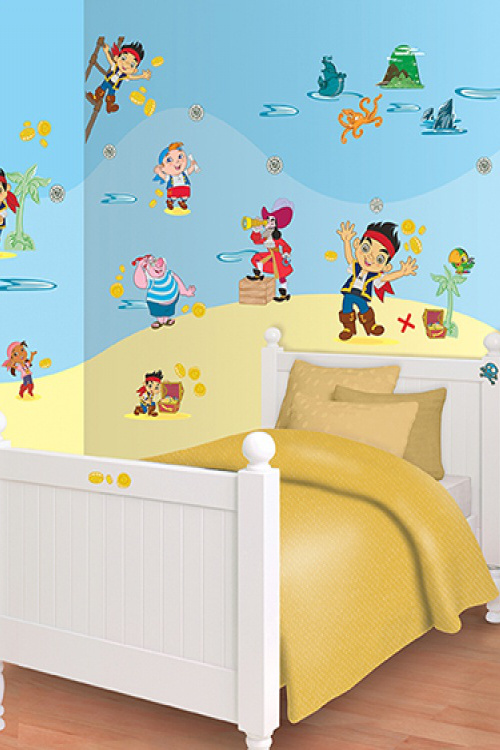 As well as a good ship, a captain needs a good crew. At FADS, we stock wall stickers featuring the characters from the popular Disney cartoon, Jake and Never Land Pirates. The fun stickers can be arranged in any desired pattern around the bedroom – with an amazing 72 individual stickers in a pack. All your favourite characters are present in the pack, including Jake, Izzy, Cubby, Tick Tock Croc and Mr Smee.
Captain's Hook
Captain's hooks can make fantastic coat and clothes hangers for a young pirate's bedroom. Find a way to attach the hooks to the back of the bedroom door or on the wall, and you'll instantly have a fun and functional alternative for clothes storage (especially compared to being dumped on the floor). The hooks can also support other parts of the pirate costume such as feathered hat or eye patch.
Olde World Map
A map depicting the major waterways of the world can help ensure your pirate never gets lost or is held up when there is plundering to be done. This olde world map from The Idea Room takes on the appearance of an authentic map found aboard a traditional pirate ship. The simple to make map could also inspire young pirates to study the layout of the world – potentially improving their geography and map-reading skills.
First Mate's Rocking Chair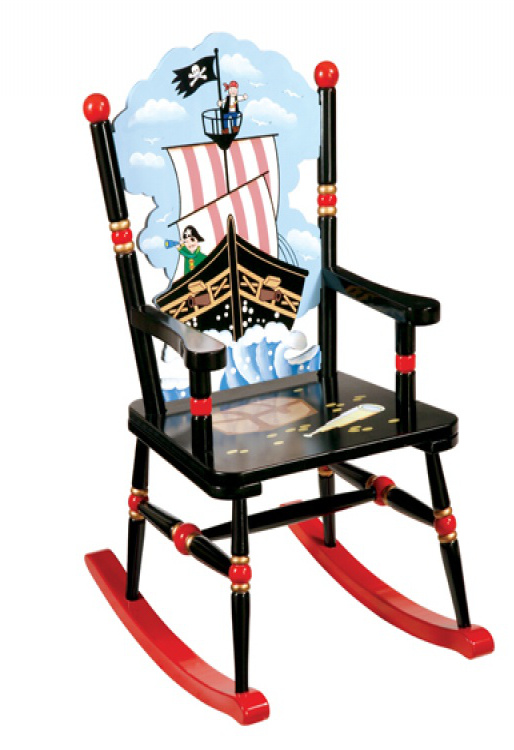 After a long day of pirating and raiding, even the most battle-hardened of captains needs a little rest. The Pirate Wooden Rocking Chair from FADS is the perfect place to rest those legs and look through the day's booty and think back over the day's adventures.
For a million and one ideas for decorating and perfecting every room in the home, visit the FADS homepage or call our helpful sales staff on 01778 562803.
Images sourced via Pinterest. Credits: decorativebedroom.com and kymroger.com.