There are few things more quintessentially British than rushing out into the garden as soon the sun rears its head for even the shortest spell, barbecue coals in one hand and kitchen tongs in the other. Al fresco dining is something that we Brits value incredibly highly due to the very limited opportunities to experience it we are offered.
Make the most of summer 2014 with a barbecue set up this year that is both pleasing on the eye and on the palate.
Become the Master of your Domain
Eschew the wishy-washy put-up barbecue sets bought from the local garage and create an attractive, bespoke cooking area this year. The Big K Martinica BBQ shows that you really mean business and your barbeque authority must never be questioned. Even if you don't cook any other time of the year, a quality barbecue ensures everyone knows that you are the master of the coals.
The Big K Martinica BBQ set is the all-in-one kit for garden parties and large scale barbecues. With plenty of storage space, food and utensils alike can be kept at hand to ensure that nothing will distract you from your food preparation mission.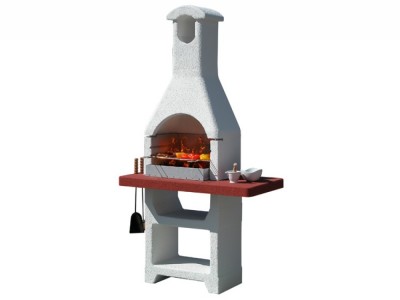 Keep the Kids Entertained
Back garden barbecues are great for the whole family, but keeping the kids entertained is vital so you can relax enjoy yourself as well. Installing a badminton net in the furthest reach of the garden is one way to keep the children busy whilst you soak up the sun, conversation and wine. A loose shuttlecock will not cause the damage and disarray that a loose Frisbee or football would. A round of badminton is also less likely to end in injury for an adult who has partaken in more than one round of wine.
Sufficient Seating
Ensuring that you have sufficient seating and table space can help protect against guests being forced to sit on the floor or old footstools. The In & Out Resin Garden Lounge Set is particularly beneficial for households in the UK who may be reluctant to invest in quality outdoors furniture due to the limited number of day on which they can used. The set can spend most months of the year providing seating options indoors before adding comfort and function to a summer barbecue.