When it comes to sprucing up your bedroom, you may think that it will cost a fortune. However, you don't necessarily need to replace everything to get an instant style update. By making a few changes to your existing furniture and décor and adding a few new key pieces you can revamp your bedroom without it costing the earth. Small changes really can make a big difference. Here is our list of the top 5 things you can do to instantly update your bedroom's style.
Create a feature wall – at FADS we know that accent walls make a huge difference to your room, yet cost very little. Painting the wall behind your bed will draw the eye in and really define the bed area. Go for a bold colour to add brightness to your room. Jewel tones and clashing prints are set to remain on trend into the new year so let your imagination run wild and use paint or an off-cut of wallpaper to bring your room bang up to date.
Add art – a simple way of updating your bedroom is to add art to the walls. From a simple canvas depicting a picturesque view, to a funky wall mount like this Ziggy the Zebra Head, the possibilities are endless. Art is a great way to put your personal stamp on a room, whilst staying up to date in the style stakes.
Update your headboard – either revamp your current headboard or add one to your bed to make it more of a feature in the room. Opt for bright colours or prints to make the headboard the focal point and keep the rest of your room neutral. Wall mounted headboards offer flexibility in that they allow you to mix an oversized headboard with a smaller bed. This gives a really cool, contemporary feel to your bedroom. Headboards that fit to your actual bed, however, are more traditional, but can still incorporate modern features, such as this one that contains integrated lights.
Change the lighting – this is such a simple thing to change, but can totally alter the mood of your room. Side lights will create a romantic feel in your bedroom and wall lights will provide a chic, boutique effect. Cable lights are very modern and look stylish hung low over a bedside table. Choose ones with brightly coloured shades and cable and make a feature out of it.
Change your soft furnishings – probably the easiest thing you can do to update your bedroom is to change your bedding and add some new soft furnishings. Botanical prints are really popular at the moment and will also counteract any winter blues that may be creeping in at this time of year. Indulge your senses with tactile fabrics. Sheepskin rugs have made a comeback and are the ideal way to greet your toes as you're getting out of bed on a morning. Incorporate different textures such as velvet curtains, silk cushions, mohair throws and beaded embellishments for a cosy, yet stylish bedroom that you won't want to leave!
Investing in a few good quality items and simply giving a lick of paint to some existing pieces of furniture will give your room that much need TLC that will create a real impact. Because it is so easy to achieve, you may find you will want to add or amend items every time the seasons change.
Get the Look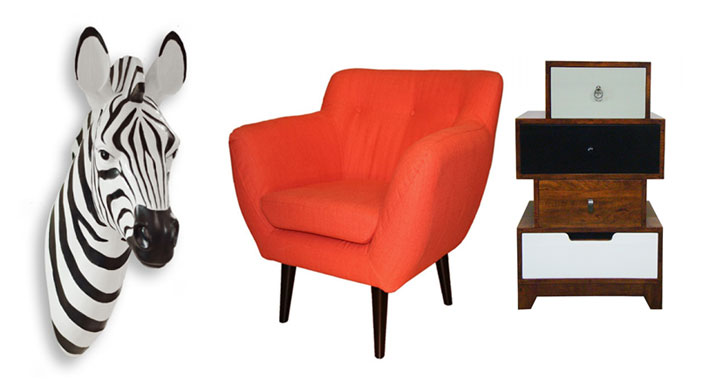 Left: Arthouse Ziggy Zebra Head Wall Mount
Middle: Stockholm Orange Armchair
Right: British Vintage Chest of Drawers
Feature image sourced from Pinterest. Credits: makelyhome.com, breakfastwithaudrey.tumblr.com, homedit.com and decoholic.com.