So, this time of the year, when we get to be all playful with our table settings, is finally here! It is always so much fun to put together all the flatware, dinnerware, glassware and textiles and marry them with those extra decorative accents and touches!
There are tons of ideas on what one can actually do with their table decorating, but first of all, we have to pay attention to the overall style of our dining room in order to create a coherent result.
For this matter, I'd like to share with you 3 of my favourite decor styles and a few tips on how to make your Christmas table setting work in each case.
The country rustic holiday table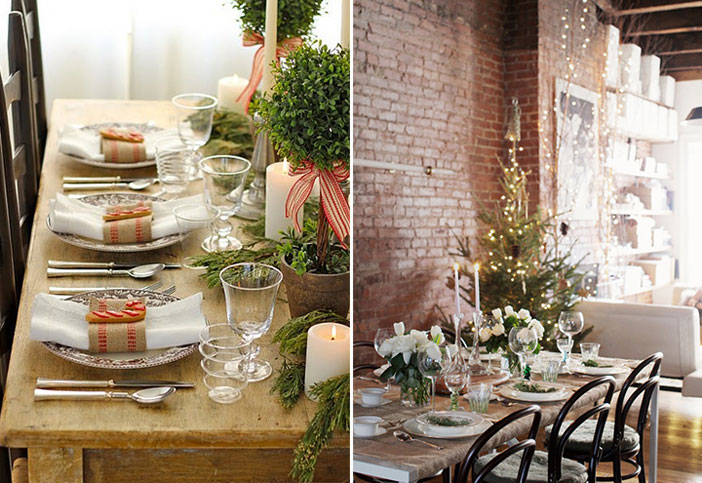 Play with natural materials like wooden plates, linen tablecloths or burlap mats. Vintage flatware will add an elegant appeal that contrasts beautifully with the more unrefined materials.
Don't forget to use a lot of greens for decoration. A long garland of evergreens is great as a centerpiece whereas smaller bouquets of wild herbs or a small twig or leaf can be used as a placement cart or decor piece on each plate.
Let the candle flames sparkle! Lanterns and candlesticks are necessary to promote the holiday spirit but also add the desirable warmth to the country setting.
Favourite dining set pick:  Breton traditional dark pine dining set
The contemporary sleek holiday table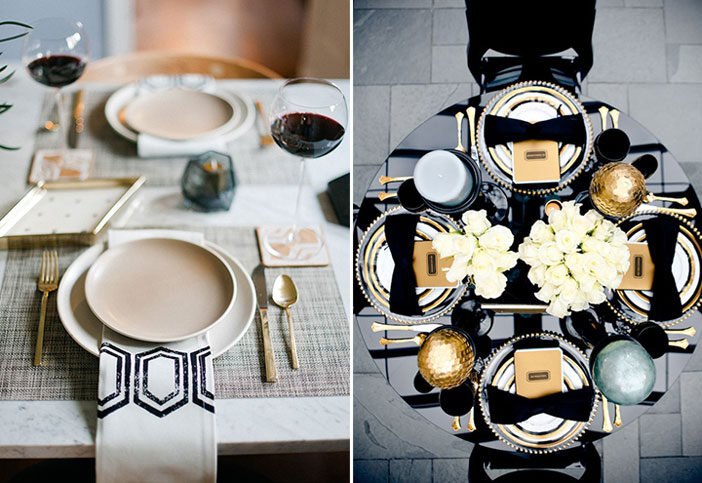 Geometric shapes are a beautiful and trendy way to add style to a more contemporary tablescape. Use them on napkins, tablecloths and runners with impressive patterns. A plate, glass or candle holder with an angular shape will add up to this concept too.
Add a bling. Prefer to use smooth metallic materials, that will shine through flatware, dinnerware trims or decorative accents, rather than glitter which makes the decor more playful and fancy than sleek and chic.
Monochromatic combinations work wonders with such style. Saturated hues, like bold red or green, matching black dinnerware and glassware are sure to steal the show. If you prefer more natural hues, pay attention to the finish; you would want to go all sleek and shiny with this style.
Favourite dining set pick:  Inca extending black glass dining set & chairs
The Scandinavian eclectic holiday table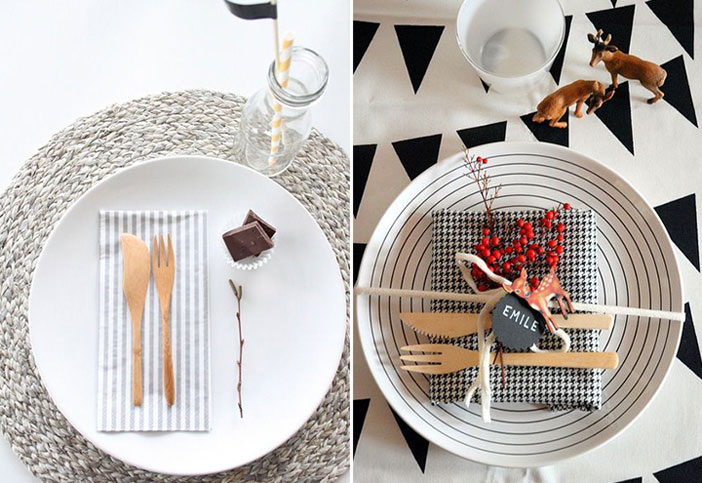 A mix of sleek materials, like lacquered white surfaces and plastic, with more natural ones, like wood and cotton, is a must for this particular style.
Most favorable tones used are black, white and gray. On that canvas, add a few tones of neutrals, pastels or a touch of bold hues like neon yellow or fuchsia for a more playful result.
Stripes and triangles are the shapes that match this style more than anything. Find table linens with such designs but also be more inventive and create your own. You can always use place cards on dishes with bold shapes if you opt for monochromatic linens instead.
Favourite dining set pick:  Marcus white high gloss & beech round dining set
What do you think of Eleni's Christmas table setting ideas? Share your thoughts below!