It's no secret that grey has soared in popularity during the first half of 2014.  Whether you're flicking the pages of interior design magazines or scrolling through Pinterest, the grey trend cannot be missed.  This once forgotten about colour has recently undergone a resurgence – whether paired with dazzling brights, or lightened up with soft whites, it's become the colour du jour.
Here are our top tips for incorporating a grey colour scheme into your home:
1) Creating a feature wall:
Worried that painting or papering your entire room grey will leave the room looking dark, dingy and dull?  One foolproof way to avoid this is by creating a feature wall – picking one space to paint or paper grey, as a focal point for the room.  Typically, this should be the back wall, which faces the window.
Shop: Grey wallpaper at FADS.co.uk
If you're feeling creative, you could accentuate your feature wall by using artwork and photography.  Those with technical know-how can desaturate family photos into greyscale and have them printed, creating a personalised display that's certain to be a talking point at parties and gatherings.
2) Mix light and dark tones:
Once you've found that one key piece of furniture or wallpaper that you want to build the room around, it's easy to stick with that hue out of ease!  Instead, give your room lots of depth by mixing grey tones.  Pair dark charcoals with lighter slate colours.  See the graphic below for plenty of inspiration!
3) Opt for grey furniture and furnishings:
Not feeling very adventurous, but still want to incorporate grey into your room design somehow?  Perhaps you're renting and you're not able to paint or paper your home's walls?  Easy: simply keep the walls neutral and opt for grey in your furniture and furnishings instead.  Splashes of grey can be added by cleverly using fabric wall hangings, framed artwork, cushions, blankets, throws and rugs.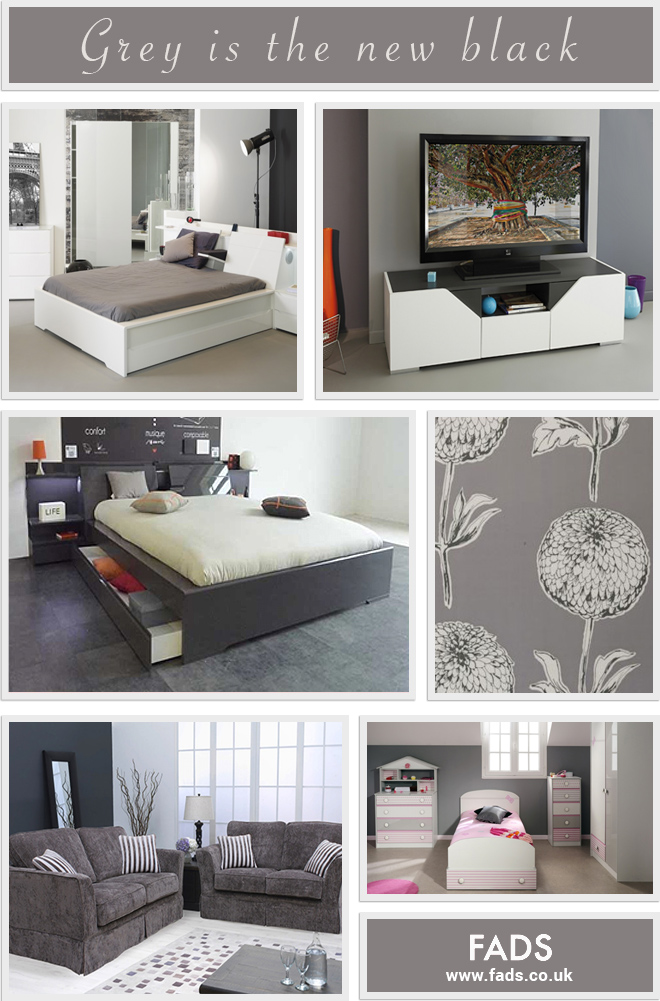 4)  Keeping things light:
Poor lighting is a surefire way to ensure a grey room looks drab and dreary.  Remember to plan your lighting effectively before even picking up a paintbrush!
There are four different types of lighting you need to consider.
Ambient:  these are your general lights, typically the fixture in the middle of the room (or LED spotlights in kitchens/bathrooms).  The ambient lighting should be combined with the other two options.
Task:  this type of lighting has a specific job, for example, to illuminate your bedside table for reading. It shouldn't be too difficult to combine practical lighting solutions with your grey theme.
Mood:  this type of lighting accents the room, but cannot be used alone as the primary light source.  Use mood lighting to create a real 'wow' impact.  Luckily, grey lends itself perfectly to many different mood lighting options.  For example, softness and romance can be added to rooms by installing a few garlands of twinkling fairy lights.  Or, opt for something modern and contemporary like an interesting shaped floor lamp.
Natural: light from windows should also be considered during your redesign. Diffuse harsh light by using sheer white net curtains.
5) Pair softer greys with pastels:
Pair soft dreamy dove greys with light pastel pinks and blues for a soft colour scheme suitable for a range of rooms.  (See graphic above for inspiration).  This colour scheme is a great for nurseries too, as it's a perfect alternative to the typical hues we come to associate with baby today – without being unconventional.
6) Mix greys with bright 'pops' of colour:
Darker greys and brilliants whites look great paired with bright oranges, sunshine yellows and terrific teal colours.  Use these bold shades to give an otherwise drab room a much needed 'pop' of colour.  If you're feeling particularly brave, mix and clash colours together.  Acid-wash cushion covers and lucid artwork will really stand out on a grey backdrop.
7) Opt for lavenders and blues with grey undertones:
Not too convinced on the grey trend?  Instead opt for colours that have a grey undertone, such as lavender or blue.  These colours work particularly well in kitchens, where they can be paired with plenty of chrome and white for a bright, fresh feel.
Many of the items featured in the graphic above can be found in our store – FADS.co.uk