In recent years, there's been a strong shift in our eating habits. Convenience meals in front of the TV are out, while home cooking and fine dining are back in.  This has led to the resurgence of the old fashioned dining room.  If you're hoping to dust off the dining table and give the room a fresh lick of paint – you've come to the right place.  Here are our top ten tips for refurbishing the room into a bright and contemporary space:
1) White is all right:
Forget wood and chrome!  Opt for white gloss furniture to give the room a light and modern feel.
Our pick:  Frances White High Gloss Extending Dining Table – This beautiful table is PERFECT for entertaining both family and friends, as it effortlessly extends to the occasion!   At the time of writing, this table has £100 knocked off the RRP!  Shop now!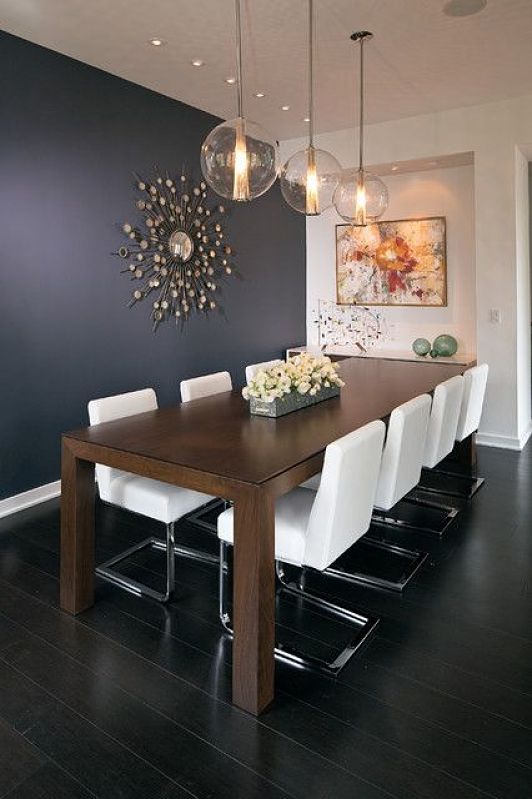 2) Give the guests something to talk about:
Create an eye-catching focal point in your dining room by affixing large printed fabric panels to the wall.  Alternatively, bold patterned wallpaper can provide a 'pop' of colour.  A feature wall full of photographs or artwork will give your guests something to talk about over dinner.
Shop:  FADS' range of trendy wallpaper.
3) Fun with florals:
Brighten up a plain windowsill by arranging bold coloured flowers in pretty ceramic vases.
A large glass fish-bowl style vase with tulips will add a modern touch and finish off the room beautifully.
4) Lovely lighting:
A beautiful chandelier will give the room an elegant touch. Forget ornate crystal contraptions – there are plenty of simple and modern designs on the market.  Install a dimmer switch to allow for mood lighting at dinner parties.
5) A moment of reflection:
Empty wall? A large mirror will fill the space with ease, and cleverly reflect light back into the room, creating a bright and breezy atmosphere.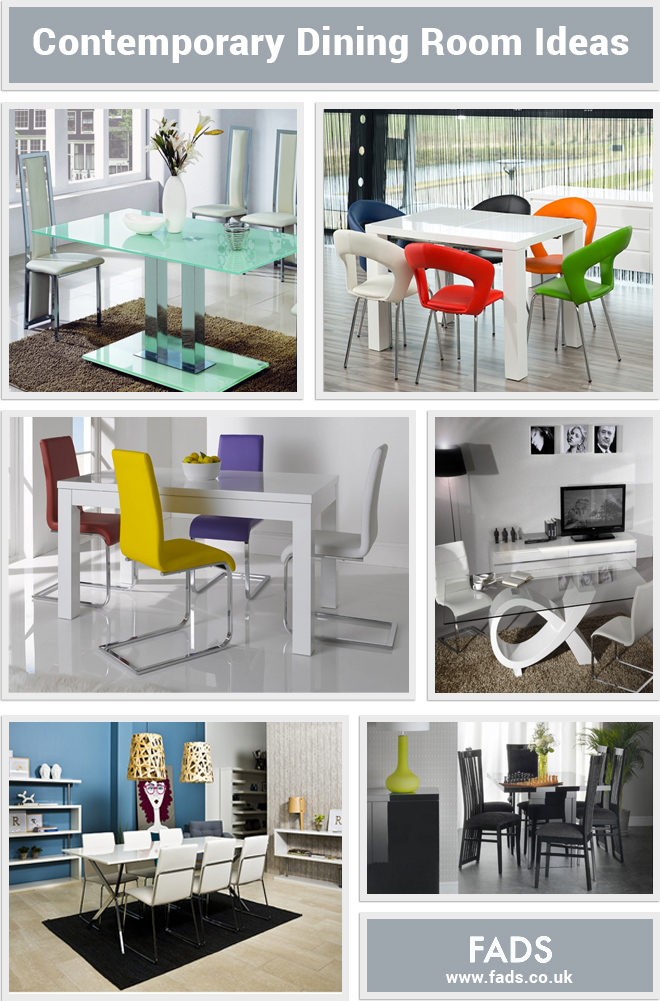 6) The blank canvas:
A room with white walls, curtains, tables and flooring can be a little plain on it's own – but it'll be a great blank canvas to work with.  You can add and remove different elements over the years allowing you to create different looks for each season (or trend that comes along!). Glittering silvers can be introduced for Christmas dinner, pastels for Easter lunch, or nautical accents for summer soirees.
7)  Bold seating options:
To add a splash of colour to a contemporary white dining room, add modern dining chairs in bold shades.  You don't have to stick with one colour either:  Pastel blue and purple chairs to provide bold pops of colour without being too adventurous, or clash your chairs in a range of fluorescent colours.
Our pick:  Hugo Birch Molded Chairs – Our ever-popular Hugo chairs come in an assortment of colours, including purple, orange, green, white, yellow, red and green.
8) Display cabinets: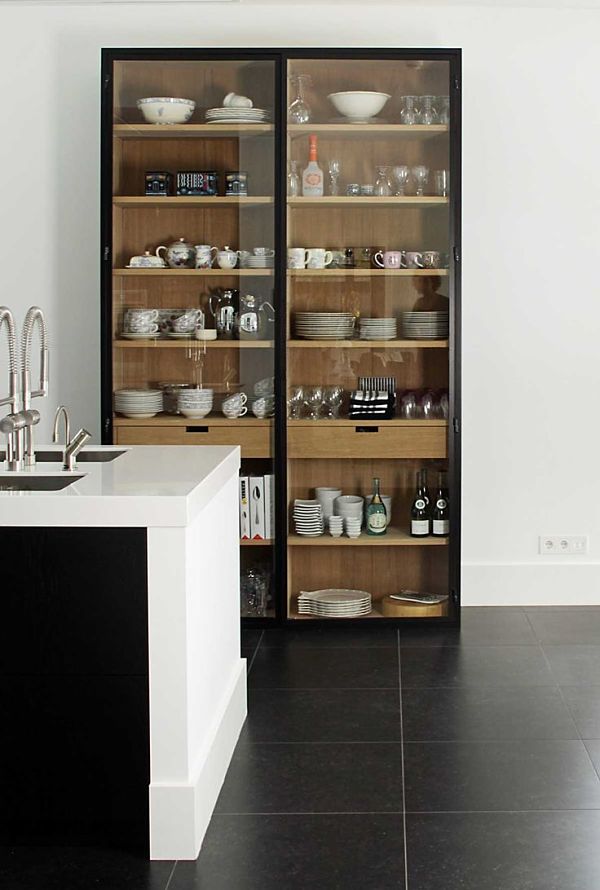 Turn your best crockery into a feature with glass-fronted display cabinets. Choose cabinets with glass shelving, lighting and mirrored back walls for a contemporary feel.
9) Fun fabrics:
Bright fabrics can give otherwise plain rooms a striking personality.  Have roman blinds created in fun and exciting printed fabrics. Match your crockery and table centrepieces in a contrasting colour.
10) Clashing brights:
Keep the room neutral and simple, and use the space to showcase an eclectic range of bright and colourful pieces.  Source unique glassware, accessories and crockery from charity shops, vintage fairs and markets.  Clash emerald green mirrors with hot pink table accents, match mustard yellow chairs with turquoise table wear – and so on.  The bolder the better! Keep the room free from fussy patterns to ensure the scheme works, and maintains a modern vibe.
For more dining room inspiration, check out our complete range of dining furniture.
Image sourced via Pinterest. Credit: lodderkeukens.nl.