It's July, which means it's prime garden party time here in the UK.  The sunshine is out in full force, and there's not a cloud in the sky.   If you're planning on taking advantage of this rare window of opportunity by hosting an al fresco dinner party, you might wish to put some of our tips into practice.
1) Lighting:
During those long summer evenings, afternoon dinner parties can extend well into the night.  As such, you may wish to consider your outdoor lighting options in advance.  For a quick and easy DIY, suspend half a dozen mason jars from trees using wire, and place lit tealight candles inside.  It creates a stunning effect for very little time, effort and money!  In the UK, solar lights are quickly growing in popularity too.  Most supermarkets and DIY stores stock a range of shapes, sizes and colours.
2)  Divert attention:
Is your garden patio looking a little tired?  Divert your guests' attention and pep the space up with gorgeous patterned cushions and rugs.   In addition, some funky bunting, a few potted plants and a lick of paint will help an old pergola look as good as new!
3) A fun and easy theme:
Looking for a fun and easy to implement outdoor party theme?  Why not opt for "Mexican fiesta"?  Simply service Mexican food and drink (including margaritas of course) on brightly coloured glass table wear.  Adorn trees with pom poms and hang matching paper garlands.  Mix hot pinks, sea blues, bright oranges and sunshine yellows together for the desired effect.
4) Simple seating ideas:
A few simple oversized cushions or beanbags will provide youngsters with a fun and comfy place to sit while playing.
5) Creative cutlery solutions:
For a buffet-style garden party, place cutlery in clean (preferably new) plant pots on the table, so guests can help themselves (see above).  Label the pots with chalk pens and decorate with either garden twine or ribbon.  If you're feeling particularly crafty, the plant pots can be painted to match your theme or garden decor. As a finishing touch, arrange pots on a planter tray.
6) Shopping for new furniture:
Looking for new garden furniture before the big party?  Consider pieces made from metal, teak, cedar and all-weather wicker as they're easier to care for.  They tend to withstand the elements better than other options.  You certainly get what you pay for too, so invest in quality pieces that won't become brittle, lose their colouring or break after two or three uses.
Here are some of our favourite pieces of garden furniture from our online store: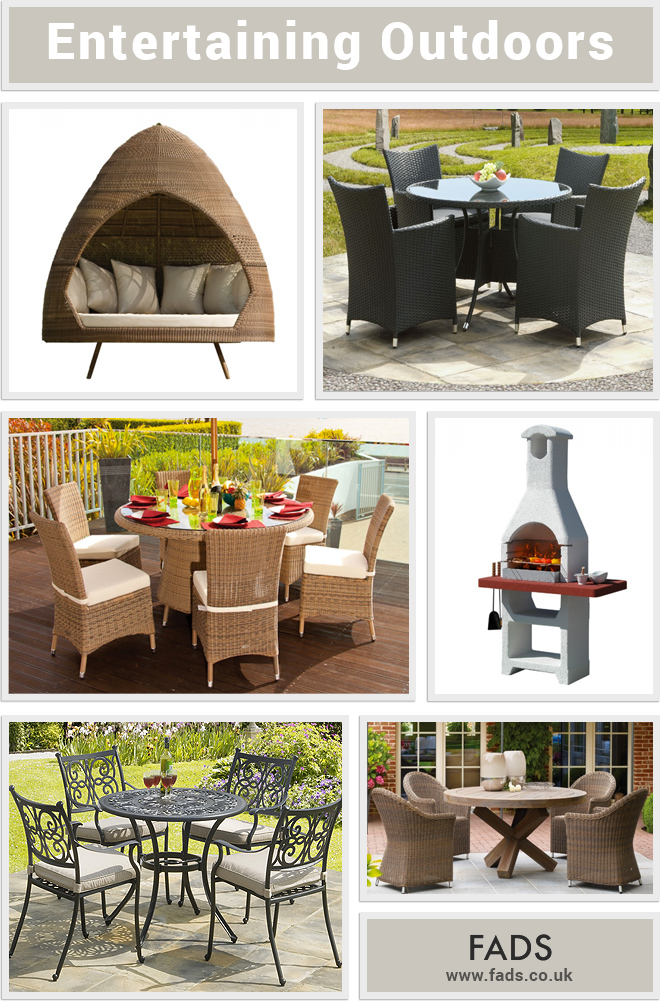 From top, clockwise: 
Alexander Rose San Marino Red Pine Relax Hut
An amazing focal point and a relaxing sanctuary, perfect for any garden.
Amalfi Black Wicker Dining Set
Simple, stunning and durable.  Perfect for conservatories and garden patios.
Barcelona Rattan Round Dining Set
Natural weave pattern, neutral colours and ideal for both garden and conservatory.
Big K Martinica Terracotta Stone Masonry BBQ
Perfect for outdoor cooking.
Guildford Black Cast Aluminium Round Dining Set
Attractive and intricate in design, but also sturdy and durable.
Riva Recycled Teak Round Dining Set & Weave Chairs
Highly attractive set made from durable hardwood, perfect for summer entertaining.
Take a look at our full range of garden dining sets, perfect for al fresco entertaining this summer!