The bedroom: it's arguably the most important room in our homes, but all too often gets overlooked in favour of more public spaces, such as the kitchen and living room.
Take a look at our guide to revamping your bedroom with an easy, romantic style – perfect for de-stressing at the end of a busy day:
De-clutter and de-stress
One of the biggest mood killers is clutter. Trying to relax in a room full of clothes hangers, half-empty glasses of water, old receipts and a vase of flowers past their best just isn't going to work. So make time to de-clutter your bedroom and restore a sense of calm. Invest in a scented diffuser to keep everything smelling lovely.
An ottoman bed is a great choice if you need extra storage, and won't take up any more floorspace.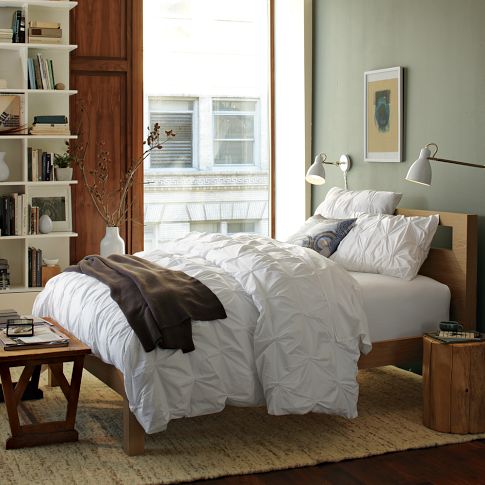 Big up the bed
Make your bed the focal point of the room. Think chunky mismatched cushions and a luxurious throw for winter months. Consider making your bedroom a technology-free zone – remove the TV and park your mobile phone somewhere else for the night. You'll be surprised at the difference it makes.
Take a look at our mattress buying guide to ensure a good night's sleep.
Keep the Colour Scheme Neutral
If you're after a soft, serene look in your bedroom, then stick to a natural colour palette. Add interest by covering one wall in a textured wallpaper, such as this Vision Wallpaper. Pick breezy fabrics for curtains, and scatter rugs on the floor for extra comfort. Tie all of this together with low-key lighting – think lamplight, not harsh ceiling lights. Add a dimmer switch to keep everything soft and relaxing.
Check out our full range of bedroom furnishings.
 Image credits: Wicker Paradise and LilyRose97