Each year, AkzoNobel, the company behind the Dulux brand, offers its predictions on worldwide design trends in colour for the coming year. These forecasts often become central to the palettes of interior designers and architects globally.
For 2015, the colour of choice is based on an overriding mood of searching for and finding that extra which makes a difference in our lives – the added refinement which puts the plus into the everyday. Their choice to represent this feeling is copper blush; in delectable metallic shades that are distinctly different from the cool greens and blues we have seen so much of in previous years.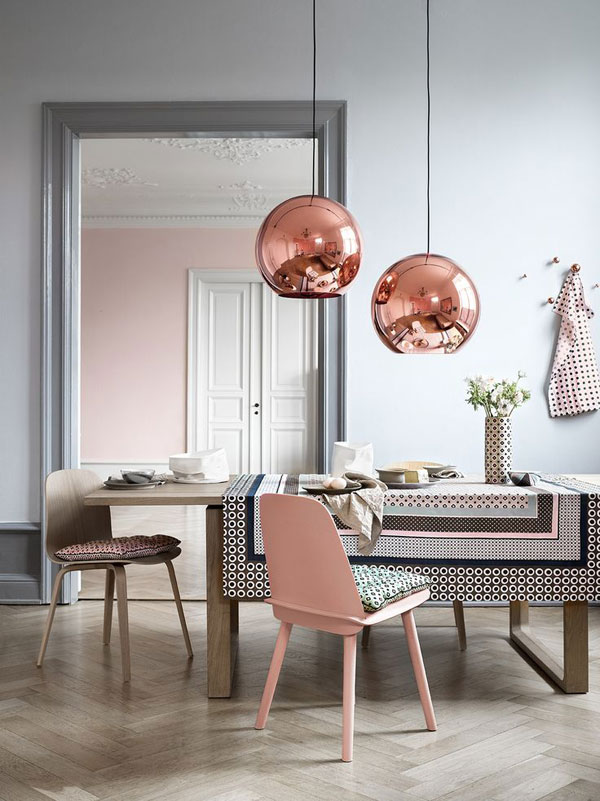 Copper shades bring a sleek, slightly luminous finish to your walls with a shimmering richness that adds timeless luxury and warmth. Here's how to make them work in your home:
On their own: Beautiful copper paint is remarkable in itself and you don't need to combine it with other shades for it to make a sensational style statement. The colour works extremely well solo: as an eye catching feature wall, to help section off an area of the room or as a complete room treatment. A single wall painted with copper provides distinctive and dramatic flair in any room with nothing more needed.
With warm hues: For added interest, combine copper with other warm shades. Experiment with flesh pink or other orange-toned hues to create a balanced, restful room. Complementary colours can be used on walls or on trims and architectural elements to add detail.
A touch of bright yellow: Add some zest to your copper-themed room with just a smattering of bright yellow to keep the overall effect lively and fresh. Choose small accessories, cushions, a vase or picture frame, adding tiny details across the room rather than in one area so that the overall effect is balanced and doesn't draw the eye.
Copper and White
Whether you choose to use copper on its own or combined with other warm hues, the way to make coppery shades really stand out is to block off the colour with accents of cool white. A room painted with copper that makes use of white as a contrast colour can have a warm Mediterranean atmosphere when flooded with natural light, making it feel like summer all year round. Use white on walls, skirting, architectural details, edges and trims to add contrast and emphasis to your copper-themed room. Incorporate high gloss furniture in crisp white to set off the warm tones and provide further contrast. Placed against the warm, shimmery copper-toned walls, the coolness of the white high gloss really accentuates the warmth of the shade.
Accessorising with Metallics
Copper, brass and gold metallics work exceptionally well to complement copper wall paint. For a rustic feel, look for old copper kettles, lamps and containers – or for a more contemporary look, choose copper as a finish for cabinets, furniture, splash backs or floor tiles. For a more subtle effect, use copper touches around the room – door knobs, drawer pulls and light switches. If you're struggling to find bits and pieces to match, invest in a tin of copper spray paint which allows you to transform frames, mirrors or whatever you like. Use it on paintable fancy coving, spray a ceiling rose for a unique feature piece or buy a template to add small copper details to walls and furniture.
Take a look at our guide to getting the best out of a metallic colour scheme at home.
Wood and Clay
Dark woods, clay-toned neutral fabrics and earthen accessories are perfect for accessorising in a room where copper is the mainstay of the palette. The effect can be warm and rustic or when balanced with plenty of cool white, calm and contemporary. Look for clay pots and carved wooden bowls for the perfect finishing touch.
Perfect Furnishings to Pair with Copper
Here are our picks of perfect furniture from the FADS range that will work beautifully with a copper blush colour scheme.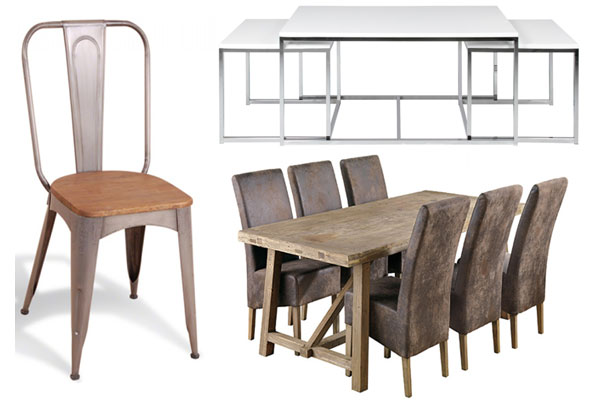 Left: Jasper Gunmetal Dining Chair
Top right: Curb White Gloss Dining Tables (set of three)
Bottom right: Albany Solid Pine Dining Set
Images sourced via Pinterest. Credits: yellows.dk, frenchfancy.com, poppytalk.com.