Every child needs a space that they can call their own, whether they have a bedroom to themselves or an area of the bedroom that's exclusively theirs.
Here we look at five fun ideas for decorating your child's room which will help you to create an exciting and stimulating environment for them that they'll love to spend time in.
1. Awesome stickers
Instead of simply painting your child's walls in plain blocks of colour, why not liven up their room with some exciting stickers that depict their favourite characters? Whether they're a Frozen fan or they love all the Disney princesses, wall stickers are an easy way to add some fantasy elements to their room. There are so many vibrant colourful choices to stimulate your child's imagination, allowing your little ones to travel deep under the sea, explore the wonders of the solar system or hang out with their favourite Disney friends.
Where you have furniture in the room, see if you can get the stickers to 'interact' with it – for example, if you have a sideboard, place the stickers on the wall just above its surface so that they are 'sitting' or 'standing' on it.
Another great idea is to use the stickers together with some wall paint to make a brilliant scene. For example, you could paint a wall light blue for the sky and apply plane wall stickers to create a fun flying scene. Alternatively your light blue wall could represent the sea and you could even paint a sandy coloured 'sea bed' around the bottom of the room, ready for starfish and corals to rest on. Fill the space above with fabulous sea creatures from dolphins and turtles to killer whales, sharks and stingrays and let your little one lose themselves in an underwater adventure.
2. Spectacular scenes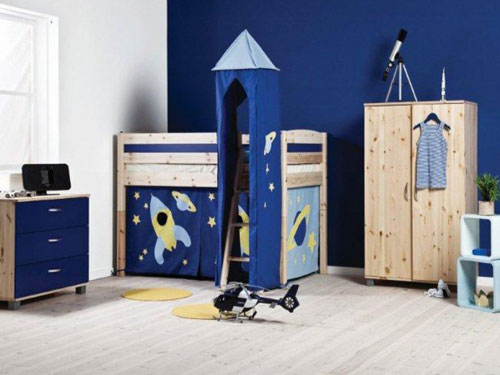 Another easy way to create a fun, inspiring scene in your child's room is to use a colourful wallpaper mural. These are a little more difficult to put up than wall stickers but the end result will delight your child and give them many years of fantasy play. If your child loves space, a space adventure wallpaper mural will go down a storm, featuring astronauts, rockets and planets to delight and excite them. If they love dinosaurs, an exciting prehistoric scene will help transport them back billions of years and allow them to act out adventures with all their favourite prehistoric creatures. For many of the wallpaper murals you can find coordinating stickers to apply around the rest of the room to complete the look.
3. Secret dens
Dens are not only a brilliant place for the kids to play but they have proven benefits too, encouraging kids to use their imagination and helping to reinforce their sense of self. Although your children can make a den from a couple of chairs and a bed sheet, you could also give them their own superhero hangout or princess castle by choosing a bed that incorporates an awesome den underneath. This brilliant mid sleeper bed has a space-themed den below, perfect for little astronauts to hide out and plan their space missions away from the grown-ups. With its terrific tower, even climbing the ladder to bed each night is exciting. You could combine this amazing bed with a space mural and wall stickers for the ultimate space-themed bedroom that your child will just adore.
If your budget won't stretch to a bed with a den, you can create a cosy hideaway using a tent or tepee filled with cushions. Whatever you choose, a good way to light your child's den is to use strings of battery-operated LEDs – these provide a soft, cosy glow and they are less of a fire risk than mains-powered alternatives that might accidentally get left on.
4. Themed beds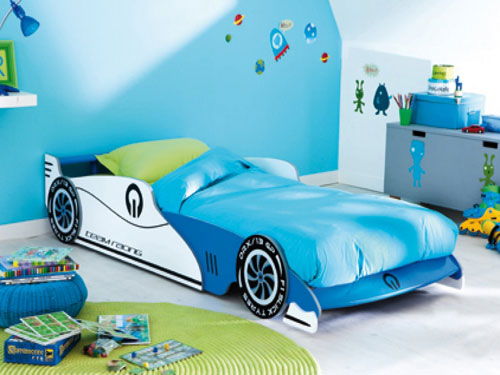 Bedtime is never popular with the kids and almost always met with at least some degree of protest! If this sounds all too familiar, why not invest in a fun themed bed to make bedtime more exciting? Your kids will be falling over themselves to climb into their own Grand Prix style racing car bed or begging you to let them ride on this brilliant digger which includes a fantastic hide out underneath for playing in the daytime. If you don't want to change your child's bed, you can use themed bedding instead – try painting the bed in a contrasting colour and adding wall stickers and wall art in the bed area to give it a themed appearance.
5. Exciting accessories
When it comes to decorating and accessorising childrens' rooms, the key is to be bold, brave and magical. This means thinking a little outside the box with your only limit being the available space. Here are a few unusual ideas for accessories that your child will adore:
Add a slide or a swing to your child's room – it's a fantastic way to let your child burn off some steam. Make sure the slide or swing is attached securely to the ceiling or floor so that your child can play in safety.
Attach a basketball hoop to the wall to create a brilliant feature that will not only look amazing in a sports-themed room but will give your child hours of play. Purchase a foam basketball for less noise and damage.
For little ones full of energy, create a low indoor climbing wall – you can buy indoor climbing holds fairly cheaply and there are plenty of guides for constructing the wall itself, such as this one. Not only will it keep them entertained for hours but the holds are bright, colourful and attractive too.
Bunting makes a cheerful decoration and is a great addition for a beach-themed room. Make sure you string it up high enough to ensure your child cannot reach it and injure themselves.
Real-life objects make fantastic decorations for the walls in themed rooms – for example, a ship's bell and a life buoy would both make the perfect accessories for a ship-themed room.
Whatever theme you choose for your child's room, let your imagination run wild and you'll create the perfect fantasy room that your child will love for years to come.
Take a look at our full range of kids furnishings here.
Image credits: classyclutter.net and thebooandtheboy.com