When it comes to adding style and sophistication to your home décor, nothing beats the luxury and beauty of sparkling silver. Choosing silver as the mainstay of your palette makes for stylish and impressive rooms that look refined and expensive.
Building a palette
Silver works well in every room of the house – whether you decide to create a fairy tale bedroom or a grand dining room, a sophisticated lounge or a boutique-style bathroom.
Metallic silver finishes are either cool or warm and when you plan your room it is a good idea to decide which you prefer and stick to that choice to ensure the end result is balanced and calm.
Cool silver metallics combine extremely well with cool greys, whites, ice-blue tinted whites and bold blacks. In a room with a cool bright silver colour scheme, furniture in black or with black elements will look visually stunning, drawing the eye and providing focus and definition.
Warmer silver is almost like nickel – this combines well with creams and a splash of black or brown. Opulent fabrics in warm shades of grey and dark natural wood finishes provide the perfect balance for warmer silver shades.
Take a look at our full guide to working with a metallic colour palette.
Covering the walls
Silver metallic paint may be a bold choice for the walls but its beautiful sheen will provide a stunning finish that shimmers and reflects the light in the room. If blocks of silver are too bold for you, consider patterned silver wallpaper for a less intense effect – this Arthouse Twilight Silver Metallic Wallpaper is a great choice. In a more traditional room, look for curlicue floral patterns or French-inspired damask designs for an undeniably elegant backdrop. In a dull space, consider silver patterned wallpaper with a glitter finish (try Laura Ashley) to help reflect the light around the room. Alternatively, choose a shade of white with a silver undertone and bring in plenty of mirrors to give the room a silver glow.
Using accents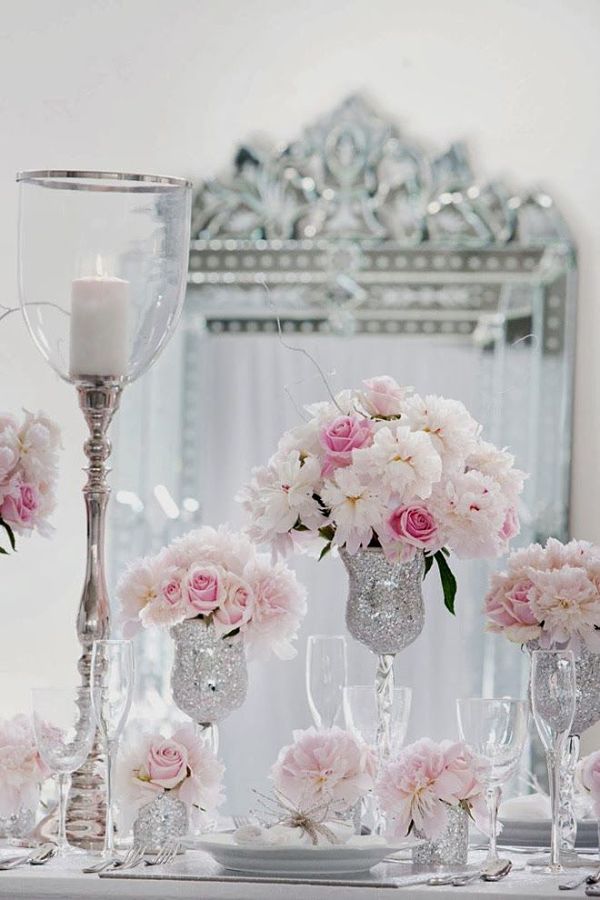 Silver is a statement colour in any room and used in excess, will give your home an air of magnificence. This lavish look isn't for everyone however, and silver works equally well as an accent colour. For a subtle look, cover a single wall or opposite walls with silver wallpaper, keeping the rest of the room white. For a bolder look that draws the eye upwards, try painting just the ceiling with light shimmery silver paint and installing a large silver feature light.  Incorporate small touches of silver around the room – cushions, accessories and art – to balance the effect.
Choosing old or new
There is a trend in interior design to combine contemporary pieces with the more traditional, especially when it comes to metallics. Silver is very forgiving in this respect when used as an accent colour but less so when used as the mainstay of your palette. If you're planning a classic room with rich fabrics, exuberant patterns and extravagant rococo-inspired silver furniture it is best to avoid contemporary pieces altogether. Likewise, if your look is sleek and modern, don't bring ornate traditional pieces into the mix.
Building layers and textures
Like gold, silver is quite easy to overdo, especially if it is used in excess without a mixture of hues, patterns and finishes. Decorating an entire room with silver metallic paint or bringing in large items of silver furniture can look heavy and uncomfortable and you need to introduce other elements to create balance. The look works best if you build up layers, using a variety of fabrics, prints and finishes. Plush velvet and rich chenille lend themselves well to the silver palette; and accessories with mercury glass, crackle, silver leaf, hammered silver and glitter finishes all help to achieve a harmonious look with plenty of interest. In a grand room, small touches of pearl and crystal accents are the ideal partners for shimmering silver with grandiose light fittings and cut glass pieces providing the perfect extravagant finish.
Get the Look
Cube Silver Metal Powder Coated Dining Chairs
Dauphine Silver Curved Chest of Drawers
Flourish White and Silver Wallpaper
Images sourced via Pinterest. Credit: decorpad.com, thehomesihavemade.com, fashioncognoscente.com.