As we welcome in the New Year, it's time to check out some of the biggest design trends that are set to make an impact in 2015.

Towards the end of last year we saw fashion on the catwalks heavily influenced by the 1960s era, with winged eyeliner, knee high boots and huge hair all making it into the spotlight. The look was not about simply reviving the clashes and chaos of the 60s however – it was a new and altogether more mature interpretation of zingy 60s fashions. For 2015, this trend is set to crossover into the home where mid-century décor will get a modern twist.
The 60s, updated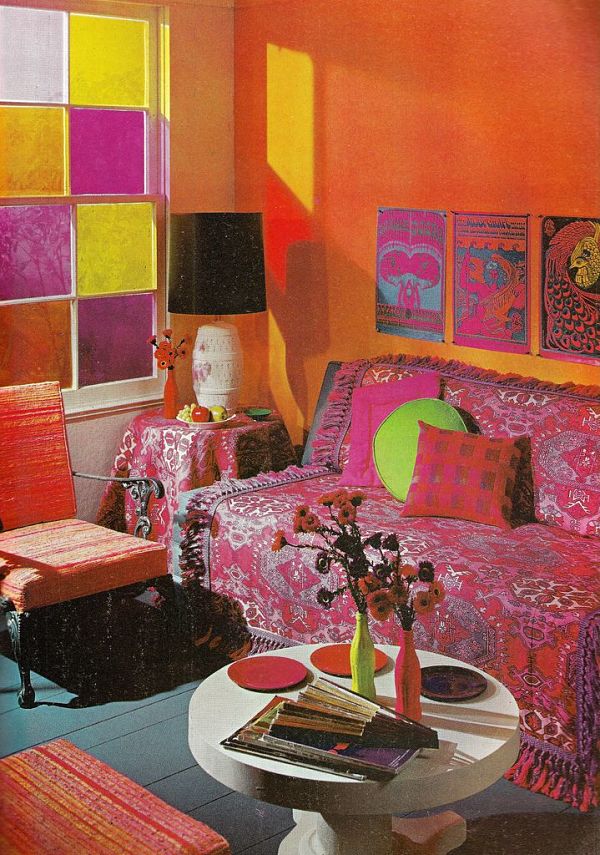 The 60s were about being as bold and gaudy as you dared with colours and patterns combined in uncomfortable clashes without limits. However, Valentino's 60s-inspired Autumn-Winter catwalk collection had an altogether more refined look. The stylish palette included navy, orange, burgundy, olive and cream with just a scattering of prints and bold geometric shapes.
In the home, the modern mid-century style trend incorporates the best of 60s retro magic with a present-day twist. The trend is to bring together touches of 60s inspired colours and just a smattering of bold patterns in combination with contemporary aesthetics and clean lines, for a look that is altogether more balanced and calm.
To make this look work for you, opt for clean white as your backdrop and introduce accent colours on feature walls. Choose from Valentino's palette and avoid the bright zingy wallpaper prints for a more sophisticated 60s-inspired feel. Be bold, but with opulent, shadowy tones rather than chaotic, clashing shades and prints. Dark hues of orange, warm grey or navy incorporated across a room with an accent wall in a coordinating colour and matching rugs and decorative pieces will create a bold but harmonised visual.
Less is more
When shopping for furniture, think 'Mad Men' rather than 'Austin Powers'. Bring in just a few select 60s inspired pieces such as this plush retro sofa with tapered 60s-style legs, which is playful, curvy and perfect for adding a retro feel to a sleek, modern interior.  Balance the look with just one or two pieces in coordinating colours from the palette, such as this wonderful upholstered armchair with its classic 60s-style buttoned back and rounded corners. Accentuate the look using a few carefully selected throws, rugs, cushions and accessories with 60s inspired textures and finishes to create a style that isn't too overwhelming and retains a relaxed and inviting feel.
More form, less colour
Today's 60s-inspired interiors seem to focus heavily on curvy retro forms and perhaps that is why Valentino surprised us by shooting his Autumn-winter fall campaign in black and white, drawing attention to the beautiful shapes and textures of his clothes first and foremost. In the home, look for vintage and modern furniture pieces in shades of white, neutrals, metallics and dark woods with classic 60s signature shapes to bring in authenticity without the gaud. Furniture and accessories with bold 60s inspired shapes like this lilly white polypropylene chair create just as much of a retro feel as their colourful counterparts.
Get the Look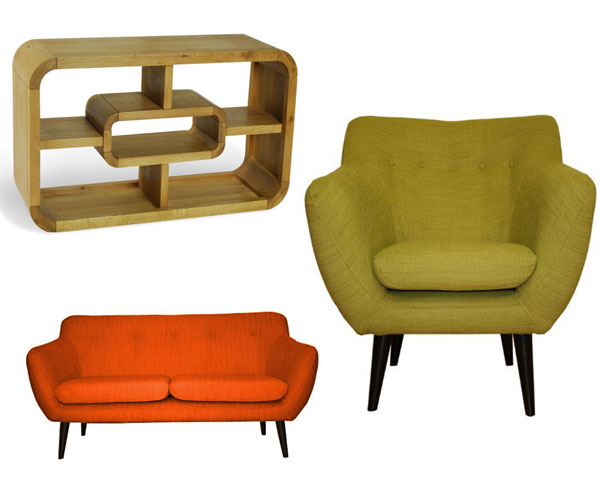 Top left: Lounge Petit Slimline Oak Table
Bottom left: Stockholm Orange Retro Sofa
Right: Stockholm Green Fabric Armchair
Images sourced via Pinterest. Credits: trendey.com, flickr.com and skinneylaminx.com