When it comes to choosing the perfect dining table, you'll probably have a certain look in mind – but there are a few additional important considerations besides the style.
Your table needs to fit well into the available space and to meet the needs and demands of your busy family. Here, we'll walk you through the basics of choosing the perfect table for your dining area that will not only look the part but last you for years to come.
Make space for diners
You need to make sure that there is sufficient space to seat the number of people you will normally be catering for, with plenty of elbow and leg room. A rectangular table will usually sit the following:
4 foot table = 4 people
5 – 6 foot table = 6 people
7 foot table = 8 people
8 – 9 foot table = 10 people
10 – 11 foot table = 12 people
These numbers are not hard and fast as the position of the legs can affect how many people can sit at the table comfortably. You'll need to look at where the legs are and ask yourself whether these are likely to get in the way. If you've got a number of children and you're struggling for room, try replacing the chairs down one side with a long bench which can tuck under the table when not in use.
Be ready to expand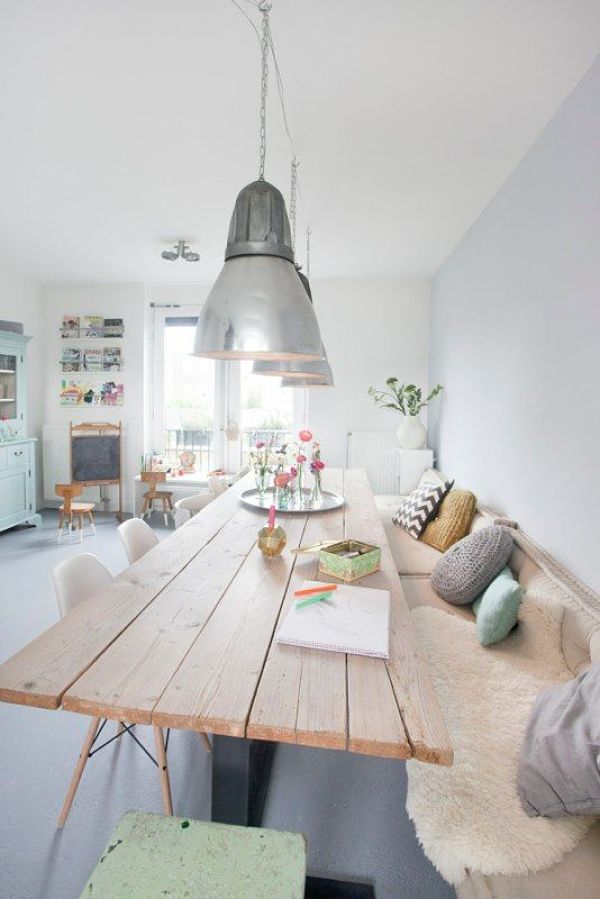 If the number of people that you'll be catering for fluctuates through the year – for example, because of family visiting at Christmas or because some of your kids are away at University – an expanding table is essential. You'll be able to make the most of the space in your room when it's not in use, and when you need it, you'll have enough room to cater for all of your diners. If you only use the dining area on rare occasions, you might want to choose a table that folds down completely – otherwise, pick a table that gives you optional length when you have more people over for dinner.
This Frances White High-Gloss Extending Dining Table is both functional and stylish.
Go round
Most people opt for rectangular tables as these seem to offer the most room but a round table, like this Club White and Black Round Table, is actually a great option in a smaller area. Round tables fit into small spaces without having corners to bump into and you'll find you can fit an extra person or two around them when you need to. To maximise the seating room at a round table, choose a pedestal design as these offer more legroom. For a round table, here is a rough guide to how many people you can seat:
3 foot table with a pedestal base or 4 foot table with legs = 4 people
5 foot table with a pedestal base = 6 people
5 foot table with legs = 4 people
6 foot table with pedestal base or legs = 8 people
7 foot  table with pedestal base or legs = 9 people
For the largest round tables, it can be a little difficult to reach the food and a lazy susan is a good investment to make this a little easier.
Measure the room
Although the size of the table itself is important, it's also crucial to be aware of amount of room needed around the table for it to fit comfortably in your dining area. Ideally, you need to leave about a metre between your table and the walls or other furniture to ensure that your diners have enough room to get up from the table and walk around when they need to.
Think durable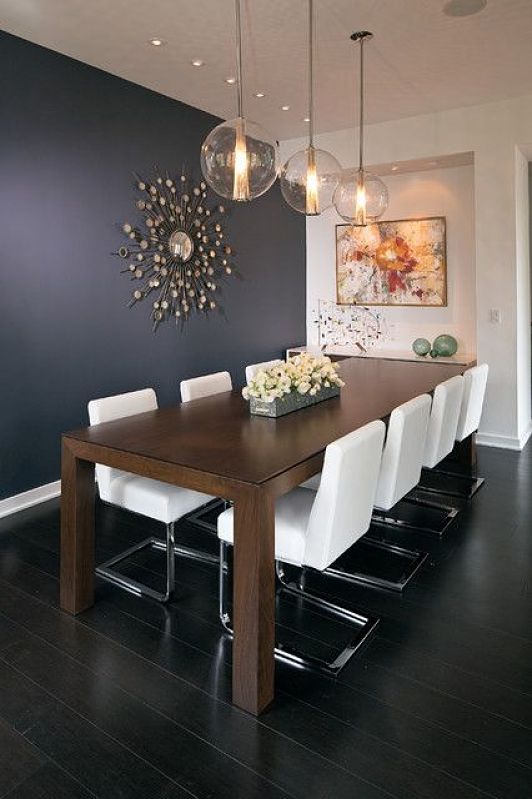 The material you should choose for your dining table depends on your family's needs. Although beautiful solid wood might appeal, it isn't the friendliest of choices if you have young children who are frequently armed with an assortment of felt tip pens and colourful paints. Neither is glass a friendly choice in a home full of kids – it might be strong and safe enough, but you'll spend all of your days polishing it to get rid of their sticky little finger marks. High gloss white tables are an excellent choice for the busy family home – it's easy to keep clean and it won't need polishing the minute your children touch it.
Chairs
You need to give similar consideration to your chairs when choosing a new table. Beautifully upholstered chairs are not a child-friendly option and wipe-clean alternatives are a much better choice. In a smaller room, opt for polycarbonate chairs – these not only allow more of your beautiful new table to be seen, but they also impose less on the space. If you are likely to have guests during the year, make sure you buy a few extra dining chairs to store away and get out when you need them – as odd chairs at the dining table look unsightly.
Take a look at our full collection of modern dining room furniture here.
Images sourced from Pinterest. Credits: stylebyemilyhenderson.com and cocokelley.com