Choosing a contemporary style for your living space promotes a sense of simplicity and function in your home.
The look is about clean lines, open spaces, neutral colours and plenty of light, all contributing to a casual atmosphere that feels relaxed and controlled. Here are our five favourite furnishings that fit perfectly with the clean and contemporary theme, each adding functionality, style and value to your home. Chosen for their practicality, elegance and durability, they will help you to organise your living space, manage your clutter and restore a sense of calm to your busy life.
1. Slick sideboards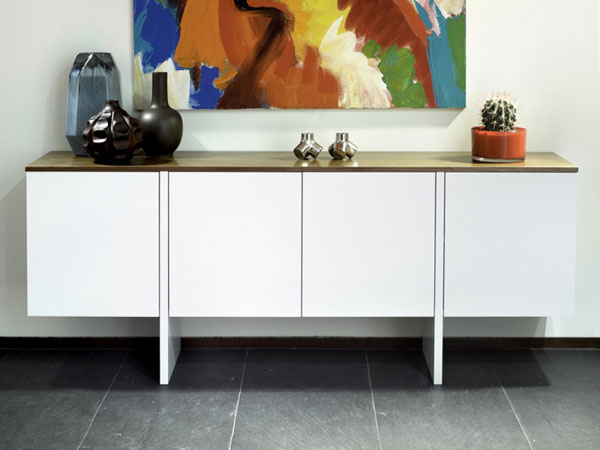 Sideboards are an essential storage solution for the living and dining room, helping to keep your living space organised and tidy. It's easy to appreciate the look of this gorgeous contemporary sideboard: with its sharp, clean lines and simple understated design, it would fit well with almost any decor. Its real beauty, however, is in its deliciously rich walnut top, which gives it an expensive one-of-a-kind feel, setting it apart from other furniture of its kind. The four cupboards give you plenty of storage space to tuck away all your bits and pieces, helping to create a more restful and clutter free environment.
2. Managed media
Placing your TV and equipment on a unit is another fantastic way to keep mess and clutter in check. The glorious sleek design of this TV unit is a generous size and will play host to screens of over 50 inches in size. With three generous compartments, it is perfect for neatly housing all of your media equipment. Each section has a cut out at the back enabling you to tuck all the cables out of sight to ensure your living space looks tidier. The white high gloss finish looks bright, clean and fresh, and will reflect the natural light for more spacious, airy feel in the room.
3. Coffee heaven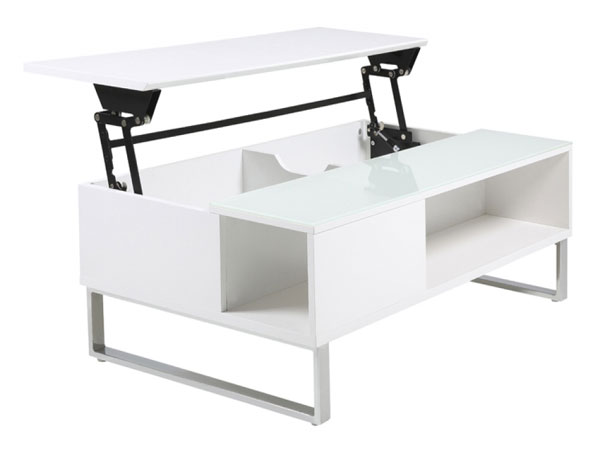 The coffee table can take up a fair amount of space in the living area and can sometimes make the room feel less spacious. The perfect solution to this is the Simmy Coffee Table. First and foremost, the Simmy looks fantastic: with its white high gloss and glass finish, it reflects the light, creating space rather than taking it up. It's a generous size too, without being imposing. Secondly, Simmy has a secret. Its pull up top lets you store items underneath out of sight – and there are additional shelves underneath for holding bits and pieces such as remotes and magazines. This superb piece of furniture lets you decide what gets put on display and what needs tucking away for a tidy, clutter-free environment.
4. Delightful dining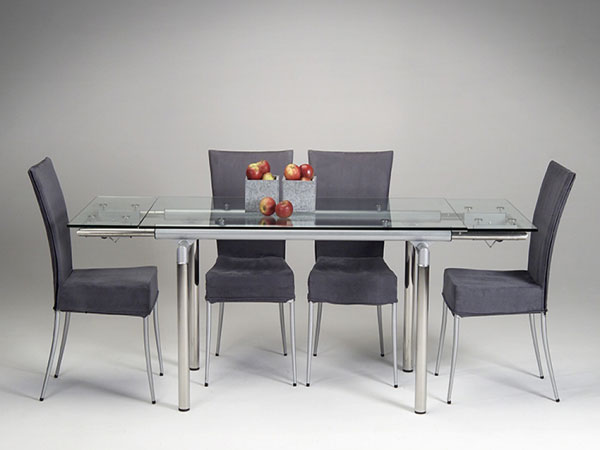 The dining table is another large item of furniture that can make a room appear much smaller thanks to its substantial size and rectangular shape. Our answer to this is the Chopin, a really elegant contemporary table with a clear glass top that allows the natural light to filter through and therefore doesn't impose on the space at all. The stainless steel legs have a crisp, clean, ultramodern design and their reflective quality further helps this substantial item simply blend into the background without appearing to impose on the space. One of the best features about this table is that it can be expanded up to a substantial two metres in length, catering for the largest of families or allowing you to host dinner parties with room for plenty of guests.
5. Showing off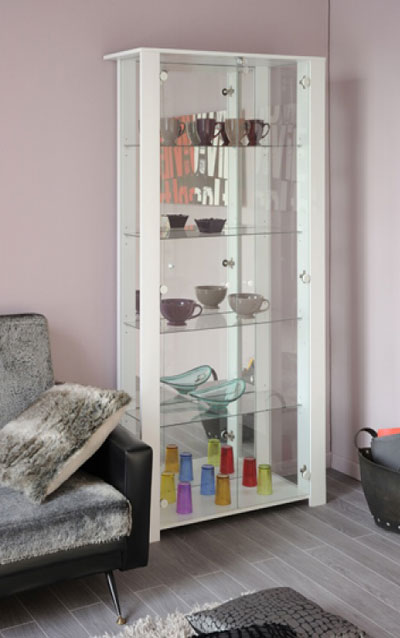 A trend towards minimalism in the home means we tend to tuck away all our bits and pieces out of sight, forgetting that some things were meant for display. By housing your beautiful glassware, elegant crockery, stylish bowls and exquisite ornaments in a cabinet, you'll create an appealing yet functional display and free up some of the shelf space in your kitchen cupboards too. The Venodome is a magnificent choice for the job – with its clean lines, glass doors and mirrored back panel, it will catch the eye before you've even started to fill it. Another excellent feature of the Venodome is that it won't make your room look smaller as it is crafted from materials that are either transparent or which help to reflect the light. With four glass shelves and extra shelf space created by the base, there's plenty of room to display all of your favourite items in chic, contemporary style.
Take a look at our full range of contemporary home furnishings here.