Neutral colour schemes can sometimes be dismissed as drab and boring, perhaps because many people don't use them to their full effect. A neutral colour palette is soft and soothing, adding timeless sophistication to any room. It is a versatile decorating choice, creating a calming backdrop that gives you so much scope when it comes to choosing fabrics and furniture to coordinate. A neutral scheme also makes it very easy to change the whole look and feel of the room in the future, without having to repaint and paper.
Choosing a palette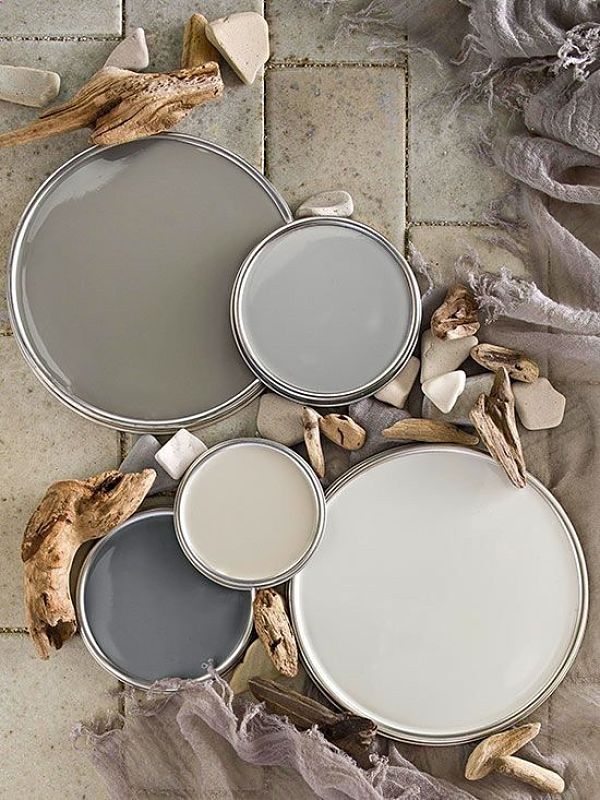 When choosing a neutral palette, pick out just two or three main colours to work with. Then, add just a small splash of contrasting colour in your accessories or artwork to create some punch. Remember that less is more – one or two bright accessories or a single piece of colourful artwork is enough to draw the eye and provide definition to a soothing, serene backdrop. In monochromatic schemes, black can also work well as an alternative to small splashes of colour in providing definition.
GREYS: A grey palette for your neutral colour scheme is ideal for a calming, inviting room. In rooms that attract little sun, warm brown-based greys will work better than blue-based greys if it's a homely feel that you're looking for. If you opt for cool greys in a sunny room, contrast with white and light wood for the perfect calming combination.
Whether you opt for warm or cool greys, ensure the shades you pick are not too similar or the room will look flat. Brilliant white should also be avoided as it lessens the understated, subtle effect of your neutral palette and can make the neutral shades appear drab. Wooden flooring, furniture and accessories with a red tone can make a grey neutral colour scheme come to life, and dabs of black can help to add depth.
BROWNS: Coffee colours with a range of shades from espresso to cafe au lait work very well for a neutral colour palette, if you're looking to achieve a restful and luxurious feel. Layer the tones for a chic aesthetic and combine with glamourous furnishings and accessories – rich, dark wood, velvety fabrics and opulent chandeliers.
WHITES: If you are considering a predominantly white neutral scheme, choose either cool shades or warm shades for consistency and harmony. Warm tones of ivory contrasted with taupe make for a beautiful and sophisticated scheme that avoids the sterile feel. If you select cooler whites, add a variety of finishes to your room, to prevent a clinical look.  Marble, mahogany and reclaimed brick work especially well in bringing together a stark, cold space. The key is to use a mix of textures, soft fabrics and surface finishes combined with natural materials to give the room an inviting feel.
Keeping it interesting
The crux of making a neutral colour scheme work is creating sufficient interest for the eye. Whichever neutral palette you choose, incorporate a variety of textures, materials and finishes that create contrast – for example, warm whites with dark wood.
Wood flooring, jute or sisal rugs, faux fur throws, leather, glass and mirrors can all add interest and detail. Stone, a material that is often overlooked, can also offer rich diversity– limestone, travertine or slate are perfect for a natural floor to add appeal to a neutral backdrop. Prominent wood grains can add elegant detail and wood surfaces can be painted matt, washed in a matching neutral colour, or left natural to show off the beauty of the grain.
Use interesting shapes in your accessories – for example, a curvy table, an oversized lamp or an exuberant chair – to break up blocks of plain colour, keep the eye moving across the space and give the room definition. Incorporating graphic elements in your textiles can also help to keep the room dynamic.
Get the Look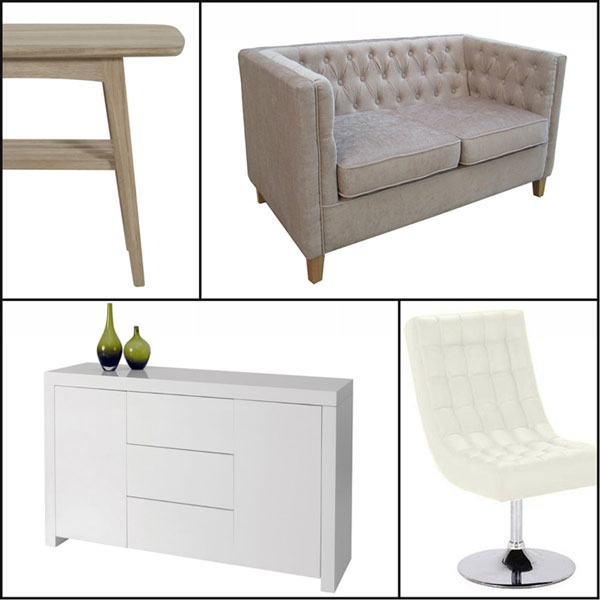 Top left: Carl Oak Coffee Table
Top right: York Chenille Mink 2-Seater Armchair
Bottom left: Galaxy White High Gloss Sideboard
Bottom right: Venus Relaxer Chair
Image sourced via Pinterest. Credit: mod-home.info.