In a recent blog post, we briefly touched on the topic of maximalism. Today, we're going to expand on this, and hopefully provide plenty of tips and inspiration for achieving the 'maximalist' look in your home.
What is Maximalism?
In terms of design, multimedia and visual art, maximalism is a movement that's typified by its richness, its abundance of embellishment and its excess of decoration.  Maximalism is often punctuated with bright colours, enhanced with a sense of luxury and usually includes plenty of sensual elements.
Quite simply, maximalism contrasts to minimalism; the movement that saw years of post-war popularity in both the arts and interior design worlds. The maximalist trend can be traced back over ten years to the early Noughties.  Designers began to mix over-saturated, sumptuous colours with a decorative and overstated atheistic.
Achieving the Maximalist Look in Your Home:
Maximalism is a difficult look to get right:  you need to create the luxurious, overstated look without living in a clutter-filled zone consisting of nothing more than mismatching bits and pieces.
It's probably best to start with a simple colour palette and think of your room like a canvas.  Your walls, floors and furniture should start out plain, and then be dressed up to achieve the style.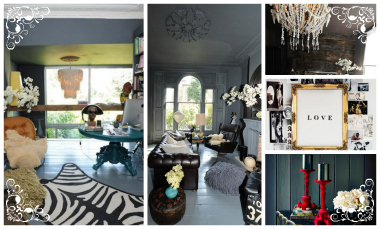 Maximalist interiors via Pinterest: candlesticks; chandelier; room 1; room 2; love frame;

Here are three different takes on the maximalist style, which you could try in your home:
Monochrome & Bold:
Black, white and silver/chrome furniture will work as a sound base, while rich and bright tones can be applied to accent pieces, rugs and accessories.  Choose monochromatic wallpapers with bold contrasting prints. This will create a really bold, overstated look.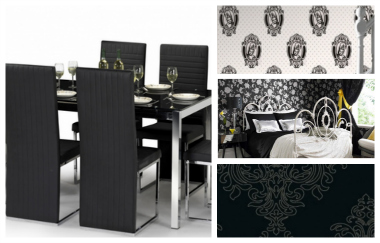 Left: Black and silver dining set  from FADS. Right: Wallpaper from FADS.
Eclectic & Light:
This look requires the eclectic use of textures, such as of wood and glass, mixed with pale colours and fluid lines to create a softer, and often warmer take on the aesthetic.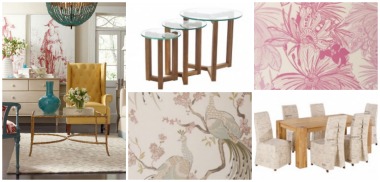 Left: eclectic design via Pinterest; centre & right: wallpaper, dining set and glass nest tables via FADS.co.uk.
Scandinavian Maximalism:
Regular readers will remember we wrote an article about Scandinavian interior design recently, detailing the pared back style where, usually, "less is more".
"Scandinavian Maximalism"  is a new take on both styles, and one we really love here at FADS.  Think whitewashed flooring, earthy tones and white walls, but featuring plenty of silver detailing, white ornaments and bold finishing touches.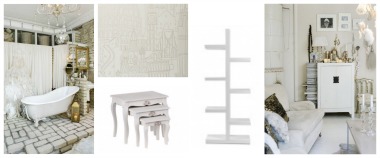 Left and right:  via Pinterest; Center: wallpaper, nested tables & bookshelf all via FADS.co.uk.
Show-stopping Finishing Touches:
In my opinion, it's the show-shopping finishing touches that really make the maximalist interior style pop.  Opt for highly decorative, baroque frames for pictures and mirrors to adorn your walls.
Flowers feature heavily in maximalist designs too.  Either choose floral embellishments for furnishings, or select bunches of brightly coloured flowers (either fresh or fake), and place in large vases to give your room the wow factor.
You can also bring out the maximalist style by choosing artwork to adorn your walls.  Opt for pictures with heavily decorative text, glamourous photography, lots of  texture overlays, unique prints and heavy ornamentation.
Design inspiration and further resources:
Do you love the maximalist look?  Has this guide inspired you to try maximalism in your home?  Let us know in the comments below!
Featured image, Maximalism book by Charlotte Rivers.  Designed by batsvik.