Here at FADS we're big fans of Scandinavian interior design and we're not alone!The Scandinavian atheistic is really popular in the UK at the moment; it's a fuss-free chic style that's easy to achieve at a range of price points.
Never heard of Scandinavian design? Here's a quick 101:
The Scandinavian countries of Denmark, Norway, Sweden and Finland are known for their simple, minimal and functional interiors.  This stemmed from earlier times, when survival in the north required function and practicality over style, forming the basis for early Scandinavian design principles.  In addition, long winters and limited hours of sunlight in Scandinavian countries led to a need for bright, light and practical environments.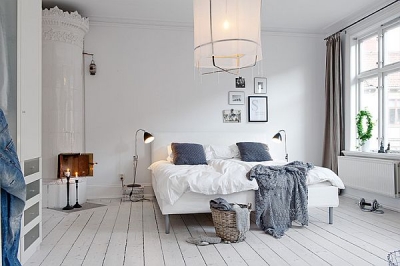 [source]
The Scandinavian design movement emerged across North America and the rest of Europe during the 1950s; in fact, its popularly can be traced back to a design show of the same name that travelled the US and Canada during the decade.  Both this exhibition and others like it were responsible for showcasing Scandinavian design and influencing the development of modernism across the two continents.
Today, many people are "going Scandi" with their interiors, opting to fill their homes with a simple monochrome colour palettes, buying simple-yet-functional pieces of furniture and accessorising with either soft muted linens or modernising the look with contrasting, bold printed accessories.
Traditionally, Scandinavians only sought hardwearing, useful furniture, and always with a focus on solid craftsmanship – this is something that is still reflected in today's design principles.
Scandinavian interior design for your home:
If you're redesigning your home and you'd like to incorporate some Scandinavian design principles, this is what you need to remember:
Opt for plenty of monochrome: Think white walls, white wooden floors and a mixture of white, black and wooden furniture.
Look for rugs, curtains and textiles in cool greys and blues.
Do opt for pops of colour: reds, turquoises and mustard yellows work fantastically with a monochrome colour palette, Contrasting colours and bold prints are regularly used in Nordic homes particularly.
Alternatively, opt for earthy tones to compliment wooden furniture: dark brown leather works wonderfully with dark green rugs.
Pay attention to lighting: Good lighting, an abundance of lamps, sparkling fairy lights and warm bulbs will help to create a wonderful atmosphere.
De-clutter!  Hide everything away by looking for furniture that doubles up as storage.
Opt for clean lines: Flat surfaces, easy on the eye and no ornate designs.
To be truly Scandinavian, a space must be liveable and workable.  In the modern home, this is still important as for many, space is at a premium.  Plan ahead by thinking about how you'd like the room to be used and furnish appropriately.
Wooden floors:  In Sweden particularly, houses never really had carpets.  Opt for hardwood floors with cozy rugs in neutral or complimenting tones.
Need some inspiration?
Here are a few of our favourite pieces from FADs, and a couple of Nordic style accessories that you could try, whether you have been inspired by Scandinavian interior design or you just love monochrome!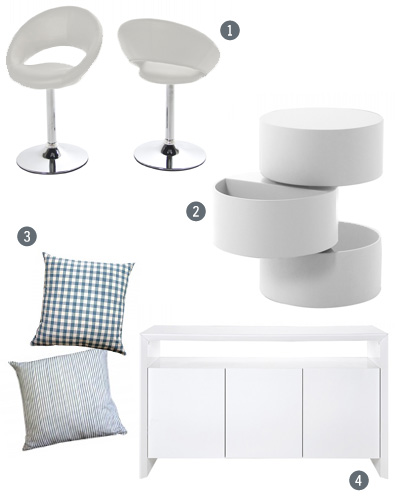 1) These Caspian White Faux Leather Dining Chairs are by FADS. They'd look fabulous at a matching white dining table in a modern kitchen.  2) Matching style with practicality and function, this Ruby White Matt Lacquered Rotating Storage Coffee Table is unique, contemporary AND useful. Also by FADS  3) These subtle blue print cushions are nordic through and through.  Available from NordicStyle.com.  4) The Foley White High Gloss 3 Door Sideboard from FADS is modern, stylish and striking. This sideboard is really strong and durable, a quality piece of furniture. Perfect for keeping a room clutter-free, as you can hide objects away behind the doors.
Resources & Credits:
Here are a number of resources we used to research this blog post, listed here for your perusal if you'd like to learn more about Scandinavian interior design: