As you've probably noticed by our site's design, the products we stock and our last blog post, we're huge fans of monochrome here at FADs.  A black and white colour scheme is very easy to implement, so simple to work with and yet it achieves a stunning, dramatic effect.
As such, we've put together a themed blog series called "monochrome home" for your perusal.  Periodically, we'll post design tips, inspiration and our favourite pieces from our shop – all to help you achieve this fabulous style in your home.
Today, we're focussing on wallpapers – an easy way to quickly update any room and give it a contemporary feel. Here are three of our favourites from our wallpaper shop: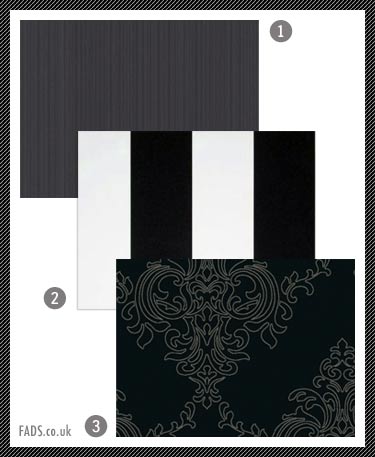 1) Kelly Hoppen Linear Black and Charcoal Plain Textured Wallpaper –
If you're a fan of Dragon's Den, you'll recognise the name Kelly Hoppen – she is one of the famous "Dragon Investors" that appears weekly on the UK version of the show.  Kelly is a world-famous interior designer, widely known for her love of neutral colour schemes, such as beige and taupe!  However, her monochromatic wallpapers do not disappoint:  Ms Hoppen has designed this simple, yet effective charcoal coloured wallpaper that mixes classic and contemporary styles with ease.   It is a gorgeous smoky colour that doesn't feel too bold. We can see this lovely wallpaper working well in a dining room.
> Shop Kelly Hoppen Charcoal Wallpaper
2) Bravo Black and White Striped Wallpaper –
This is a classic-yet-fashionable striped wallpaper that would work perfectly for a feature wall in bedroom or sitting room.  It'd also work really well in the hallway too, perhaps running alongside your staircase?
> Shop Bravo Black and White Striped Wallpaper
3) Arthouse Ravelle Black Floral Wallpaper –
Who says that monochrome has to be minimalist?  Embrace a bit of luxe with this opulent black wallpaper, which features ornate silver floral detailing.
In "Maximalism, the Graphic Design of Decadence and Success", Charlotte Rivers writes:
"Patterned wallpaper has had something of a renaissance in recent years.  It is no longer confined to rooms that haven't been decorated since the sixties, but has spread to newly opened bars and stylish apartments.  It can be flocked, screen printed, hand painted or computer generated, just as long as it's patterned."
Style this beauty with modern, monochromatic furniture, but let the wallpaper be the focal point of the room.
Adorn your walls with sensational show-stopping mirrors to really achieve a maximalist effect, and add the occasional splash of bold colour with a vase of flowers and a few choice accessories.  Et voila.
> Shop Arthouse Ravelle Black Floral Wallpaper
Remember:  If you're covering your room's walls with black paper, think about lighting first – you need to ensure the room remains both warm and welcoming.
Click here to visit the FADS wallpaper section.
Images sourced via Pinterest. Credits: apartmenttherapy.com, modernandclassy.tumblr.com,