Did you know that wallpaper was originally an alternative and cheaper version of tapestry?

The practice of hanging paper on the walls dates back to Renaissance Europe where less well-off members of the elite used loosely hung or pasted paper printed using blocks of wood to brighten up their homes. Over the last decade or so, wallpaper has fallen out of favour, with the ever-growing range of paint colours, choices and finishes taking its place. But wallpaper is very much back in fashion and the latest eye-popping designs and stylish patterns are taking the design scene by storm.
Textures
Whilst in the past any mention of 'textured wallpaper' might have conjured up images of woodchip or 'easy hang' relief designs, today's textured wallpapers feature beautiful flock, satin and metallic accents that bring interest and appeal to any surface. The Barbara Hulanicki Ophelia wallpaper is a favourite, featuring gorgeous soft touch flock flowers on a glamorous shimmering metallic grey background. The paper is also available in a range of alternative colours to suit your choice of décor.
Feature walls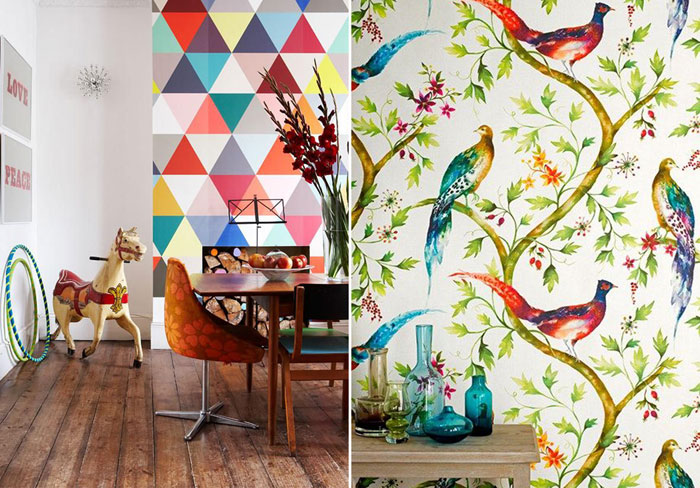 Bright, bold and daring wallpaper designs are the perfect choice of covering for a feature wall. Picking a statement design for a single wall allows you to experiment with something different and a little outlandish without making the room feel uncomfortable or overwhelming. The Lamps damson and cream wallpaper is a great choice, featuring a fascinating, unique design that draws the eye. The simple lamp outlines are in damson flock, set on a shimmery metallic cream background for a beautiful finish.
Contrasting walls
Unlike the days of old, there's no need to choose a single wallpaper design for your room. You can choose two or more contrasting designs that add colour, interest and vibrancy to any area of the house. Mix and match different prints and textures whilst stick to the same or complementary colour tones for best effect.
Ceilings
The right wallpaper on the ceiling can look stunning and stately, drawing the eye upwards and creating the perfect backdrop for a beautiful feature light. The Arthouse metallic effect wallpaper is ideal for this purpose – the free pattern match makes it easy to put up and the metallic finish will reflect the light, enhancing the room rather than making it look enclosed.
Metallics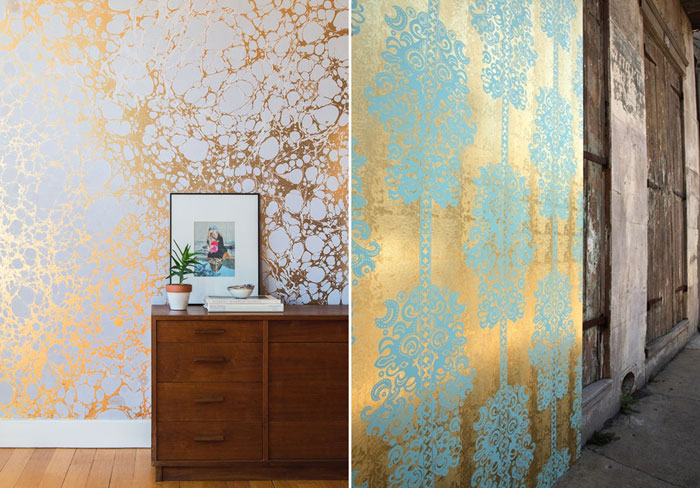 Using metallics on the walls is a huge trend and metallic wallpapers can add a stunning, reflective finish to any space in the home. The Arthouse floral design wallpaper is the perfect example: its shimmery cream background reflects and enhances the space around it, making the most of the natural light in the area. In a smaller room, the light reflecting quality of metallic paper allows you to get away with choosing darker colours, without making the room feel boxy. The silver embellishments of the LLB silk textured black floral wallpaper really make it come alive, providing an energetic wall covering that delivers a touch of Hollywood boudoir, perfect for the bedroom or bathroom
Unusual patterns
Wallpaper has come a long way from swirling seventies florals and the boring geometric prints of the eighties. Now, there's no limit to what can go on the walls and there are hundreds of interesting, unusual patterns and prints to choose from. For example, this fabulous crocodile skin pattern comes in a range of colours and allows you to create a look in any room that is truly different and inspiring. The expresso brown colourway would add a gorgeous textural feel to the lounge, dining room or bedroom, bringing extra interest and dimension to any space.
Busy prints
Busy prints can look a little too manic on a large wall – but in a small shady area, they are perfect for injecting a little interest and energy. The Knitwear print is a great example – inspired by retro woolly jumpers, it is the result of hours spent doodling knitwear designs and the end product is a lively, provocative pattern that will liven up even the dullest of corners.
Striking florals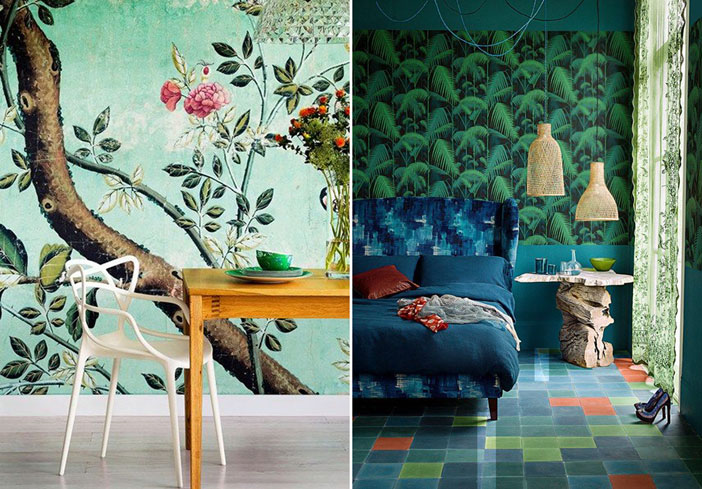 Floral wallpaper was extremely popular through the eighties and early nineties before it found its way into room 101. However, the floral prints of today, like those that adorn the Hula Ebony wallpaper, are bolder and more creative than those that you might have found in your grandparents' house. Use them throughout your home for a striking display that will turn any wall into a work of art.
Retro
With recent catwalk collections including a nod to seventies fashion, retro prints have seen a revival and there are plenty of designs available that allow you to add a touch of retro glamour to your living space. The Piazza wallpaper print is a great choice for introducing a hint of retro colour with a modern twist. The vibrant print is stylish and dramatic, perfect for a living or dining room feature wall.
Illustrations
Wallpapers that illustrate a scene aren't just for children. The Globetrotter wallpaper, for example, is a beautiful print that is perfect for the living or dining room and with its fun depictions of popular landmarks such as Big Ben, the Great Wall of China and the Colosseum, it makes a wonderful talking point. The print comes in a choice of colours: the light option features gold on natural white for a more subtle effect, and the darker option uses gold on jet black for a more eye-catching display.
Furnishings
Wallpaper isn't just for the walls – it can also add a beautiful individual touch to your furnishings too. Line the inside of a bookcase or shelving unit with a bold design to add colour and interest to an otherwise plain piece of furniture. Using a bold gutsy design like the Arthouse floral pink wallpaper you can transform a lifeless piece of furniture into a beautiful display feature that provides a focal point for your room.
Images sourced via Pinterest. Credits: etsy.com, houseandgarden.co.uk, desiretoinspire.net, zsazsabellagio.blogspot.com, designmilk.com and decoist.com.