Whether you're renting a room in a shared property, or have a whole flat or house to yourself, you'll know that putting a personal stamp on the place can be a headache. So we asked Joanna Thornhill, who's just written a book on the subject, to share her top tips.
I always half-joke that my debut interiors book, Home for Now, is as much an autobiography as a how-to-decorate guide: having lived in over a dozen rentals throughout my adult life, I slowly picked up tips and ideas on how to 'decorate-without-decorating' in my various rented spaces, long before I began a career in interiors (which might explain why in one bedroom many years ago, I inexplicably decided to cover all the doors in cowprint fake fur and accessorise with glittery ornaments. Classy!)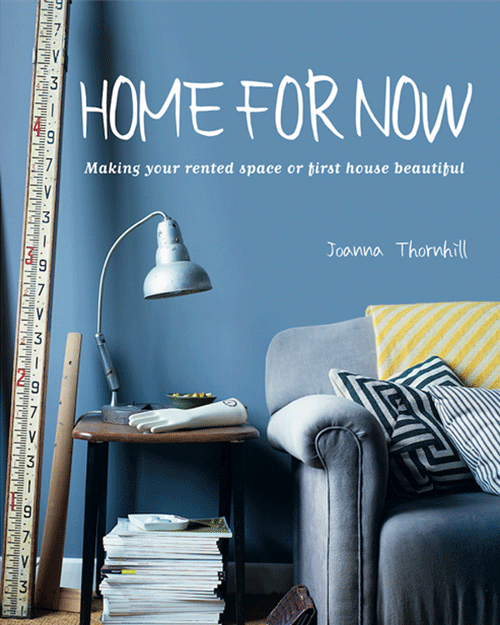 A combination of these trial-and-error decorating adventures, combined with my knowledge as an interiors stylist and writer, had me itching to put everything down in a book, hopefully to help the ever-growing army of long-term renters desperate to put their stamp on their home, but wary of jeopardising their rental terms or spending much money on a home that's not their own.
Here, especially for FADS readers, I've rounded up some of my favourite tips and images:
1. The Gallery Wall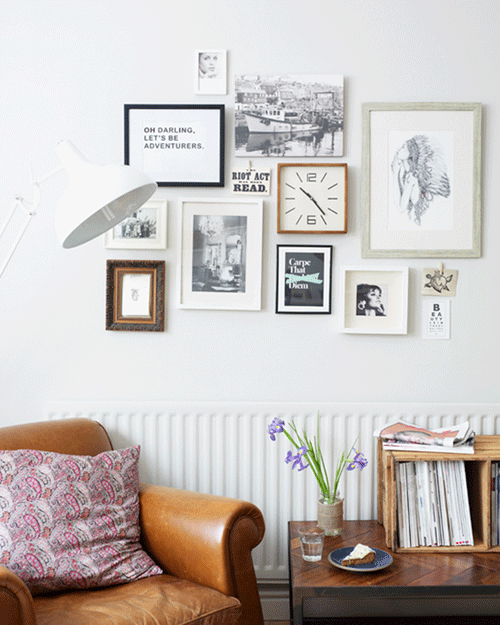 Love the feature gallery wall look but can't hang any nails? No problem! Look out for removable picture hanging and poster strips, which attach frames or artworks directly to walls and can be removed without a trace. Or for a more casual look, get yourself a roll of decorative Washi tape and use it to casually stick up unframed prints and ephemera at the corners – although strong, it can also be removed without marking walls.
2. Patterned Walls
You might not be allowed to decorate your rental, but there are other ways to add pattern to walls. Try hanging a single length of wallpaper from a nail or ledge at the top of a wall, suspended from a wooden trouser hanger, for a hit of pattern without the commitment. If you're feeling brave, you could even take it a step further with a removable mural, for a commitment-free ways to add pattern.
Take a look at our full range of wall coverings.
3. Painting You Can Get Away With!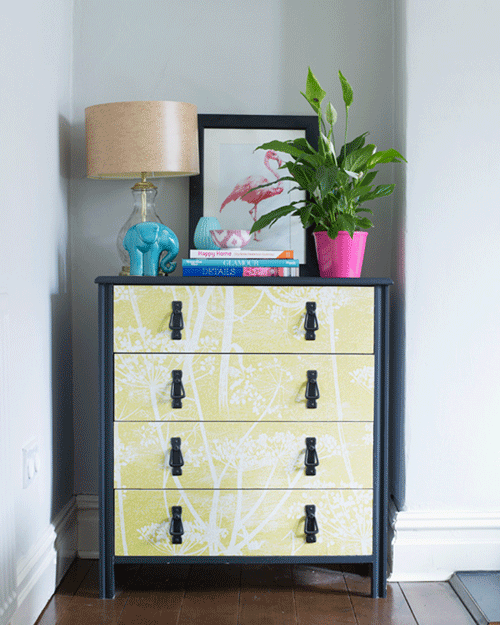 Painting furniture (if its your own) can be a great workaround for adding colour if you're not allowed to paint the walls themselves. Annie Sloane Chalk Paint is a brilliant option for both wood and even cheap melamine furniture, as its (unsurprisingly) chalky consistency sticks to almost any surface. If it's not a massive piece of furniture, you could add extra interest by sticking decorative giftwrap or wallpaper offcuts to flat sides or drawer/door fronts, securing in place with a little wallpaper paste or even some double-sided tape.
4. Maximise Your Storage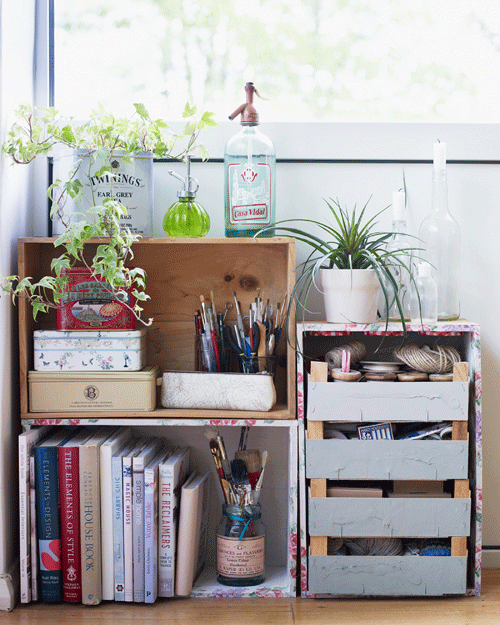 Adding storage in a rental can be tricky – you want to maximise the available space, but may understandably be reluctant to invest much money on something large which might not work in future homes. Consider the humble wine crate – collecting a set of sturdy old vintage numbers will allow you to build them up over time – either horizontally or vertically – and when the time comes to move on, you're already halfway to being packed.
5. Think Outside the Box
Likewise, don't be afraid to use furniture for something other than it was originally intended, especially if you're trying to incorporate your landlord's furniture into your own look. Why not use that spice rack in the bathroom to store nail varnishes, or keep that chest of drawers in the living room to act as a side table with added storage?
6. Clean Up the Clutter
Whether you just use your computer to check Twitter or work full-time from home, a messy, disorganised desk area won't please either you or any house mates, particularly if it's set up in a corner of your bedroom or in a communal area. Keep your eyes peeled for an old bureau to house your computer and work paraphernalia, or even customise an old armoire or wardrobe by fixing a few shelves in it. That way you can tidy (well, visually at least) any mess away at the end of the day, simply by pulling down a lid or shutting a cupboard door.
7. Kitchen Tricks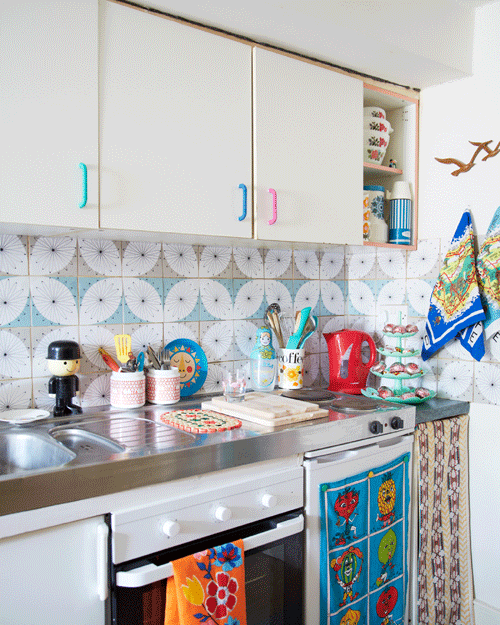 Kitchens can be tricky to adapt in a home-for-now, but don't lose hope! Sticky-backed plastic can create a surprisingly modern finish when used to disguise flat cupboard doors, and should peel off without too much fuss when you need to return the cupboards to normal. On a smaller scale, replace grotty cupboard handles with mismatched vintage ones, which you can easily swap out again when your tenancy ends, or disguise them with Washi tape or fun coloured twine. And if your tiles are dull or dated, try disguising them with tile stickers – most adhere with just static and water for the ultimate no-fuss transformation.
8. Get Creative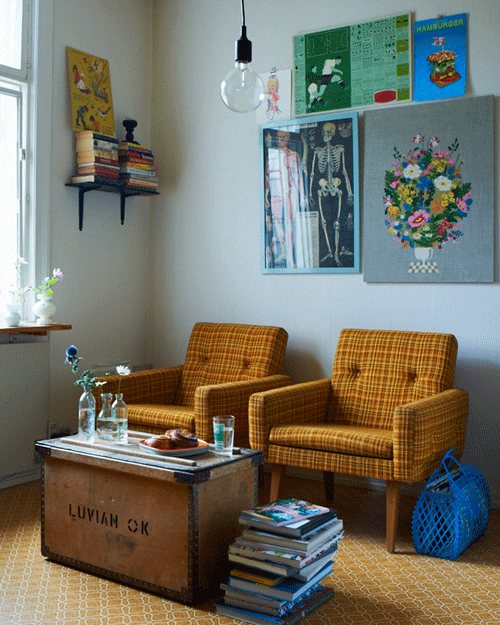 Learn to embrace an eclectic look – you may not like every piece of furniture or décor within your home-for-now, but accept that now is not the time for fully coordinating colour schemes. When adding new furniture or accessories, stick to what you love and what makes you happy, and you'll be surprised at how it helps your space come together and feel like home.
Photo credits: Emma Mitchell and James Gardiner
What do you think of Joanna's tips? Feel free to share your own below. And don't forget to check out our 4 day mega sale, over on the main site right now. It ends Sunday 7th December.