Red is a firm favourite for adding drama to any room and a bold choice that people are sometimes hesitant to use. But don't dismiss red as too reckless – carefully incorporating it into your colour scheme will give you stunning results. Dramatic red makes a high-impact design statement that's always glamourous and sexy – and no colour scheme is too timid to handle a shot of this daring colour.
Because dramatic reds have so much energy, you don't need to use the colour throughout the room to make a statement. A feature wall, a row of stools or a large sofa in a dramatic shade of red all have the ability to make a huge impact and instantly grab your focus. Even just a small accessory in a bold shade will draw the eye when incorporated into an otherwise neutral room.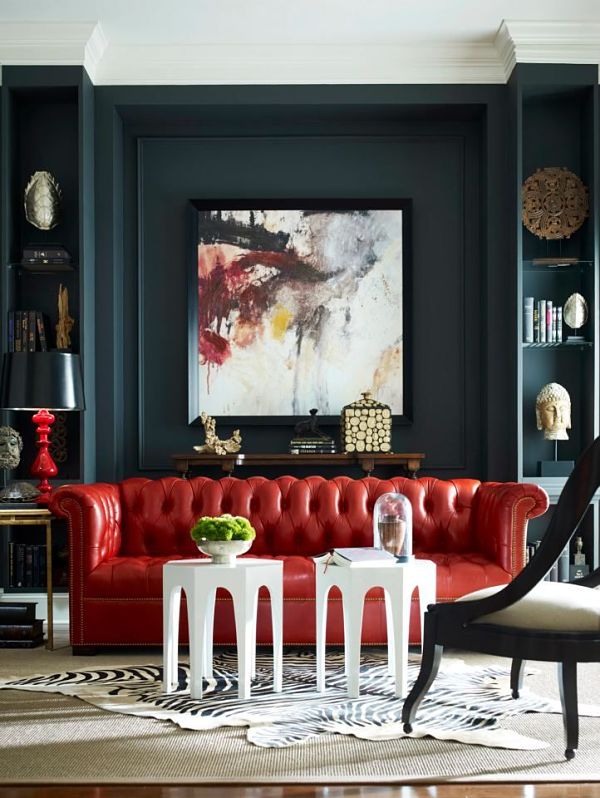 When you're using dramatic red in your scheme, it's all about the other colours you choose to pair it with. Some colour schemes, like whites and neutrals with wooden floors and natural stone, make dramatic red shades really pop. Against a neutral backdrop, the red details become the defining element of the space. Other contrasting colour choices, like chocolate brown, 'ground' the red and make the effect altogether less intense.
The shade of red that you choose has a huge impact on the feel of the room. Although any shade of red will look dramatic against whites and neutrals, picking a high-octane orange-tinted tone will give the room more vibrant energy. In contrast, choosing a more purple-toned red such as  maroon, brick and burgundy can give a more cozy, warm and traditional effect.
As well as the shade of red, consider how you can use different finishes. Bright kitsch red paint in a glossy finish is the perfect way to dress up an old-fashioned chair or small table, creating a cool, modern accessory for your room. Alternatively, a bold matte red paint provides a creative finish for the interior of a glossy white unit or bookcase.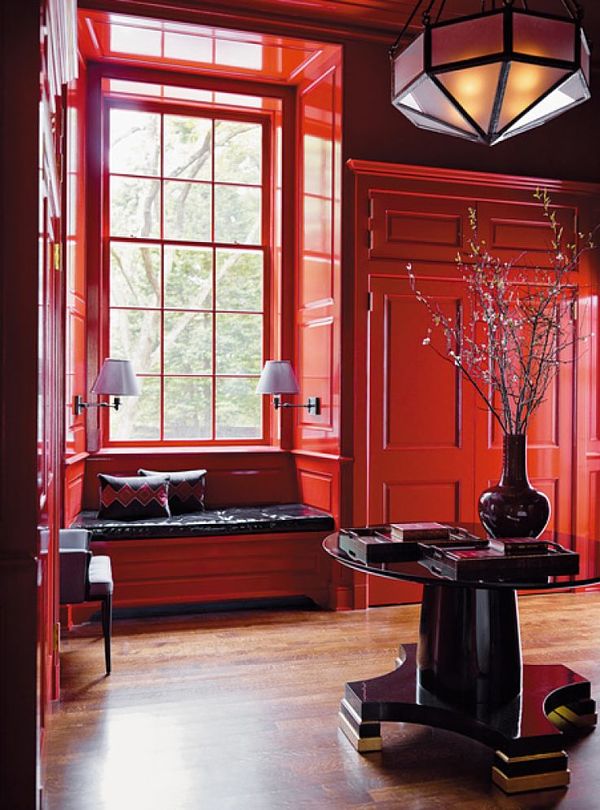 An advantage of dramatic red is it supports strong accessories well – making a beautiful backdrop for highly ornate mirrors, frames and wall art. Dramatic red also provides a rich matte contrast to metallics – for example, a feature wall will really set off a brass chandelier hanging in front, for a truly sophisticated look.
If decorating with dramatic reds makes you nervous, consider that you don't have to use solid blocks of colour. Another way to infuse your room with red without being too gutsy is to choose an upholstered chair, curtains, a rug or throw that features a red pattern. If you're hesitant about putting solid red on the walls, consider adding just a splash using stencils or red patterned wallpaper. Red voiles at the window are also a good way to use the colour in a more understated way – they will bring warm-spectrum light into the room and as they are sheer, the effect of the red is more subtle.
In a small room, it's unwise to paint an entire wall with red right up to the edges as this can make the room look even smaller. Instead, painting the red onto a white background and leaving a good size gap of at least half a metre around the edges can actually help to create the illusion that the room is larger than it really is.
Get the Look at Home
Top left: Viva Bordeaux Armchair
Top Middle: Galaxy Red Dining Chair
Top Right: Mario Red Dining Chair
Bottom right: Fillipa Dark Red Sofa
Feature images sourced from Buzzfeed, domainehome.com and apartmentherapy.com