With 2015 well and truly underway, we take a look at some of the interior design trends forecast for the coming year, and how you can incorporate the best of them in your home:
"Big nature, small me"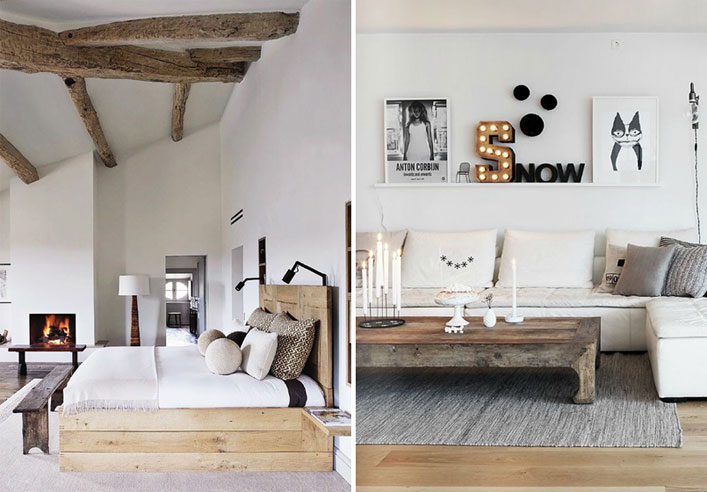 The team behind the world famous Dulux brand predict that this year is about putting things back into perspective. With our busy lives so rigid and constrained, AkzoNobel anticipate that our interior designs will follow our yearning for simpler, freer living – a feeling that all you need to enjoy life is a backpack and a single garment. This idea transcends into the home in the form of simplicity, stripping away anything that is unnecessary and purely cosmetic. Instead of high ceilings, endless corridors and vast spaces, the look is achieved by creating small environments that shield and embrace us. Spaces should be warm and comforting, and make use of colours and materials taken straight from nature. On the walls, rich earthy tones – sienna, ochre, sepia and baked clay – provide an inspired backdrop for simple, rustic furniture like this gorgeous pine dining table crafted from 150 year old reclaimed wood or this simple, charming lamp table fashioned from solid pine with its primitive yet striking cruciform shape.
"Being different"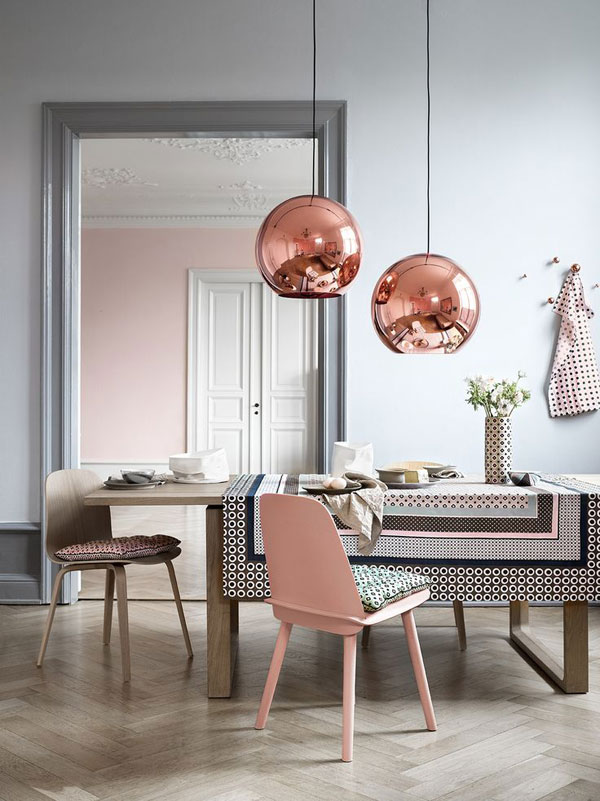 Another trend on the 2015 horizon is that of celebrating the differences and unique qualities between genders. Increasingly, we have seen a movement towards appreciating the difference between genders rather than associating equality with sameness. This trend is about acknowledging that masculinity and femininity are individual yet complementary, and that the traditions associated with each can be stretched. In the home, masculine and feminine colour palettes come together to create serenity and balance. Hues from the feminine side include powder pink, cream and damson; and these are combined with masculine tones of slate grey, teal and khaki. The overall effect is simple, classic and understated.
Furniture and accessories to complement this look are confident and stylish, making use of rich dark woods, luxurious fabrics and statement pieces like this fabulous jewel-coloured armchair or this distinctive Macassar Ebony coffee table which screams for attention. Don't feel restricted by the need to match your furniture choices: according to the design team at Zillow Digs, 2015 is about eclectic multi-era décor and matching sets are a thing of the past.  Embrace your individuality by pairing your retro sofa with an 18th century inspired lamp table, or combining an ornate dressing table with a minimalistic bed – it's about creating an uninhibited look that is truly reflective of your personality.
"Leftover space"
Our demanding lifestyles mean that space is at a premium in the modern home, and with that in mind, designers predict that 2015 will be the year in which we value and better utilise areas of the home that have previously been neglected or ignored. These might include, for example, transforming the space under the stairs, or making better use of a hallway that has previously just been a walkway. By creating a stopping area in the hallway which caters for messy shoes and boots, raincoats and soaked umbrellas, you'll stop the wet coming into the home which can damage hardwood floors and stain carpets and rugs. You'll also be giving purpose to your hallway so that it is no longer simply an access point for the rest of the home, and you'll be helping to utilise every inch of your space to maximise its worth.
As part of the 'leftover space' trend, we can also expect to see the return of decorating techniques that help create the illusion of space. For example, employing light and dark shades of paint together can help to create the appearance of depth when there is none. To help you achieve this, AkzoNobel have concocted a highly sophisticated colour palette that incorporates neutral pink, blue grey and khaki. There are four tones for each shade, allowing areas to be painted using different strengths of the same hue so as to create the look of space and harmony. We can also expect to see the return of traditional specialist techniques this year such as trompe l'oeil, which can be used, for example, to create a view in a room that lacks a window.
Furniture following this trend is about using optical illusions, creating perceived space and getting the best value out of what we have. Smart space saving solutions that incorporate hidden storage, expandable furniture that tucks away when not in use, and furniture with more than one purpose are all befit of this trend. Look for beds with drawers or hidden storage underneath, coffee tables with concealed space like the sleek pull out Japanese-inspired Kyoto, ottoman storage that doubles as seating and sofas that double as beds or with room underneath for your blankets and possessions.
Images sourced via Pinterest. Credits: centsationalgirl.com, arkpad.com.br, yellows.dk, nytimes.com.