Most of us have at least one room in our home that looks boxy and cramped. Fortunately, when you're decorating a small area, there are a number of things you can do that really work in maximising the appearance of space.
Here, we look at 16 ways that you can make a small room appear bigger than it actually is to take your room from confining and uncomfortable to airy and spacious:
Declutter: When space is at a premium, don't fill it with junk you don't need. Clear out anything non-essential to the area, and keep accessories to a minimum.  To keep bits and pieces you really need out of sight, pick furniture that incorporates smart storage such as a coffee table with a cabinet or drawers below – this Simmy White Gloss Coffee Table is perfect..
Multitask: Keep the contents of the space to a minimum by choosing furniture that has more than one function, or that can be expanded where needed. A storage ottoman is a great buy, as you can keep things that you need out of sight and use it as either a table or seating as required.
Foldaway: Look for furniture that can be folded or stacked to keep your use of space to a minimum. Any item of furniture that can be tucked away will help to keep your room free from unnecessary items.
Go large: You might assume that lots of smaller items of furniture will look better in a small space. In fact, select pieces of large furniture in a small room can look less cluttered and make the room appear bigger.
Keep it light: Dark colours make a room cosy and enclosed. In contrast, colour palettes that are light and airy will help give the appearance of space. A monochromatic colour scheme works best, utilising varying shades of the same light colour. Take a look at our infographic on how to use colour in your home.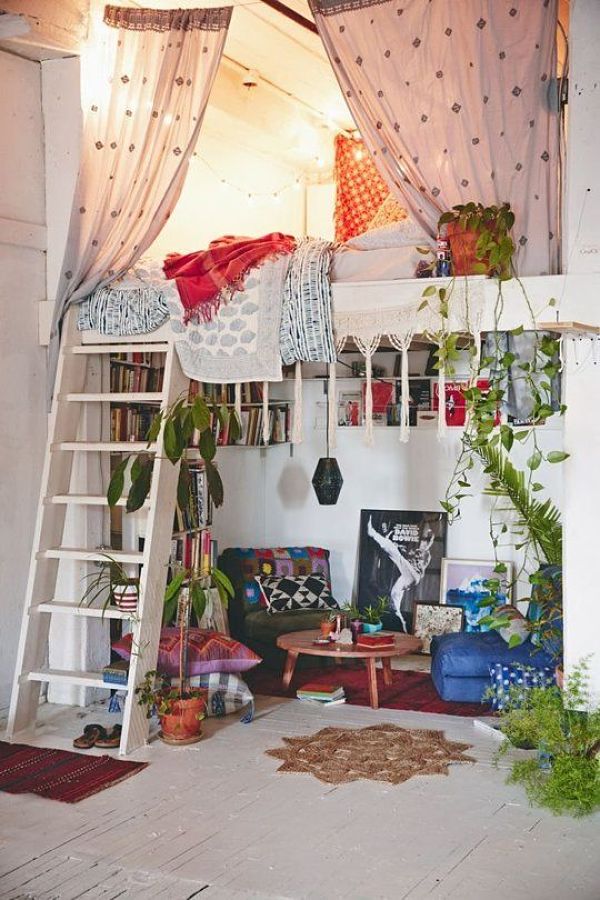 Block it off: A feature wall in a slightly darker shade of your chosen colour can help make the room look larger. The key is to paint the colour in a block in the centre of the wall, leaving a wide band all around the outside. This effectively redefines the edges of the room for the eye.
Blend in: Choose furniture the same colour as your walls so that it blends into the background without interrupting the space. See-through furniture, like this Elizabeth Clear Polycarbonate Dining Chair, also works well in providing functionality without cluttering up the space.
Find your angle: Most people will butt their furniture right up to the walls of the room in the hope to maximise the floor space. However, this doesn't always make the room appear larger. Experiment with different positions for your furniture – sometimes, placing it at an angle or a few feet from the wall can actually increase the sense of space.
Mount it: The more furniture you put on your floor, the smaller the room will appear. If you need a lot of storage, consider wall-mounted options. Pick pieces in the same colour as the walls or made from mirrored glass, and where the shelves are exposed, don't completely fill them for a more airy look.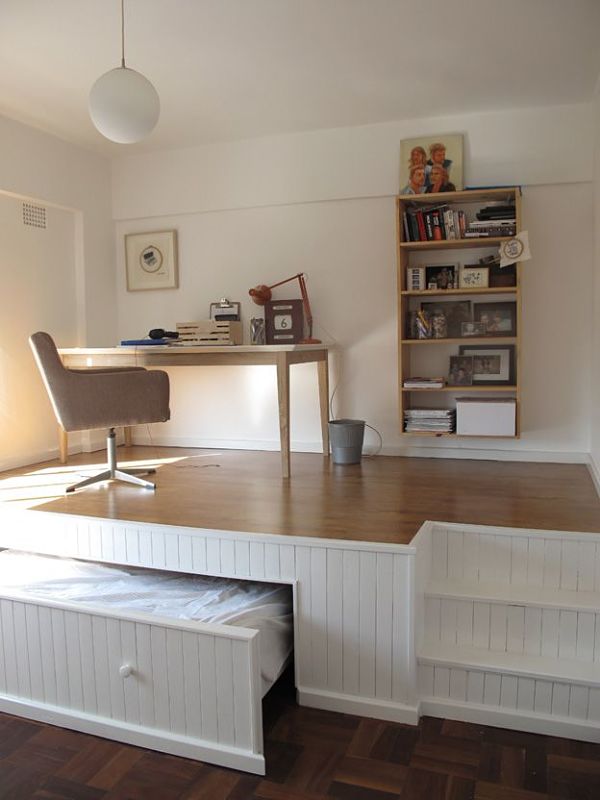 Avoid prints: Plain light colour combinations work better than prints at keeping the room light and airy. If you want to add interest, try varying the textures. If you are adamant about introducing prints to the space, make sure they are small prints.
Open up: If the room has a window, don't cover it with heavy curtains. Use minimal, light window coverings so that the outside space becomes part of the room.
Use mirrors: Mirrors are one of the most well-known tricks for increasing the perceived size of a room – they will not only make a space look bigger but will also amplify any natural light. Place a large mirror near the window to reflect the outside and draw in the light.
Emphasise height: Decorate in a way that draws the eye upwards. Installing a high shelf or wall to ceiling bookcases will have this effect and will make your ceilings look taller than they actually are.
Go long: Using a countertop or desk for the entire length of your room will trick the eye into thinking the room is longer than it really is. A striped floor or rug can similarly create the illusion of a long room.
Spread the light: Rather than having a single overhead light fixture, create multiple light sources around the room at different levels. This will draw the eye around the room, making it feel less boxy and cave-like. Recessed lighting is especially effective in providing a clean, streamlined and airy look.
Keep it sheer: Where you need to use fabrics in the room, stick to materials that are light and sheer and allow the light to pass through them.
Have you got any great tips to share? Let us know below…
Image credits: sarahmdorseydesigns.blogspot.ca, apartmenttherapy.com, babyalmosthome.com and daffodildesign.com