There's nothing that makes a room look more uninviting than poor lighting. Dark rooms look smaller and less appealing, and the best features of the room can sometimes just fade into the background.
Aside from making your room look small and dingy, poor lighting can also have a profound negative effect on your mood and health. A poorly lit room can lead to headaches, eyestrain and even depression. Here we look at four easy ways to brighten up the darkest rooms in your house and breathe fresh air into the dullest of spaces.
1. Maximise natural light
Natural light should be your number one choice for lighting any room, before you start to plan any electrical lighting. Consider whether you can add or increase the size of your windows, or introduce skylights for attic rooms to bring the natural light flooding in. Use minimal or sheer window coverings to avoid blocking out the light that you have. For bedrooms, use a combination of white blackout blinds with voiles to ensure you can cut out the light when you need to and brighten the room during the day.
Consider also whether you can knock through any walls to make a more airy and open space. If you prefer to keep living rooms divided from other areas of the house, large fully glazed French doors can be a great compromise, allowing the light to filter through from other rooms without the noise or (in the case of the kitchen) the smells. For areas such as the bedroom or bathroom where privacy is needed, consider swapping part or all of a regular wall for a wall of frosted or patterned glass blocks which will allow the natural light to filter through without compromising on privacy.
2. Use clever lighting
Once you've maximised the natural light in your room, you need to consider what lighting options are necessary to keep the room bright into the evening. Many people neglect to fully light their living space at all levels and this can create shadows and dark corners in the room. As well as ceiling lights, consider wall lights, table lamps, uplighters and clever built-in lighting solutions such as cabinet lighting, shelf lighting and accent feature lighting. If you have a dark ceiling, recessed lighting will help brighten it up and make the room feel less cave-like, without being obtrusive.
3. Get creative with paint
In a dull, dingy room, painting the ceiling brilliant white is a quick trick to breathe life into the space. Use light colours on the walls and make use of accent colours sparingly, opting for neutrals when you do such as mushroom, light grey, camel tan, espresso brown and warm rust. Consider using metallics rather than flat colours for your accent walls – these help to maximise the light and add dimension to the room.
In a very dark room, brilliant white on the walls can really help reflect every little bit of light but take care in larger rooms as the effect can be dazzling and uncomfortable. Be sure to buy quality paint; otherwise, brilliant white can turn to nicotine yellow in a matter of weeks.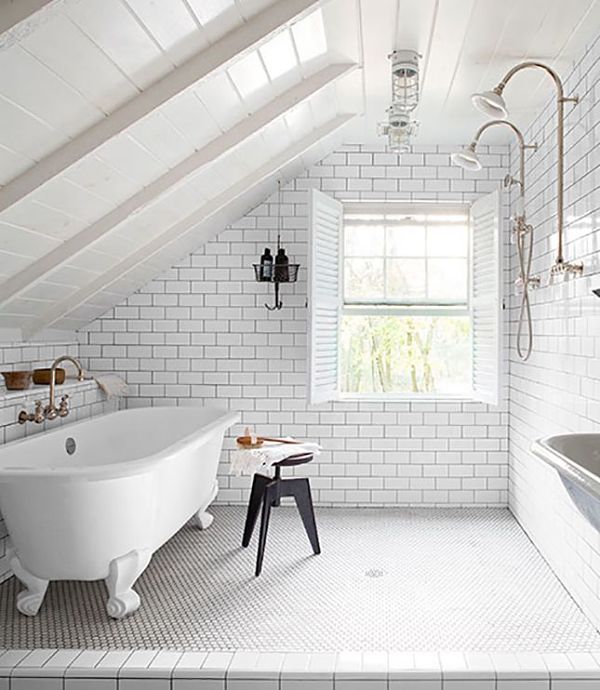 4. Choose bright, reflective finishes
Your furniture can sometimes dominate a room and contribute to how dark it feels – so in a dark space, choose light, bright options in a range of reflective finishes. High gloss, white and metal finishes all help to reflect the light and maximise the sense of space. Glass furniture allows you to have more items in your room without it feeling cluttered or full.
Invest in at least one large mirror and place it right next to the window – this will help flood the room with natural light. Placing another large mirror on the opposite wall to the window can also help bring the light in and create the illusion that the room has more windows than it actually does.
Take a look at our online store for our full range of stylish gloss, metal, white and glass furniture.
Images sourced via Pinterest. Credits: the designfiles.net, brit.co, mylondonextensions.com and aplaceforustodream.tumblr.com