Whether space is at a premium or you're kitting out your home on a small budget, it makes sense to choose furnishings that are versatile.

This means selecting pieces that can work well in large or small rooms, which can be moved around the house when needed and used for more than one purpose. Here, we share some tips on choosing versatile furniture that is both beautiful and practical, delivering a careful balance of form and function and giving you the best value for money.
Multifunctional furniture
If you're short of room, it makes sense to choose multifunctional furniture that doubles as storage. As versatile furniture goes, you can't do much better than these bright faux leather ottomans. With their generous sizing and choice of colours, they are perfect for absolutely any room of the house, allowing you to store bedding, towels, clothes or whatever you need to hide away.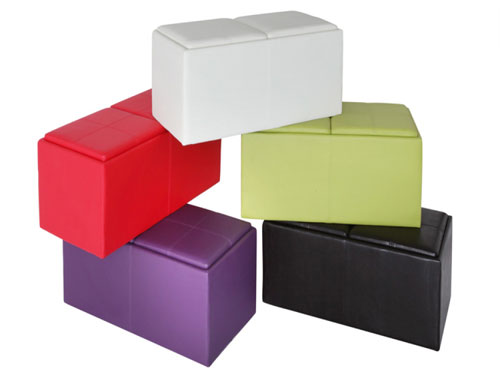 The brilliant thing about these ottomans is that they double as comfy seating. You can put them in the lounge to keep your film collection, magazines and books out of sight, and when guests come over, you'll have plenty of instant smart seating available without having to dig out extra chairs or find a space to store bulky beanbags. Each one also has a handy integral tray, the perfect place to put drinks and snacks if there's no space for a separate table. Ottomans also work great in your child's room – they are ideal for storing books and toys, and they double up as extra seating when your child has their friends over to play.
Another great choice of furniture that has more than one purpose is the day bed. Day beds are made up during the daytime to look like seating and some designs, like this beautiful glossy ivory bed, are virtually indistinguishable from regular seating when they are not made up.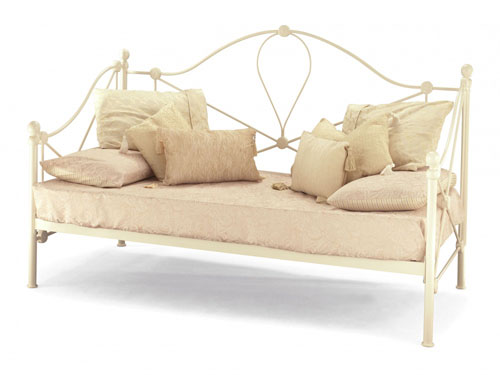 Day beds are the perfect addition to the living area, adding extra seating in the day and converting into a comfortable single bed at night, perfect for overnight guests. Some have a trundle underneath, giving you enough space for two guests to stop over; others utilise the space underneath for storage and are ideal for keeping guest bedding. Day beds tend to take up less room than sofa beds and are usually lighter and therefore easier to manoeuvre around the home to meet your changing needs.
Changing rooms
When it comes to placing furniture, it's a good idea to drop the usual conventions and think outside the box. For example, the kitchen tends to be the hub of the home and is a great place to put plenty of comfy seating such as armchairs and small sofas. You'll find this encourages the family to come together, not just at meal times but after school for a snack and whilst the food is being prepared. Choose smaller pieces that can be moved from room to room when they are needed, as you'll rarely need extra seats in every room of the house!
In the lounge, before you invest in a gigantic sofa or corner sofa, consider whether you might be better buying two smaller separate sofas. These will be easy to move around should they be needed elsewhere in the house and much easier to clean under. You may also find that they offer more seating overall, since large sofas sometimes have smaller seats for each person.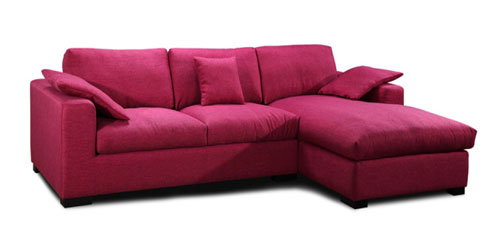 Reusing old furniture
If you have more room in the kitchen and you're changing your sofa or armchairs in the lounge, this could be the perfect new home for them rather than throwing them away. If they're a little worn, invest in a soft comfy throw and some colourful cushions to give your old seating a new lease of life.
The bathroom can similarly benefit from old unwanted furniture that is destined to be thrown away. Old storage units can be given a new lease of life by coating them in paint and attaching them to the walls, creating an ideal home for your towels, supplies and toiletries. TV stands, sideboards and bookshelves can similarly be cleaned up and repainted if necessary, and used to provide bathroom storage if space allows. Many small bathrooms have a small unused area at the end of the bath because the bath isn't quite the width of the room. A bookshelf can be an excellent choice to create storage in this area – for bottles, bath accessories and even books if you like!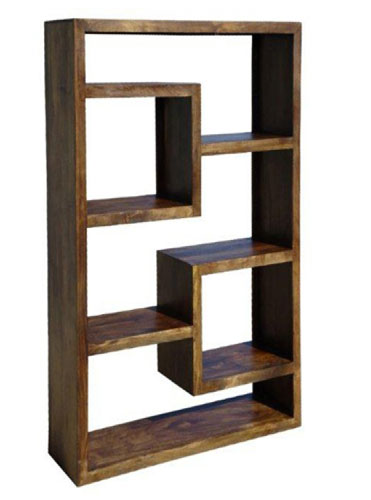 Widening your search
When selecting furniture, make sure you consider items that could serve your purpose which were intended for some other use. In the bedroom for example, if you're looking for a dressing table, be sure to consider hall console table as a possible alternative. These slim tables are a similar size to a dressing table although sometimes slightly narrower which can be perfect for smaller bedrooms. Expanding your search to include consoles also gives you a lot more designs to choose from.
 Take a look at our full range of functional home furniture over on the main FADS site.
Images sourced via Pinterest. Credits: elemueble.com, homestoriesatoz.com