If parts of your home feel bare and lifeless, colours like red, orange, yellow, beige and brown can help to inject a little energy, creating a warm and cosy feel.
These colours breathe life into any room and help to perk up your mood when the temperature drops outside. Here, we share a number of tips for using warm colours throughout the home to transform, enhance and revive your unloved spaces.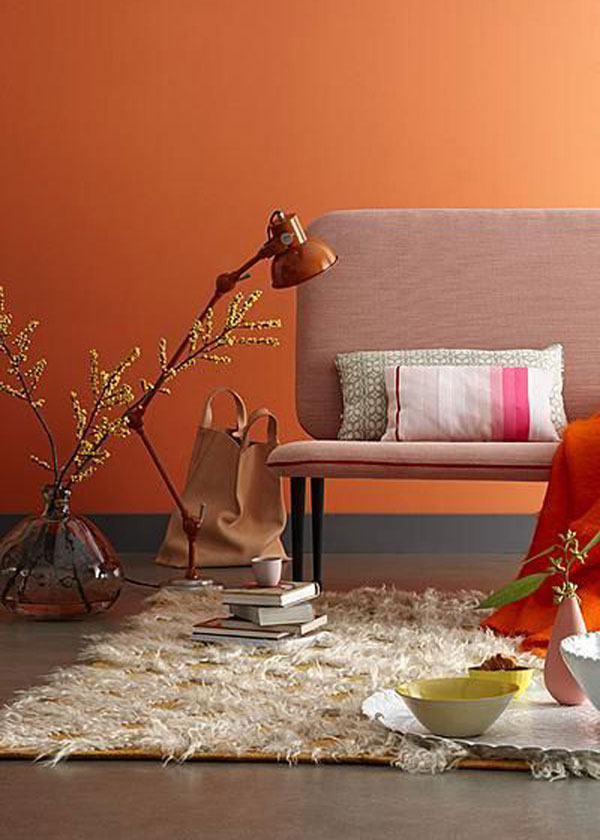 1. Use samples
If you're planning on using warm, intense colours on the walls, it's a good idea to bring home sample pots before committing to buying a full pot of paint. Paint tin labels rarely offer a true representation of the colour inside the tin, and the shade can be affected by how much natural and artificial light you have in the room you're decorating. Buy a sample pot, apply it and leave it to dry in the room you're decorating, then check out the result at different times of the day before you settle on any particular colour.
2. Know how much to use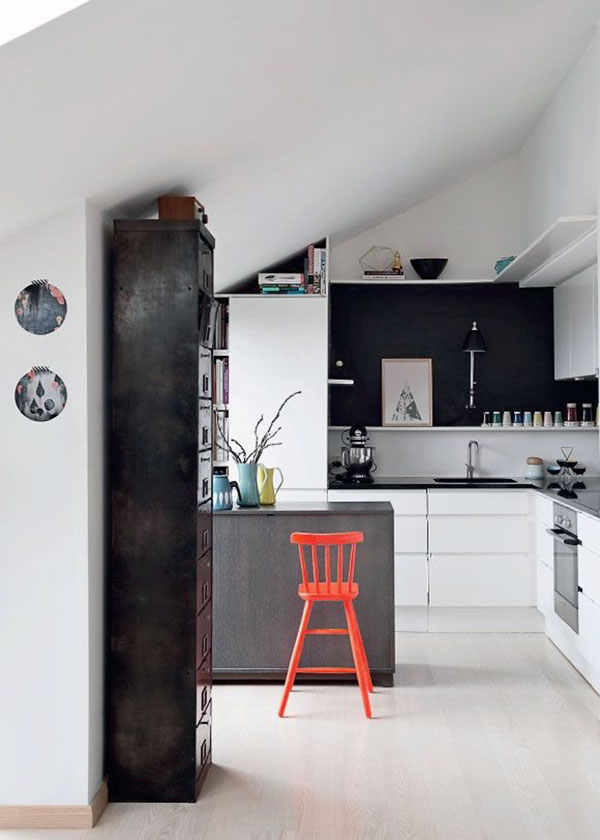 Warm colours create comfortable, intimate spaces, so they work well in larger areas or in rooms with high ceilings. In a small room however, the darker shades can quickly make the space look even smaller. For tiny spaces, choose lighter warm shades such as yellow or orange, or use darker shades sparingly: create a feature wall, introduce a few select items of furniture or bring the colour in through fabrics and accessories.
3. Don't use in every room
Some warm shades such as red and yellow bring energy to a room and are thought to stimulate conversation. This makes them perfect for the living room, hallway and kitchen where you might sit or stand around and talk. Naturally, this means that they are less suitable for rooms where you want to relax, such as the bathroom or bedroom. Red is also thought to stimulate the appetite and is therefore a fantastic choice for the dining room unless, of course, you're watching your weight!
4. Balance with neutrals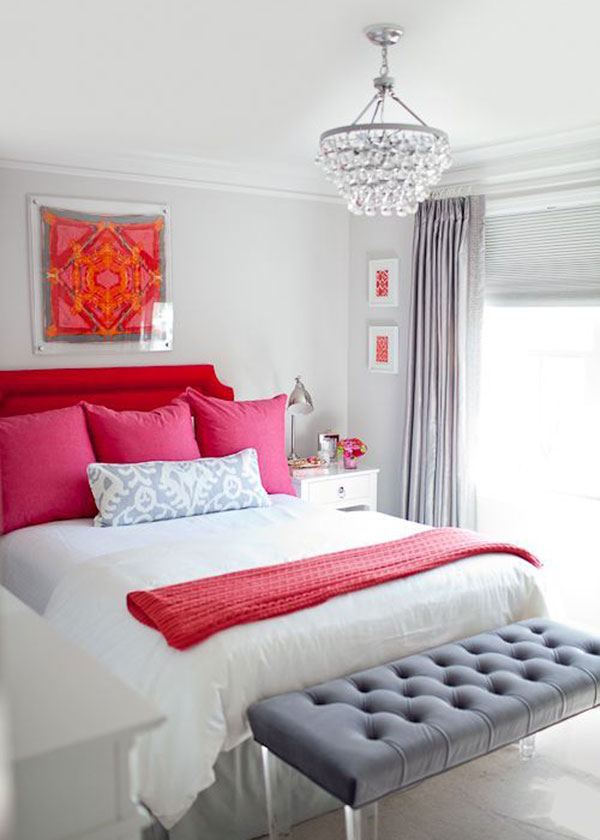 Energising shades like red can work in the bedroom and bathroom too, but you'll need to create balance by introducing plenty of whites, blacks and greys. Warm colours paired with neutral tones will be less intense and have a more relaxed feel. If you choose a strong shade of a warm colour for a room where you like to wind down, use it sparingly. Aim to cover no more than 20% of the room in your strong shade, with the remaining 80% decorated in shades of white, grey or beige.
5. If you saturate, use tone-on-tone
In a larger area, you can get away with saturating the room with colour and this looks best if you pick more than one shade while keeping to the same colour tones. Large rooms can also tolerate the ceiling being painted in the same warm colour – this makes a bold style statement which works best if you go a shade lighter than your walls and add moulding to break up the blocks of colour.
6. Don't dismiss green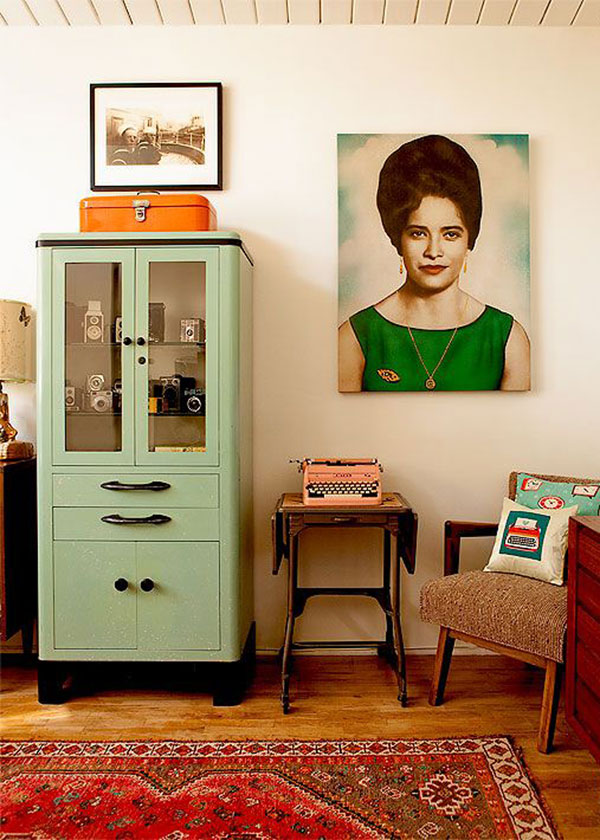 Most people think of green as a cool colour, but yellow-based shades of green are actually warm. Warm green tends to have a classic, refined feel to it and makes the room feel very relaxing. If you decide to combine green with red, you need to go for a shade of red that has brown undertones so that you don't end up with a Christmassy feel.
Warm green shades look fantastic with just a touch of burnt orange – this can be introduced through furnishings, accessories or fabrics and gives the room something of a retro feel.
7. Separate and define
When using a bold palette it's a good idea to break up the blocks of colour to give the room depth and definition. For example, you don't have to paint each wall right to the edges – you can mask off a couple of feet all the way around the edge and paint that area using white or a lighter shade, before applying your warm shade in the centre. Coving and wooden trims painted white can also help break up intense blocks, as can carefully selected furniture such as the Galaxy sideboard. Its simple lines and white high gloss finish look simply exceptional in front of a deep red or coffee brown wall.
8. Just accessorise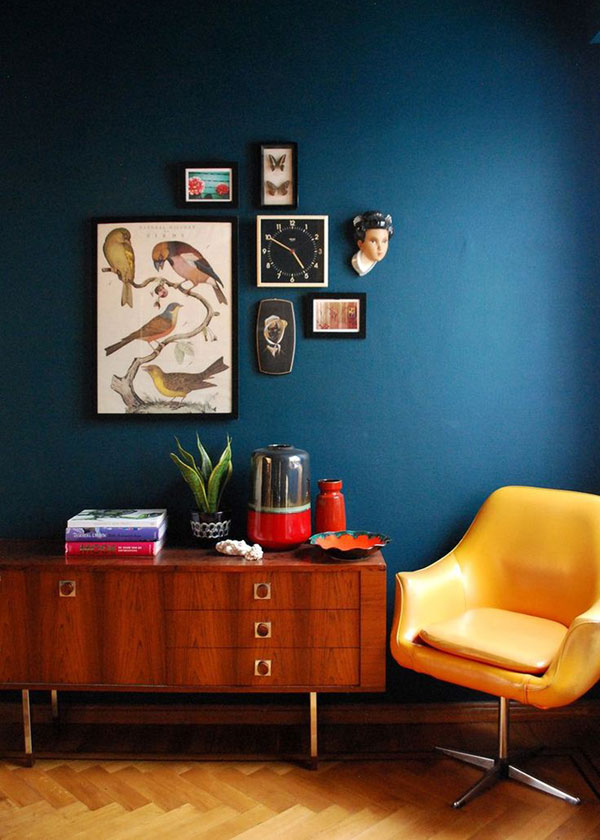 If warm colour choices are a little too daring for your liking, you can introduce warmth through accessories. This is the perfect way to bring warm colours into your home during the colder months, which can then be swapped for cooler accessories and furnishings when the weather heats up. The Regency brown tub chair is the perfect choice for injecting a little warm into your living room or bedroom and the plush faux suede finish would blend well with almost any colour scheme. It comes with an attractive matching footstool to allow you to put your feet up and relax at the end of a hectic day.
If you liked this post, take a look at our guide to using colour in your home to reflect your moods and emotions.
Images sourced via Pinterest. Credits: theinspiredroom.net, laurierubin.com, blogloving.com, decoholic.com, blog.jealniesshop.com, vtwonen.com