Rich purple is a bold and fabulous choice that makes a design statement in any part of house. Exotic jewel-like purple tones are synonymous with luxury, royalty and wealth, and using purple in your design scheme can create a backdrop for your room that is sophisticated, adventurous and majestic.
Rich purple shades include warm inviting berry tones such as plum, damson, mulberry, wine, grape and raisin; and intense cooler shades such as deep violets and mauves. The warm darker shades such as wine and raisin tend to look more sophisticated, with the violet and mauve shades having a more playful, creative look. There's no need to keep to one shade of purple but your room will look more relaxed if you choose to stick with either warm or cool tones.
Your choice of contrast colour depends on whether you want to achieve a lively, energetic room or a gentle, more relaxed feel. To invigorate a purple-themed room add just a splash of zingy yellow, lime green or citrus orange which is all that's needed to create an interesting and provocative look . For a more chilled feel, use rich purple sparingly with pure white or white with just a hint of purple on the walls, white furniture and accents of grey, mushroom, taupe and soft leaf green to balance the effect.
Dark wood furniture provides the perfect complement to purple, with intense dark browns and blacks enhancing the depth of rich purple shades. The tempting Stockholm range which has a dark coffee finish provides the perfect contrast for a purple-themed bedroom; while in the living room, the elegant curves of the Louis range of black glass and stainless steel tables offer a strong complement for rich purple tones.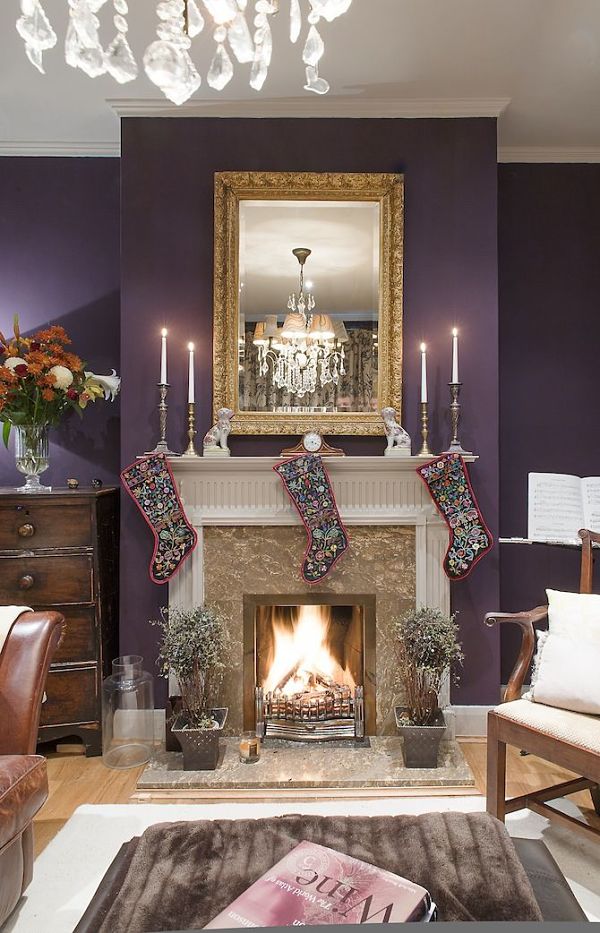 Rich purple is a colour that you can use throughout the house so don't rule it out in any room. In the bathroom, rich purple on the walls with the rest of the room following a white theme creates a glamourous but cosy atmosphere that's not too overwhelming. In the kitchen, rich purple adds a splash of life to a room that can often feel sterile. For a dramatic look, use it on your tiles and cupboard fronts; or simply invest in purple crockery and glassware to add a splash of this gorgeous colour to a display unit. For an individual unique look, aubergine shades of purple look delicious next to bright copper pots and pans and the theme can spill over into the dining area where copper chairs, light shades and display dishes all look stunning against a rich aubergine backdrop which could be provided by a feature wall.
Rich purple has an inherently grand feel to it and the intensity of the different shades is amplified with sumptuous luxurious textures, fabrics and materials. Furniture with silver, mirrored and stainless steel accents reflects the opulence of deep purple shades perfectly. Velvet and chenille are the fabrics of choice in a rich purple-themed room, really accentuating the drama of the colour. These can be combined with dark satins, silver metallic prints and threads for a sophisticated tone.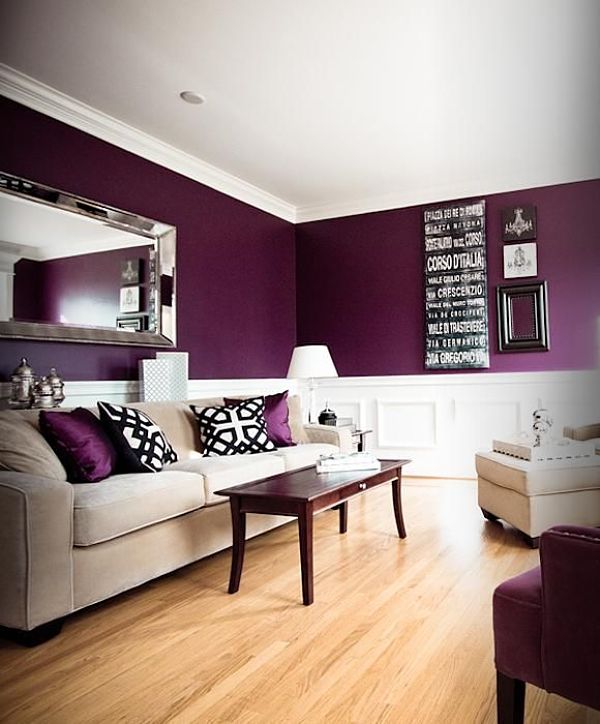 In a room where rich purple is the mainstay of the palette, dramatic bold accessories seem like a natural complement. For a grandiose look, combine a deep purple colour scheme with an extravagant crystal chandelier set on a magnificent ceiling rose. For a more spiritual, mysterious look, introduce plenty of wrought iron and black accessories such as frames and candelabras.
When used sparingly as an accent colour by introducing select furniture and accessories, rich purple can add a touch of subtle elegance to your home. The gorgeous Lilly aubergine sofa provides a stunning focal point for any living room or space where seating is required. It is covered in beautiful, vivid fabric that perfectly shows off this glorious colour to the full. Rich purple also makes a beautiful choice to cover an accent wall, either as a block of colour or using a classic wallpaper. The Ophelia purple-mocha floral flock wallpaper is the perfect choice for this purpose, with its soft touch purple flock pattern and gorgeous shimmering mocha background offering an elegant way to inject a little of this magnificent colour into your home.
Get the Look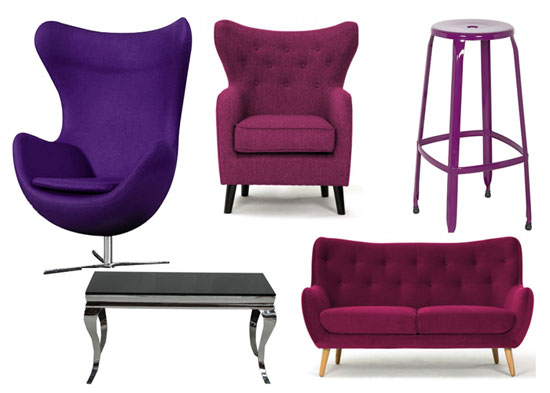 Top left: Dodger Jubilee Purple Wool Chair
Top middle: Flippa Button-Back Armchair
Top right: Disc Purple Barstool
Bottom left: Louis Coffee Table
Bottom right: Lilly Aubergine Sofa
To see our full range of gorgeous furnishings, check out the main FADS site.
Images sourced via Pinterest. Credits: brit.co, bhg.com, desiretoinspire.net, hometouches.net and wealdentimes.com.