We're embracing colour in the home this season, so who better to ask to contribute a post about living with colour than the lovely Theoda Solms Iles, who blogs over at Living Colour Style? 
With the days getting shorter and the light fading fast, now is the perfect time to go beyond beige and embrace colour in your home. Find inspiration here with ideas that are right for you and invite colour into your home.
No Fear When Colour is Near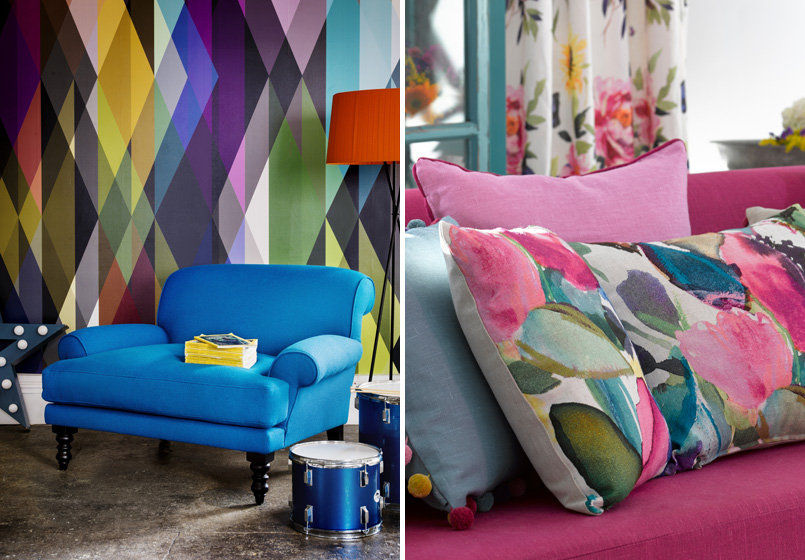 Credits: sofa.com and bluebellgray.com
Be brave and tackle colour step by step, introduce an accent colour gradually. You certainly don't have to change everything, it's just a matter of adding clever touches to suit your existing look. Once you start living with colour, you will realize it certainly can be a make-you-smile style and you might just get the confidence to go much bolder and incorporate colour in a wall to floor kind of way.
Accessorise with Colour
Inject colour into your home with colourful accessories like vases, photo frames, mirrors and more. Choose one colour you love and stick to that as your accent. Or opt for shadings of a similar hue to complement each other like, lime, teal and turquoise, as they will sit harmoniously together.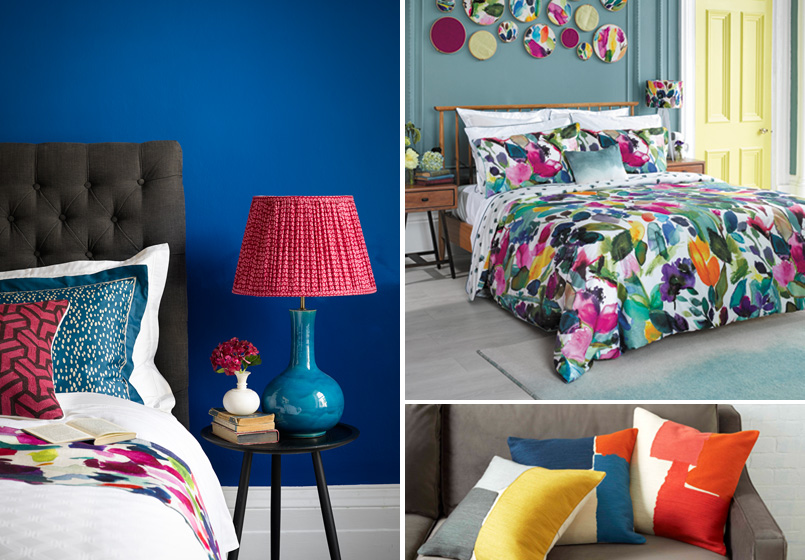 Credits: bluebellgray.com, westelm.co.uk, pooky.com
Replace your cushions with fabulous winter ones in velvets and chunky knits in deep jewel colours like amethyst, ruby-red and emerald-green. Or go for patterned ones in geometrics or florals.
Lighting is also key and a statement table lamp or floor lamp can make a refreshing change. Choose lighting with colour, like glass or ceramic bases with a contrasting lampshade in a plain or pattern, the light with shine though beautifully.
Striking Seating
It is all about the statement piece, look out for a sofa or cute armchair in a striking colour, this will become your focal point and you can now add colourful accessories to complement the look.
Step on It
Credits: crucial-trading.com and kelary.com
Wall-to-wall carpet in a bright colour is another quick way to totally transform a room without changing anything else. Both these predominantly white interiors take on a completely different feel with their bright coloured carpets.
Liven up an uninspiring hallway with a fabulous carpet or stair runner in a bold pattern to create a welcoming entrance to your home.
Don't forget about rugs, flat weaves in a geometric pattern are big news at the moment. Or choose a bold oversize floral in the living room and match your accessories to it.
Wonder Walls
Paint your walls a colour to make a dramatic statement. Darker, moody colours like blues are very trendy right now. Getting more confident? Then have fun with a paintbrush and mask off an area to paint a simple geometric pattern.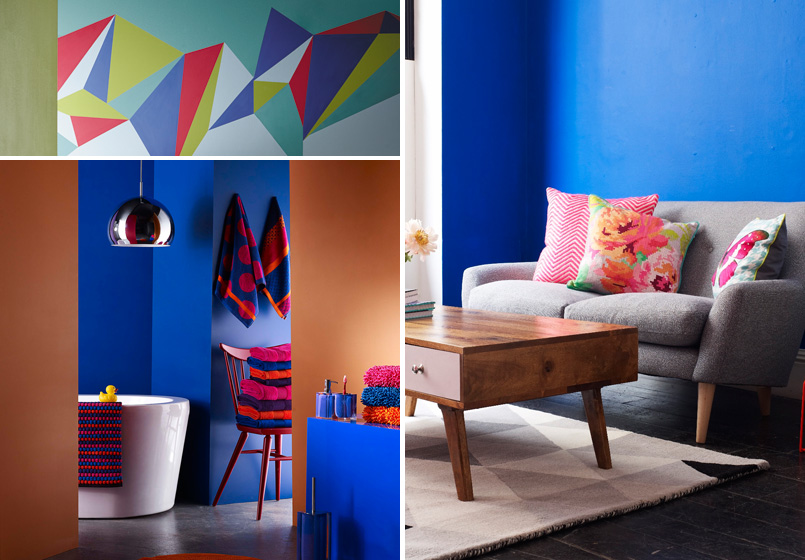 Credits: oliverbonas.com, bhs.co.uk, crownpaints.co.uk
Wallpaper in a funky pattern will be an instant colour-hit. If you go for a bold design in multicolours, then keep to plain furniture and neutral colours to make your walls do the talking.
Colourful Features
Bring the focus home by highlighting permanent features in a bold colour. Consider colouring doors, architraves or architectural details. Here the red shutters are the definite hero of this room and it compliments the red and teal accessories perfectly.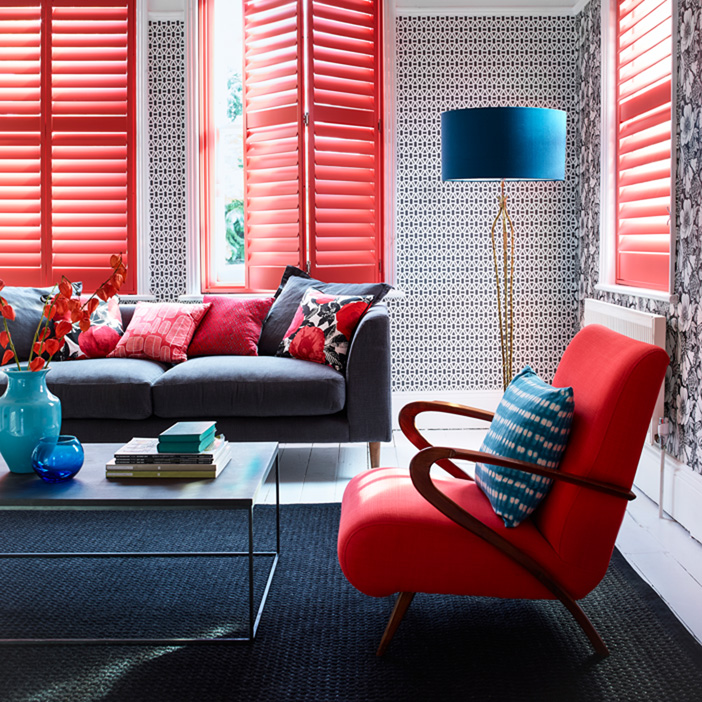 Credit: Californiashutters.co.uk
Get the Look
Go colour crazy in your home with this pick of brightly-hued furnishings: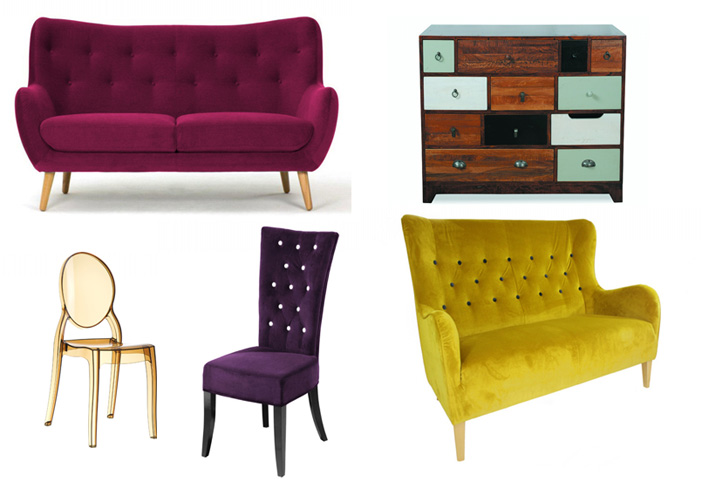 Top left: Lilly Aubergine 3-seater Sofa
Top right: British Vintage Multi-Coloured Drawers
Bottom left: Elizabeth Amber Transparent Dining Chair
Bottom middle: Radiance Purple Dining Chair
Bottom right: Malmo Mystic Gold Sofa