The dining room is a really important part of your home. When decorated well it will put your guests at ease and encourage them to linger long after the meal is over. Your dining chairs are one of the first things your guests will see so they need to be inviting, but more importantly, they need to be comfortable.
To save you from recreating Goldilocks and the Three Bears, you need to pick dining chairs that will not only look good, but that will enable you to sit on them for a while without wanting to move. Plenty of support is a must and, as the back of a chair is the first thing you see, it makes choosing the perfect dining chair so much easier.
We have put together a list of 10 of the best types of dining chairs that will give you dining room an instant style update.
Minimalist – these types of dining chairs are very simple with no extra detailing. The contemporary style of openwork backs is light, airy and looks great in leather-effect fabric. They are easy to look after and look perfect when matched with equally minimal tables, such as lacquer or even metal frames.
Solid – these chairs offer support and presence. Make sure they aren't so big that they dwarf your existing table and make your room look mismatched. Solid wood chairs give a room a very rustic feel that is comfy as well as timeless. Match the wood of the chairs with the table for a European touch of elegance.
Retro – styles from the 60s and 70s are coming back at the moment. Fiberglass shell chairs are really stylish and unusual, especially when you go for the colourful ones. Add these chairs to a round café-style table with a wide single pedestal for a modern and intimate dining setting.
Formal – for a bit of modern luxury, add padded chairs with fabric and elegant detailing. Velvet fabrics are really on trend at the moment and will add an element of sophistication to any dining room. Go for chairs with armrests and padding for extra comfort as well as support.
Shabby Chic – up-cycling and vintage-style chairs are really popular these days. Having a rummage in your local reclamation yard is not only fun, but you can get some really good bargains. It may go against certain interior design rules, but shabby chic is definitely on the up and having mismatched furniture may suit your tastes better than having a complete set of matching dining furniture. If you use your imagination and adopt a bright colour scheme, there is no reason why this can't be a very modern and stylish approach to dining. Plus, it's very laid back.
Feng Shui – light and simple designs make this the ideal choice for smaller dining rooms. They will open up the room and prevent it from feeling cluttered. White or ash colours are the perfect colour-ways for this style and curved arms or chair backs will give your dining room a comfortable, relaxed feel that won't date. Perfect if you want your décor choices to stand the test of time.
Woven – lines and textures combine in this style to give a refreshingly contemporary style. Clean and appealing, woven dining chairs are comfortable as well as adding a certain warmth to a room. Great if you prefer a more mellow vibe in your dining room
Wrought iron – a very heavy choice, but a classy one, especially if you choose an ornate frame. Iron can give a very European feel to a dining room. Opt for an iron frame that has fabric and padding incorporated into the body of the chair so that you can get style and comfort in one piece of furniture. This would be the ideal choice for al fresco dining too.
Leather-bound – if you're inspired by the modern style for "gentleman's club" design then chesterfield dining chairs are a must. Classic, yet super stylish, these leather, studded chairs are the perfect choice for those who like to linger over their food and chat into the night. There is no compromise on comfort with this design and the rich colours will add warmth to your dining room.
Tailored – there is no denying that classic tailoring is still as popular now as it ever has been. When living space is limited it is a great idea to have multi-functioning furniture. Classically tailored chairs can transition from living to dining areas easily. The strong, sturdy nature of classically tailored chairs can be toned down with bold fabrics in bright, contemporary colours. The best of both worlds.
Get the Look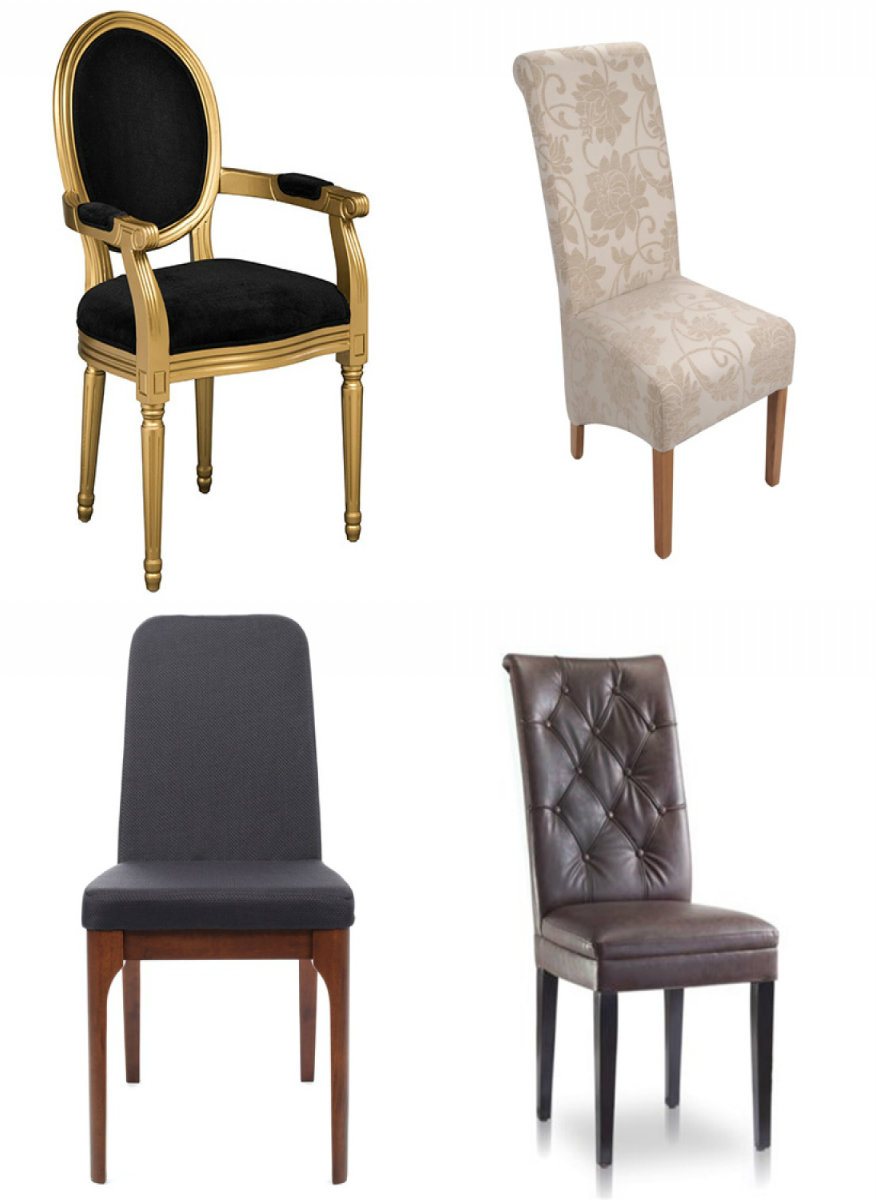 Top left: Louis Black Velvet Dining Chair
Top right: Mia Cream Floral Fabric Dining Chair
Bottom left: Kingston Woven Mesh Chair
Bottom right: Caprice Brown Faux Leather Dining Chair
Image credits: sannaochsania.blogspot.fr and cainco.org