Your child's room provides a safe, comforting environment for them to learn and play throughout their childhood, and once they reach those tricky teenage years, it becomes their sanctuary.
The way you decorate a child's room can affect their mood, which is why it is important to choose colours, furnishings and décor that create a happy and stimulating environment appropriate for their age. Here, we share eight tips for decorating a child's bedroom that will help you create the perfect space for them to hang out during the day, and relax and unwind at night.
1. Create areas for sleep and play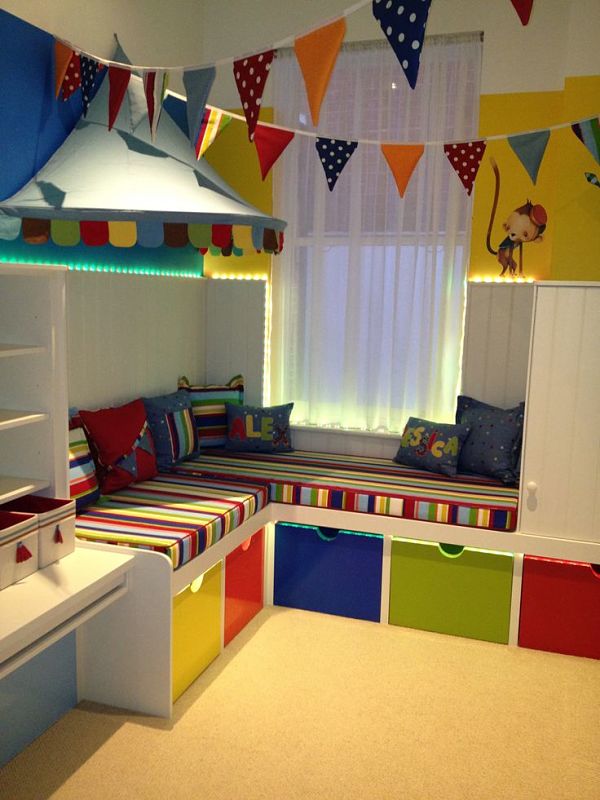 As a parent, naturally you want to fill your child's room will fun toys and exciting activities. As they grow older, these will be replaced by technology such as computers and games consoles. The problem with this is that when your child goes up to bed, they go into a room that they link to being awake and playing. This makes it much harder for them to go to sleep.
There are a number of ways to tackle this problem. First, divide up their room so that the sleep area is distinct from the play area. Consider using different colours in each area: lively, energetic colours such as red or yellow for the play section and restful, calming colours such as blue and green for the sleep section.
Make sure there's plenty of storage so that noisy toys and lively activities can be tucked out of sight at bedtime. A large chest of drawers like the Rives lacquered 3-door chest is perfect for tucking a young child's favourite things away at the end of the evening to avoid any temptation to play when they should be asleep. For your teenager, a desk with added shelves provides the perfect home for their computer and a great place to study. Position the desk facing away from the sleeping area to help divide up the room into sections and to reduce the temptation of leaving the screen on during the night.
2. Provide a home for trinkets
All children seem to accumulate bags of little bits and pieces: ornaments, tiny toys, figurines and so on, which need to be stored somewhere. They might look like junk to you, but to your child they are little treasures and they'll love it if you give them somewhere to put them on display. You'll also help to declutter the floor and other surfaces in the room as a bonus.
This personalised bookshelf is a fantastic solution for storing trinkets, small toys and books. Your child will adore having their name in bright, bold letters and will love taking the time to arrange all their trinkets on display.  The upper shelves are perfect for items that are used less often which will help to keep their bedroom tidy.
3. Personalise wall art
Children love looking back at photos of days out they've enjoyed with their family and friends, and there's no better way to preserve their happiest memories than through wall art. Take one of their favourite photos and get it enlarged online using a service such as Snapfish. Then either use spray mount to attach it to a large piece of MDF or cut it into sections, frame each piece and arrange on the wall in a group.
Other brilliant ideas to brighten the walls include wall stickers and wall murals which feature your child's favourite characters. These can create a bright, fun scene that will bring your child's room to life.
4. Let them write on the walls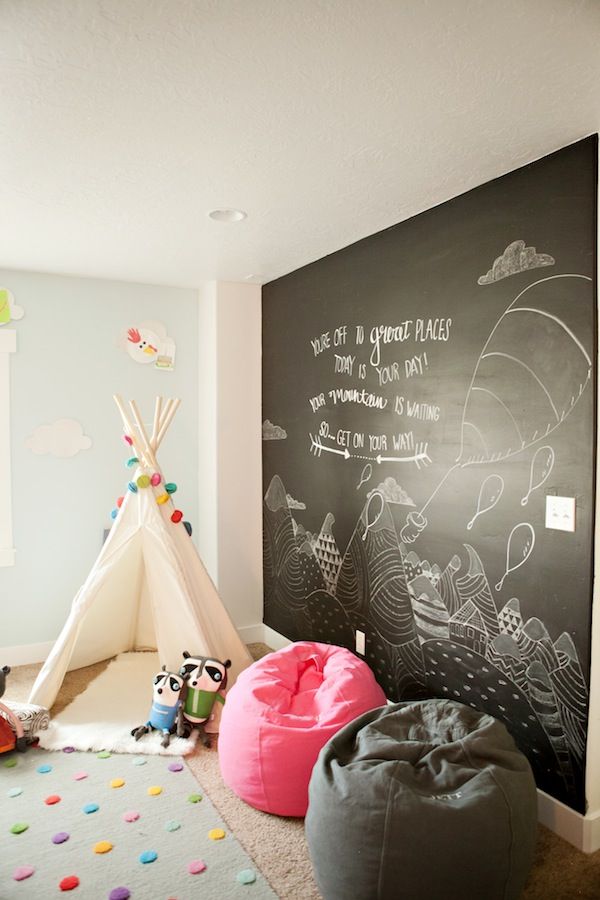 Chalkboard paint is a brilliant way to add a fun element to a wall in your child's bedroom and will let your child personalise their space.  Your child will love adding pictures to the walls and will never get tired of leaving little messages for you to find. It's quite simple to create a chalkboard wall: first you need to clean the surface of your chosen spot and tape off the area to be painted using masking tape. Then apply the specialist chalkboard paint with a brush or roller – you'll find that sometimes more than one coat is needed to get a good finish. It's a good idea to allow around three days drying time before you let your little ones loose on the wall.
5. Cover the inside of their wardrobe
The wardrobe is one of the most boring areas in the child's room – but it doesn't have to be. To add interest to the inside of your child's wardrobe, line the inside with a playful wallpaper like this brilliant circus print which features the cute drawings of a 'Liyone', 'Tigu' and 'Sebra', as depicted by an imaginative six year old.
For older kids, check out this fantastic winter sports wallpaper which will remind them of their favourite days in the snow, sledding and throwing snowballs.
6. Create a mini art gallery
As grown-ups, we tend to place our pictures on the wall in nice neat lines with perfectly measured spaces in between. When hanging art in the kids' rooms, you definitely won't need a spirit level! For a fun wall display, create a mini gallery using lots of brightly coloured frames, colourful letter art and their favourite pictures. Hang the art in a group but don't measure anything – the more random, the better. Fill the frames with pictures of their favourite characters, drawings they've made and photos from holidays and great days out. Don't be afraid to add little objects and fun art into the mix too – like Ziggy the Zebra or this fantastic sparkly stag which would make a fabulous centrepiece for a unique gallery display.
7. Nurture your child's hobbies
Using items that relate to your child's hobbies and interests will delight your child and spark their imagination. For a music fan, buy two or three old guitars and spray paint the bodies in bright colours to create a fab themed wall display.  For the budding sports star, mark out a mini basketball court or football pitch on their floor and hang memorabilia relating to their favourite sports – t-shirts, bats, balls and photos – on the walls. For the budding ballerina, create a tutu fringe around their chair or dressing table stool. For your discerning teenager, frame prints from their favourite computer games and turn their favourite game characters into fun printed cushions which can be ordered from a range of places including major supermarkets.
8. Use the ceiling too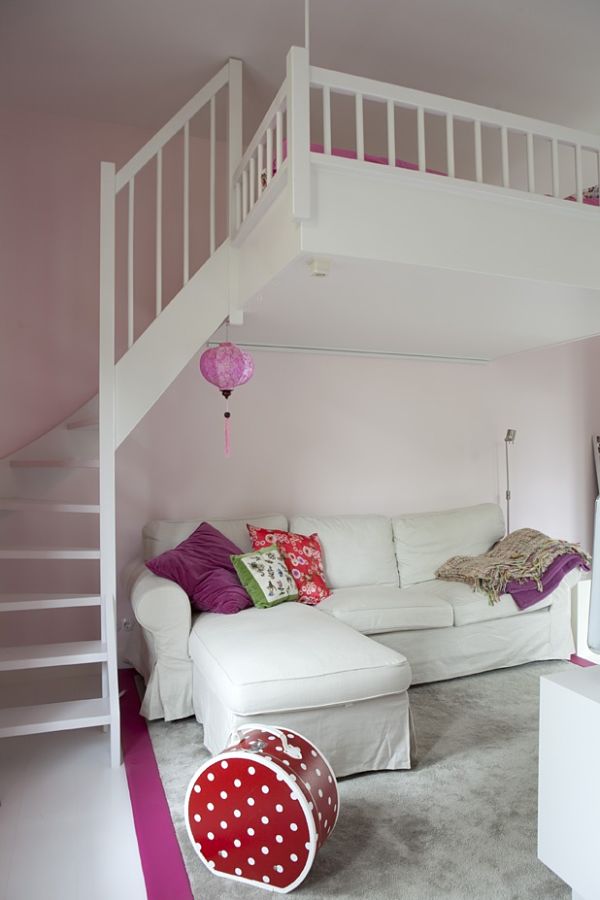 In most rooms of the house, the ceiling gets used for nothing more than a light. In your child's room, you can be far more creative and let the wall décor spread upwards to create more imaginative and exciting scenes. A tree starting at the floor can have branches spreading up onto the ceiling, or the ceiling could become the sky with clouds and a bright sun lamp to complete the picture. If you've invested in a wall mural for one of the bedroom walls, try extending this upwards – for example, by painting the ceiling to look like the ocean or the night sky. If you're not particularly adept with a paint brush, wall stickers are a handy way to add character to the ceiling. Airplanes, swimming creatures, planets and space rockets can all extend beyond the walls to make a fantastic display that your child will love.
Take a look at our full range of brilliant children's furniture.
Images sourced via Pinterest. Credits: lasmanualidadesx.com, interiordesignerslincolnshire.co.uk, stockinteriors.nl, classyclutter.net and monbebecheri.com