Kimberly has put together another fabulous post for us this month – take a closer look to find out how to give your bedroom a stylish update in six simple steps…
There are things I see again and again that instantly lift a plain bedroom and take it to ultra-cool and ultra-chic status immediately. These are the small tricks that interior designers implement to create drama and interest in a room that may not be entirely necessary but certainly add the wow factor that every room needs. In fact, many of these can be applied to any space in the home but today, I'm going to focus specifically on the place where we go to relax at the end of the day – our private sanctuary.
While many may ignore the bedroom and focus their decorating energy on those rooms that are seen more frequently by guests, why should those rooms get all the fun? I think it's so important to have a great looking bedroom specifically because it is just for you. So why not lavish a little attention on the room that tends to get the least?
So today I'm going to talk about 6 small things you can do to take your bedroom from plain to POW! Ready to get started?  Here we go…
Great Artwork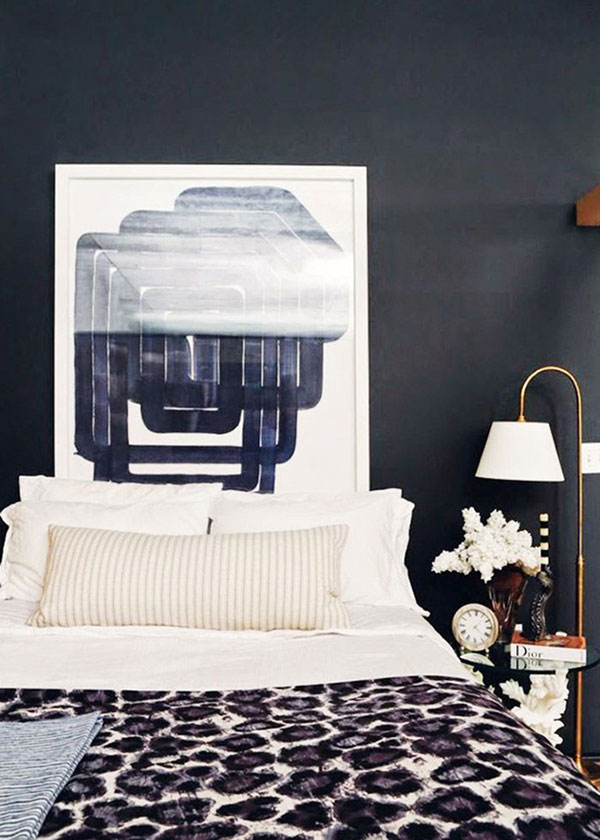 I'm a firm believer that every room in the home needs some great artwork. Whether you choose to frame an inexpensive print, a thriftshop find, your children's artwork or an investment original, you should love what you put on your walls. There are no real rules to choosing artwork – the only one being that it should speak to you in some way. And these days, while gallery walls are still wildly popular, art is certainly getting bigger – so one large statement piece is really all you need. Normally a horizontal piece works best above the bed but if you have a really large vertical piece, there's nothing wrong with breaking the rules.
A Leopard Print Cushion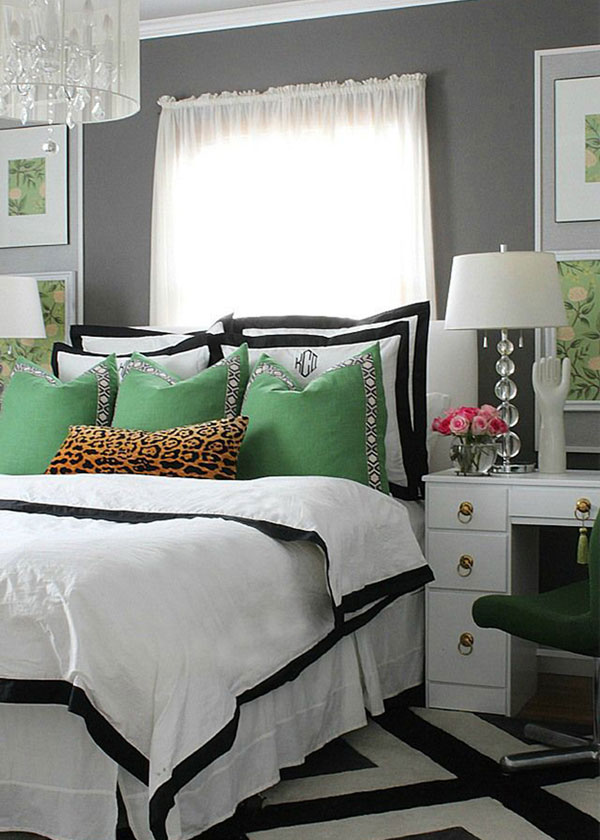 I have two of these beauties on my own bed but there's something about a great animal print cushion that raises the style stakes immediately anywhere it's placed. I think a lot of people are scared of animal prints, thinking it will make a room look tacky and when overused, this certainly can be the case. However, when using animal prints, less is definitely more. So a single cushion is really all you need.
Statement Lighting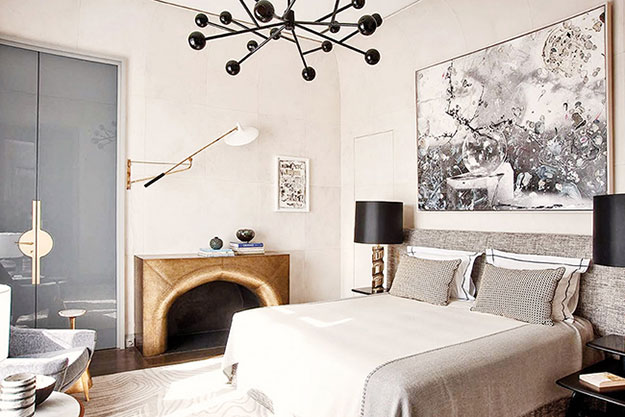 There is nothing like an amazing light fixture to really make a statement in a space. Consider offsetting a contemporary room with something vintage or an eclectic space with something ultra modern. That juxtaposition adds tension to a room and in turn, makes it so much more interesting. And don't be afraid to go larger in this case – adding one oversized piece to a room throws off things just enough to keep it from looking too stale.
A Chic Tray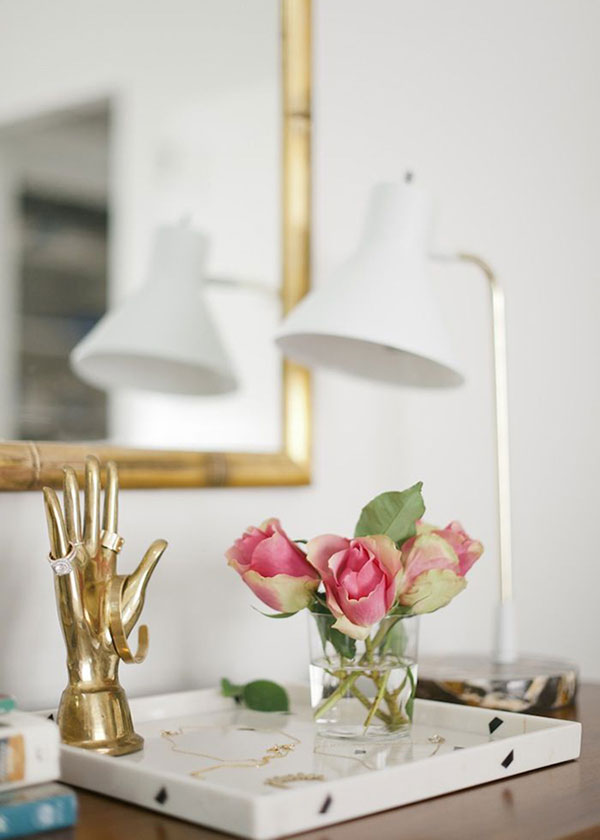 I think I have at least one tray (if not more) in nearly every room in my house. They corral smaller bits and pieces and make everything look so much more purposeful. So creating small vignettes on either a bedside table or on your chest of drawers using a tray is a quick and easy way to get some big style – a stack of books will do the same. Use items of different heights, shapes or textures to create a pretty vignette that's not only practical but pretty too.
Greenery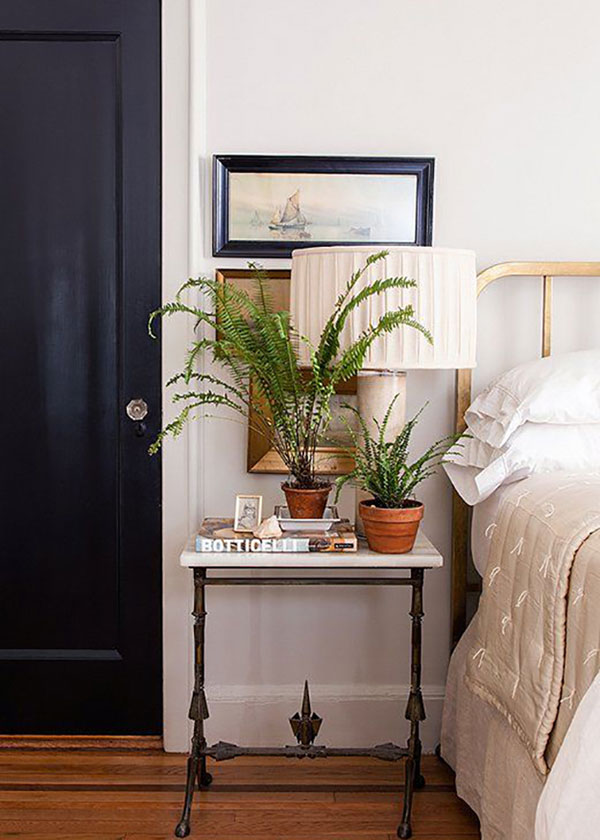 With the trend for houseplants only getting bigger this year, this is one trick that designers have been doing for years – adding some blooms or greenery to a space lifts it up and adds life. The textures of the leaves creates colour, pattern and texture and makes a space feel welcoming. So combat your fears that you have a 'black thumb' and just do a little research to find out what your plant needs. I promise it's worth the effort.
One Standout Pattern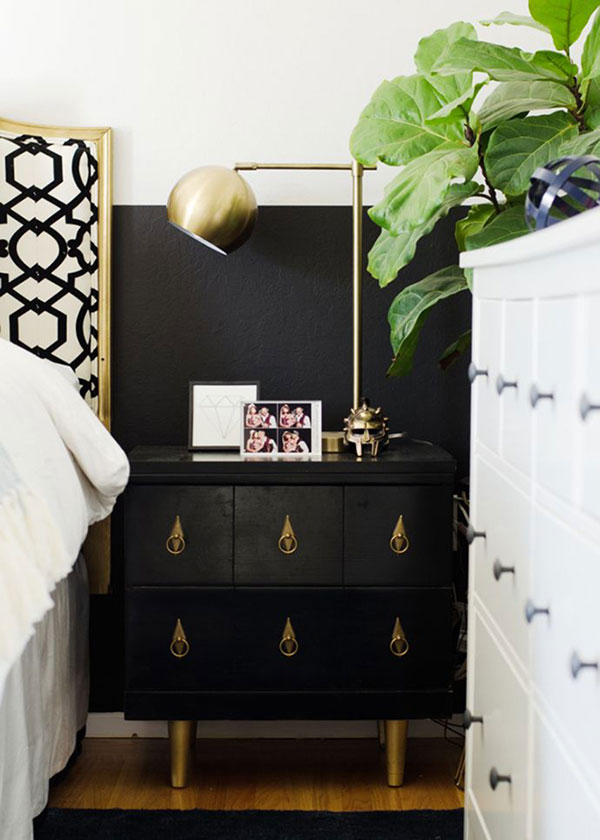 I'm all for mixing patterns but if you are a bit nervous of things getting a little bit too crazy, just start with one bold standout print which can be mixed with more subtle plain fabrics. Whether you use it on your headboard, on the floor by way of a great rug, as curtains or cushions or a throw, create a little wow factor with a print that begs to be noticed.
I hope my tips today show you how easy it is to get big style in one room that's often neglected. Is there anything you'd add to the list? I'd love to hear from you in the comments.
Take a look at our full range of stylish bedroom furniture.
Image sources: David Papzian for Rue Magazine / Bliss at Home / Jean Louis Deniot for Domaine Home /  Melissa Oholendt for Emily Henderson  / Lesley Unruh for One Kings Lane /