Butter yellow is a soft, light colour that can warm up even the smallest of spaces without overwhelming them. This subtle shade of yellow combines beautifully with crisp white walls, ceilings, fabrics and furniture.
The cool white provides a strong contrast to the warmth of the yellow, keeping the look fresh, clean and invigorated; without it, the shade can make a room feel rather drab. Shiny, reflective finishes – gloss, chrome and glass – are all perfect partners for providing interest and energy.
While deeper shades of yellow teamed with dark furniture can sometimes create a 'bumble bee' effect, this is not the case with butter yellow; this unstated colour teams perfectly with dark wood for a finish that is both striking and sophisticated. Complete your palette with lavender or warm grey and soft beige accents for a sunny afternoon feel all year round. Get the look by combining this gorgeous Harlow 3-seater sofa in beige with the Curb Ash set of three coffee tables in warm dark ash veneer.
In a light breakfast area, butter yellow walls and white wood furniture gives the space an injection of summer, whatever the weather. Crisp white table linen and touches of delicate florals keep the look fresh and welcoming, while the clean lines of a white high gloss sideboard contrast beautifully with this gentle pastel shade. Small touches of zingy colours such as turquoise and orange help give the room dimension and bring a little playful energy into the space.
In the living area, butter yellow can work like a neutral when combined with natural fabrics and furnishings. A sisal floor, white wood skirting and accents, natural wood accessories and linen fabrics create a look that is calming; and the warmth of the buttery yellow keeps it from feeling sterile. Small touches of green hint at bringing the outside in and add just enough energy to keep the overall effect from looking flat.
In an all-white bathroom, butter yellow is a beautiful choice, adding warmth and colour without feeling overwhelming. Introduce touches of the colour with towels, bath mats and a shower curtain, for a look that is relaxed and enticing.
In the kitchen, if you love zesty yellow shades but don't want a look that's overly bright, balance them off with butter yellow. A run of kitchen base units or a wall painted in saffron are perfect for catching the eye, and coating the kitchen wall units or the remaining walls with subdued buttery yellow will provide balance to ensure the overall effect is not too overwhelming.
Alternatively pair butter yellow with blue and white for a classic country colour palette. Use butter yellow for both the wall and floor units, and combine with white marble worktops, white walls and blue and white china for a look that is quintessentially rural French.
In the bedroom, butter yellow on the walls works well with vintage furniture and accessories. Pair with classically styled furniture like the Chantilly dressing table or bed, both of which feature beige accents, an ideal match for this warm, delicious shade.
Get the Look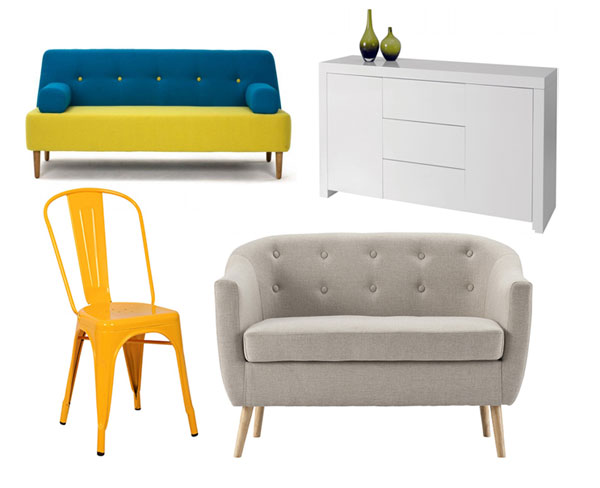 Top left: Flair Blue and Yellow Sofa
Top right: Galaxy White Gloss Sideboard
Bottom left: Cube Yellow Dining Chairs
Bottom right: Fulham Natural Fabric Sofa
Main images sourced via Pinterest. Credits: bhg.com and bloglovin.com.