The health benefits of getting between seven and nine hours sleep each night are well documented but despite this, almost half of us manage just six hours or less on a regular basis.

Getting the right level of sleep has been shown to reduce stress, lower the risk of chronic disease and boost both memory and cognitive function.
March is National Bed Month and to celebrate, we're sharing our top tips for getting the perfect night's sleep so that you wake every day feeling refreshed and revitalised.
Choosing the right bed
A huge part of getting a good night's sleep is having a suitable bed. The Sleep Council has shown that having a good quality bed frame and mattress can increase your sleep by as much as an hour.  After just six years, beds have been shown to offer less support and comfort compared to a new one because of the wear and tear caused by body weight, movement, sweat and debris.  For couples, bed size is very important too: ergonomic studies have shown that the quality of their sleep relates directly to the size of the bed, with larger beds offering a better sleep experience.
So which bed is right for you? Here are our top five recommended beds that offer a fantastic night's sleep and much more besides:
Why we love it: This beautifully designed bed comes in an easy-care bonded leather finish so it'll keep its fabulous good looks for longer. The simple design fits well into almost any style of décor and the sturdy construction ensures you get the support your body needs. The Allendale also features a substantial hidden storage compartment allowing you to tuck away extra pillows, seasonal quilts and blankets. Best of all, it comes in a choice of sizes which include a 6ft super king version, perfect for couples.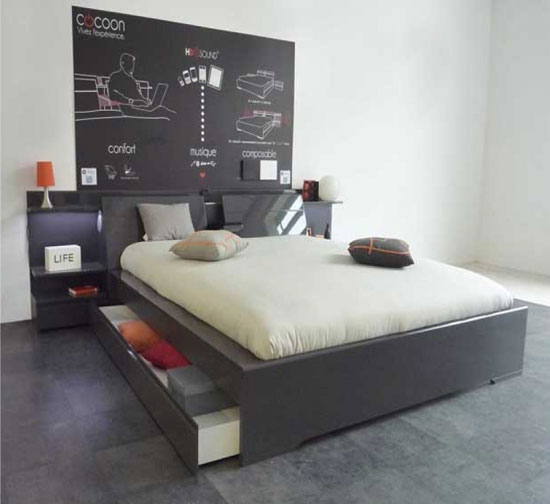 Why we love it: The Cocoon is the ultimate in cool with its built in docking station and speakers that allow you to connect up a range of devices for music in the evening. It has shelving and space for you to keep all of your bedside essentials within easy reach, and you can optionally have two under bed drawers for even more storage. There are two adjustable separate back rests which you can place together or apart, and an armrest that you can pull down in between for optimal comfort. It's also good to know that the Cocoon bed comes in European sizes which give you a little more sleeping space than the UK equivalents.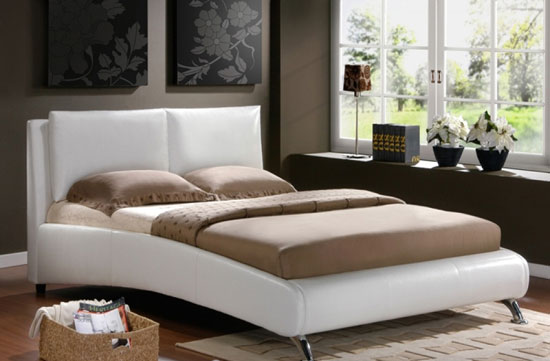 Why we love it: The Carnaby has everything you'd expect from a quality bed: sturdy construction, cushioned headboards, a slatted, sprung base for comfort and a stylish easy-to-clean faux leather finish. But it's the lines of the Carnaby bed frame that really make it stand out to us – the gorgeous curves of the bed and front feet are modern and just a little bit different, making it the focal point for any bedroom. The Carnaby comes in a choice of double or king sized to suit your available space.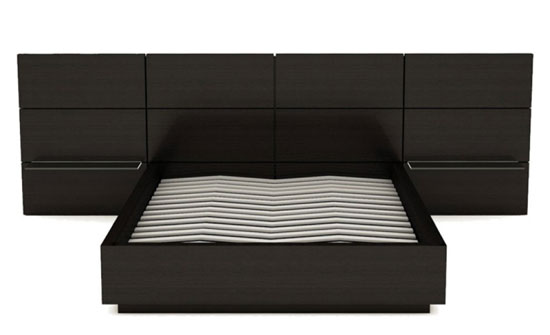 Why we love it: With its sleek design and stunning dark wenge veneer finish, the Cordoba simply oozes sophistication. The large segmented headboard and floating glass shelves give this exquisite piece of furniture an individually designed look. Aside from being exceptionally stylish, the sprung slatted base and substantial construction make the Cordoba a sturdy choice that will provide plenty of support for a good night's sleep.
Mya Honey Oak Wooden Slatted Bed
Why we love it: The Mya Honey Oak bed has a simple, timeless design and a lovely warm finish that makes it look comfortable and inviting. It fits well into both traditional and contemporary room schemes, offering clean lines and thoughtful styling. The frame is strong and sturdy for excellent support and the low footend helps to give your room a more open, spacious appearance. The Mya comes in a whole range of sizes from single to super king, allowing you to use the same design in all of your bedrooms for consistency.
Getting to sleep: establishing a routine
Many of us struggle to get to sleep but often it can be difficult to pinpoint what exactly is keeping us awake. Thankfully there are a few simple tricks that can help you drift off.
First, you need to figure out what the ideal bedtime is for you. Choosing to go to bed as close to the same time as possible each day is advisable, but when is the right time? Everyone's needs are different so be guided by when you tend to wake naturally without setting an alarm, and work from that.
Next, plan a routine. A bedtime routine helps your brain to wind down in preparation for a good night's sleep. Different things work for different people, but yours might include, for example:
A warm bubbly bath: Warm baths are not only relaxing but they also help bring your body to the temperature that's ideal for rest.
Writing things down: Writing out 'to do' lists helps you to organise your thoughts and clear your mind of anxiety that has built up during the day.
Gentle exercises: Gentle low-impact exercises such as yoga stretches can help to relax your muscles ready for sleep. Rigorous exercise is not advised as it will have the opposite effect.
Some people find it difficult to shut off the 'voice in their head', describing their thoughts as constantly racing. If this sounds like you, try reading a book, listening to the radio or listening to music. The idea is to distract yourself long enough for your mind to relax and forget about the worries of the day.
Providing the right environment
It's important that the room you sleep in provides a relaxing environment. Having a cluttered untidy room may actually contribute to your difficulty sleeping. Certain colours can also be too bright and stimulating to allow your mind to relax – it's best to choose calming colours such as blue or green which have been linked to soothing feelings and are known to help slow your heart rate. The bedroom needs to smell fresh too, and maintain a temperature that feels comfortable to you of between 18 and 24 degrees.
Avoid TVs, computers or gadgets in the bedroom as these weaken the brain's association between the room and sleep. Experts say that mobile phones, laptops and the TV are a huge cause of sleep deprivation. It is the short wave blue light emitting from these devices that has the potential to disrupt your sleep, because it supresses the production of melatonin, the major hormone that controls sleep and wake cycles. In fact, suppressing melatonin doesn't just interfere with your sleep – it also has the potential to impair the function of your immune system, increase your risk of developing cancer, and lead to heart disease, type 2 diabetes, obesity and metabolic syndrome.
Keeping the room dark is also an essential ingredient of securing a decent night's sleep. If the light filters through your curtains, consider putting up blackout blinds so that you can block it out when you need to.
Take a look at our recent infographic about the science behind a good night's sleep…

Do you have any sleeping tips to share for National Bed Month? Let us know your comments below…