If you hate getting out of bed in the morning, the daybed provides the ultimate indulgence. Combining the comfort of a standard bed with the convenience of a sofa, daybeds offer a plush go-between that provides a comfortable and elegant addition to any room.
Not convinced a daybed is a worthwhile investment? We're here to sway you, with five reasons this timeless piece of furniture deserves your love.
1. Bed or sofa? The choice is yours
The daybed's biggest selling point is its versatility. Blending the sleepy comfort of a bedstead with the functionality of a sofa, daybeds can be used interchangeably, and offer comfort and practicality in a number of scenarios around the home. Take the Marseilles Black Metal Day Bed for example: this charming, beautifully designed daybed is as comfortable as it is practical, providing ample seating as well as a restful place for a kip.
2. When a room isn't just one room
Storage room? Office? Artist space? Music studio? For those with a spare room in their home, it can be difficult to decide how best to use the surplus space. If you're lucky enough to have an unexpected guest grace your door every so often, it's nice to have a private space spare where they can lay their lay head. The Eleanor Opal White Daybed features a comfortable single mattress, and additional storage drawers can be purchased to maximise space.
3. Space saving
For those living in a small flat or house, space is at a premium.  Studio apartments in particular have a general lack of space, and compromises often have to be made in other areas to fit a full size bed in the room. Buy a daybed however, and you'll theoretically have a sofa and bed all in one. The Rachel Stone White Daybed is a great option for those struggling for space. This beautifully crafted daybed has a pull out trundle, so it's capable of sleeping two comfortably.
4. An assortment of shapes and sizes
Unlike standard single or double beds, daybeds come in an assortment of shapes, sizes and styles. Whether your room is elegant and sophisticated; rustic and cluttered; or sleek and contemporary, a daybed will add a touch of originality, style and comfort to any space. Daybeds are primarily made from metal or wood, but other variations include fabric, wicker, rattan or plastic. Check out the Firenze White Metal Crystal Daybed to add a touch of glamour to your bedroom, living area or spare room.
5. Comfort, comfort, comfort
Whichever way you look at it, daybeds are damn comfortable. Unlike futons and sofa beds, daybeds feature a full-size single or double mattress – so expect bed-like levels of comfort. They're also incredibly spacious, making them a great alternative to a standard sofa; whose padding can often take up too much space. For maximum comfort, try the Romantic Ivory Daybed.
Get the look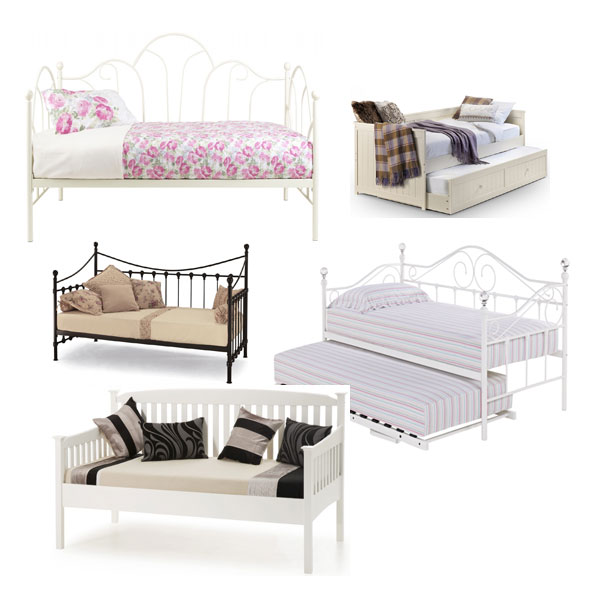 Top left: Romantic Ivory Daybed
Top right: Rachel White Daybed with Trundle
Middle left: Marseilles Black Metal Daybed
Middle Right: Firenze White Metal Crystal Bed
Bottom: Eleanor Opal White Daybed
At FADS, we offer a wide range of comfortable and affordable daybeds to suit all tastes, budgets and functions. Click here to browse our complete range of daybed and beds, or call our dedicated team on 01778 562803.
Main image sourced via Pinterest. Credits: titicrafty.com and boligliv.com