Tartan is really on trend right now and this is set to last all through autumn and into winter. Whether you want to achieve a traditional Scottish look or give your home a punk twist, tartan is a really cosy pattern that will work well in most homes.
Whilst people traditionally think of tartan as being dark and wintery in colour, it has now been re-ignited with modern colours that make a bold statement. From classic Highland tartan in blues, greens and reds to bolder blanket weaves in pastel shades, tartan has never been so versatile.
As we have mentioned before, we're more into natural materials and traditional craftsmanship than ever before. The 'shabby chic' and 'woodland' looks are being rolled out season after season. Tartan fits right into this style bracket and has dispelled any memories of gloomy old tartan chairs in oak paneled hotel rooms. It is now contemporary, rich and dramatic.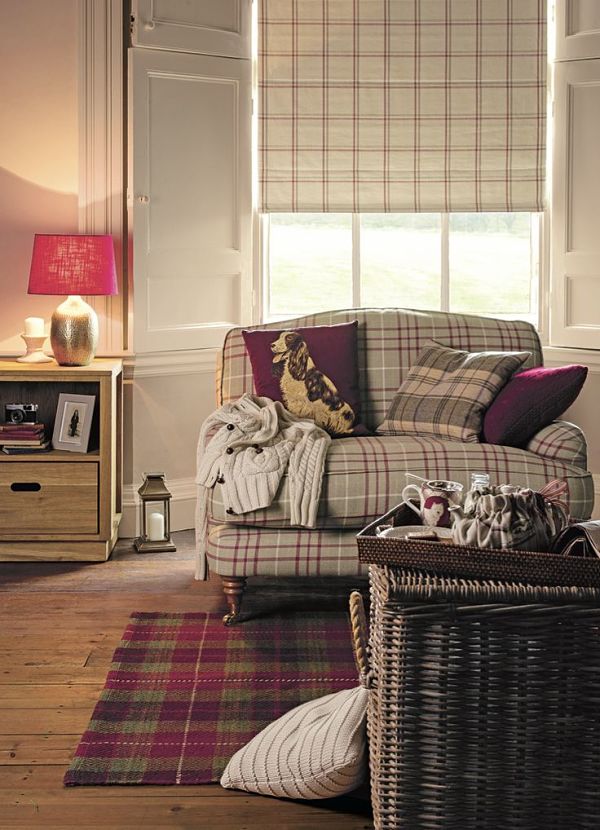 If you want to introduce tartan into your room then start off with a sofa or armchair, like this William Orkney Claret Armchair. Get comfortable with the colour before deciding how the rest of the room should look.
Use tartan fabric to create a bold accent wall. Mix with emerald green or navy for a really traditional look, but if you prefer more modern-style tartan then you can go slightly bolder with your colour scheme. Be careful not to have too much going on, as it will clutter your room and take away from its size.
If you don't want to put tartan on the walls and want to keep the room fairly neutral, but add a twist of tartan then accessories such as cushions, throws or a faux animal head (we like this Arthouse Stag Head) will do the job perfectly.
Vintage furniture and contemporary accessories work really well with tartan rugs or carpets. The tartan amplifies the non-conformity of the room's style, letting your inner punk out!
If you choose tartan for your bedroom, pair it with a sturdy wooden bed, like this Joseph Aborro one. The mix of traditional and contemporary will add a really cosy feel to your bedroom that will be perfect in the winter months. Change the hue of the tartan to go from dark and rich to light and fresh, depending on the time of year.
Tartan needn't be garish or frightening. It is just about getting the right colour and style to suit your tastes. Subtly hint at the look with checks in soft browns or mossy greens and pair with herringbone, tweed and dogstooth for a really traditional look. If you decide to mix and match tartans and colours then make sure that they harmonise to add a touch of elegance to any room.
Get the Look

From left to right:
Joseph Aborro Wooden Bed
Arthouse White Stag Head
William Orkney Claret Fabric Armchair
Feature image sourced from Pinterest. Credits: hgtv.com, voyagedecoration.com, lauraashley.com and housetohome.co.uk